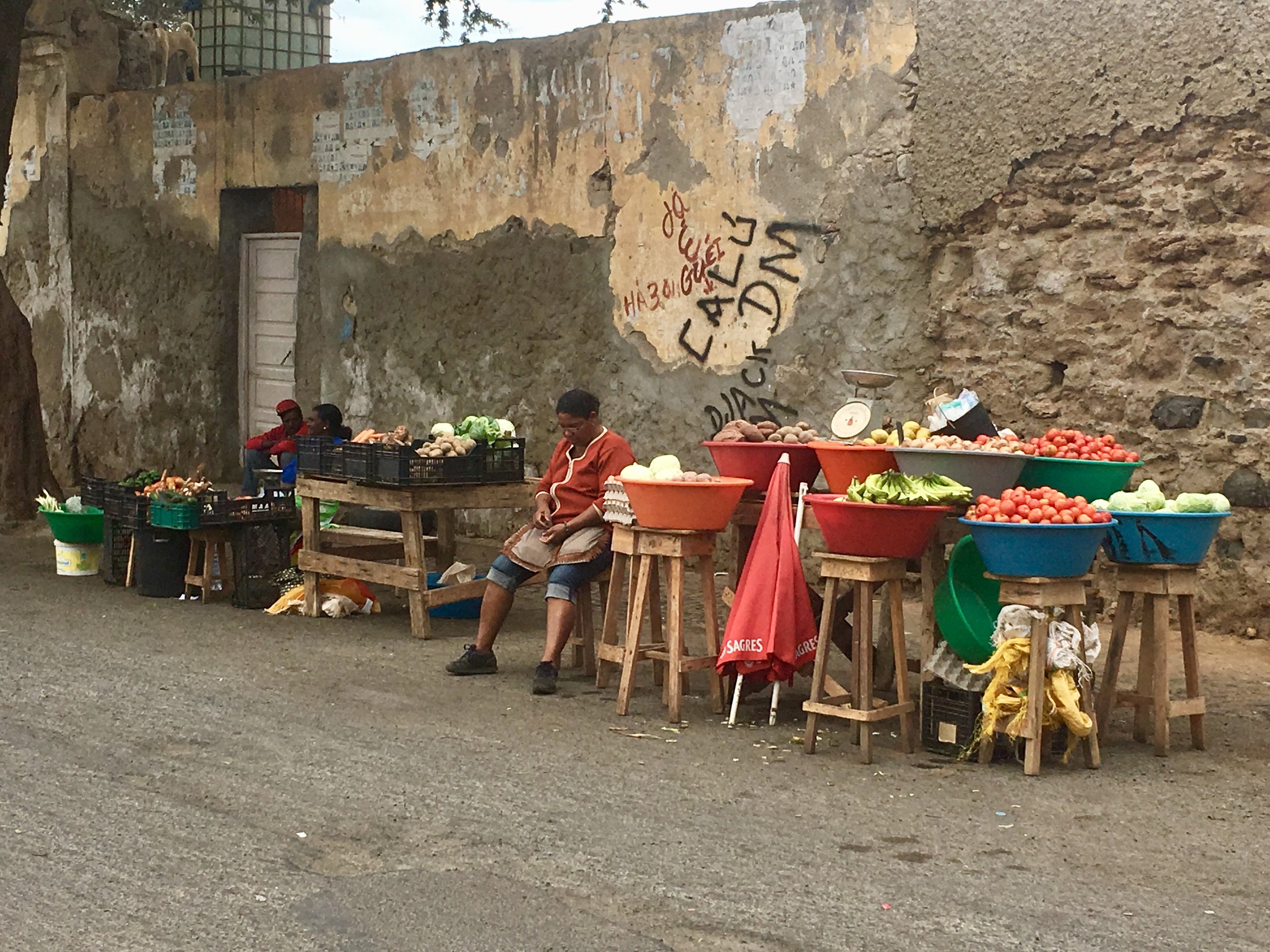 Walk through the streets of Mindelo on the Cape Verde island of São Vicente to find a colorful culture bursting with rhythmic music, vibrant street art, energetic people, buildings painted in a rainbow of colors, dozens of stray dogs adopted by the community, and wild beaches with water as blue as Windex.
The women of Mindelo casually stroll through the city wearing bright colors and balancing heavy bins full of fruit and vegetables on their heads. They carry these bins as casually as if they were simply wearing hats. They find a street corner and peddle the fresh produce all day, until long after the sun drops behind the horizon of the plush brown mountaintops. For just about any amount of escudos (local currency) you offer, you can buy lettuce, potatoes, tomatoes, gigantic carrots, rhubarb, zucchini, huge papaya, squash, fresh coconut, bananas, and more.
There are open markets full of more vegetable peddlers. At the Mercado de Peixe you can choose from fresh fish pulled directly out of the Atlantic that morning. In the city center, near the harbor, there is a small replica of Lisbon's famous Torre de Belèm and a bronze bust of Diogo Alfonso, a 15th century Portuguese explorer who discovered São Vicente and several of the other islands of Cape Verde.
Tucked away in the mid-Atlantic Ocean, the 10-island cluster that makes up Cape Verde is located more than 1,000 miles from the northwestern coast of Africa. Cape Verde's landscape includes inactive volcanoes, miles of dry wasteland, and unbelievably beautiful beaches. The sea water reflects a mixture of every shade of blue and green you've ever seen.
Cape Verde (or Cabo Verde) is known for its Creole Portuguese-African culture and traditional lifting and rhythmic morna music. It also has close to perfect weather, rarely shifting up or down from 25-degrees Celsius (77F) at any time of the year, and it hardly ever rains.
The islands were uninhabited until Portuguese and Genoese sailors stumbled upon them in 1456. Many describe the archipelago as the "unspoiled alternative to the Caribbean." Cape Verde stretches across 1,500 square miles of the Atlantic and contains 10 islands. Barlavento, the winward islands, include Santo Antão, São Vicente, Santa Luzia, São Nicolau, Sal, and Boa Vista. Sotavento, the leeward islands, include Maio, Santiago, Fogo, and Brava.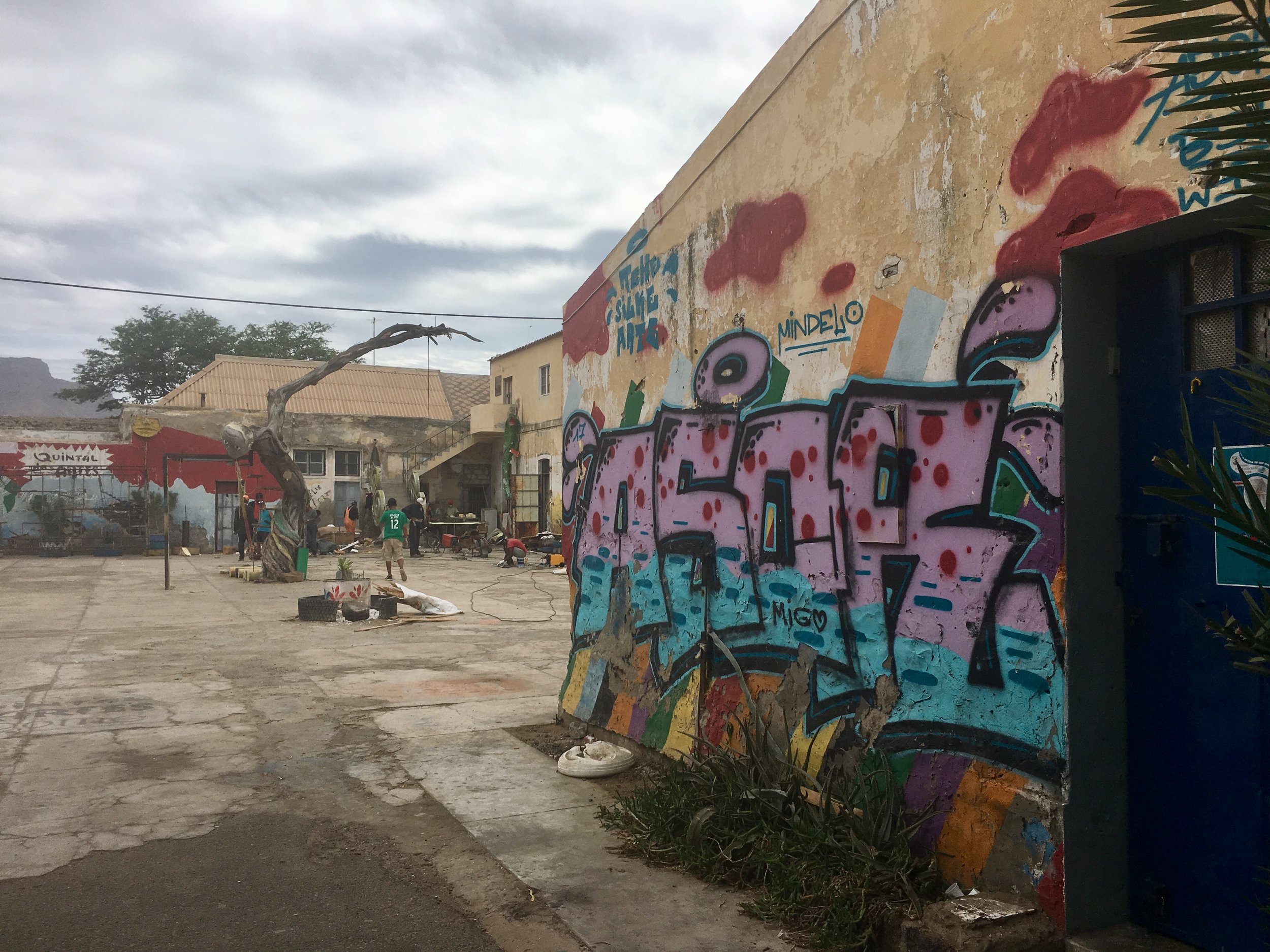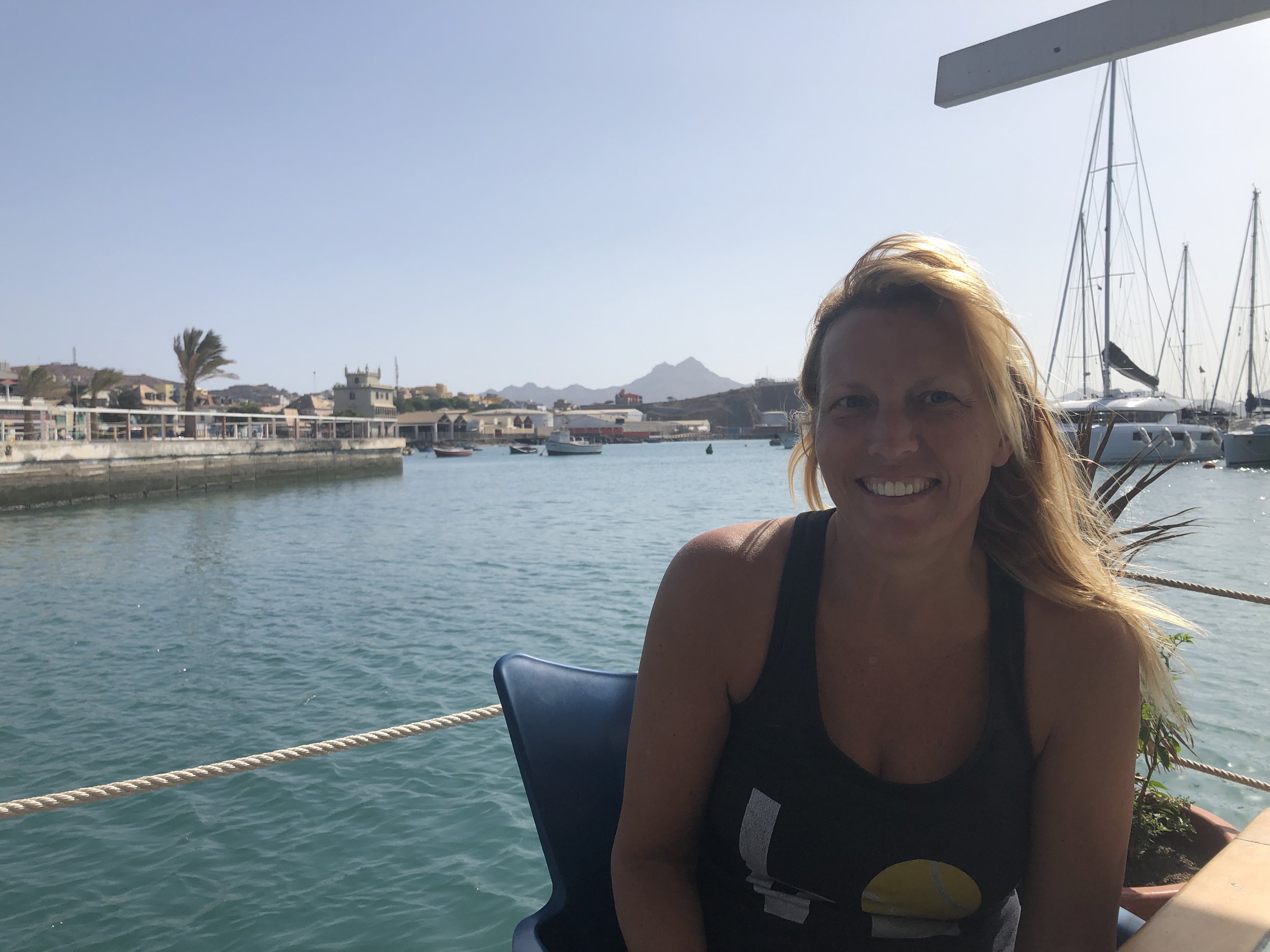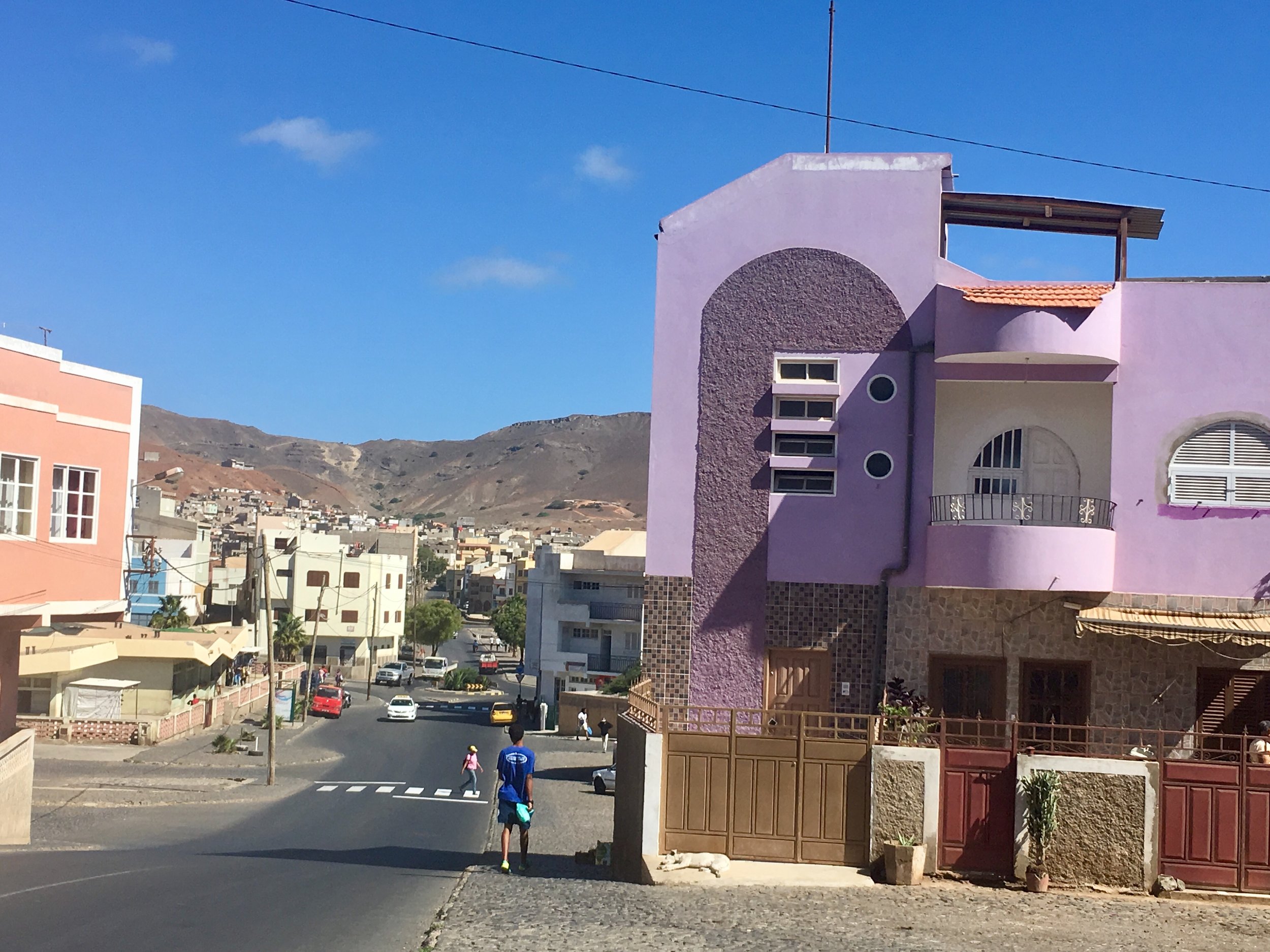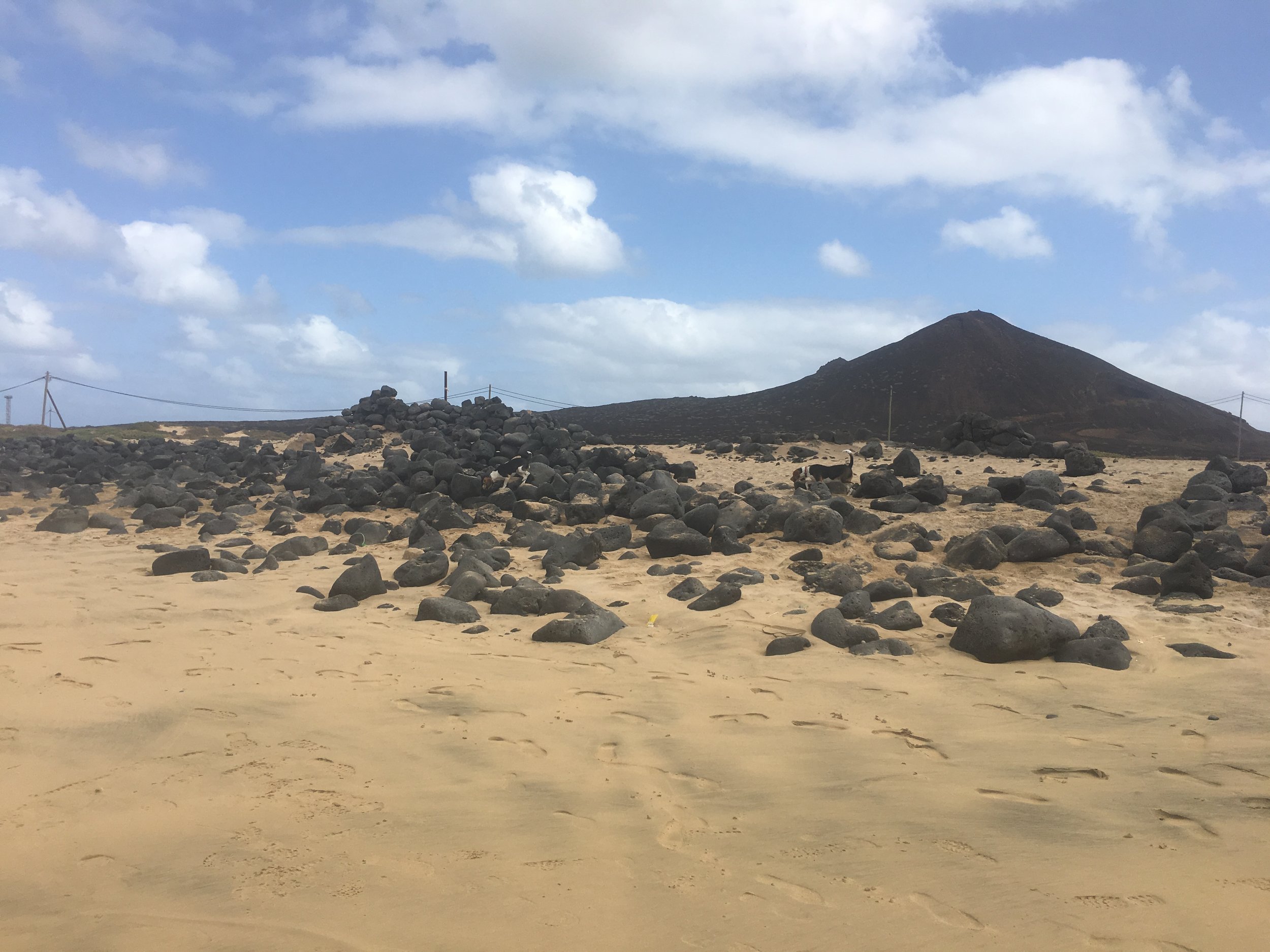 We spent three weeks in São Vicente, which has a population of just more than 80,000, with most of those people living in Mindelo. Monte Verde is its highest peak at 750 meters, and it dominates the landscape. Even though the name implies that it's green, this mountain is brick red, chocolate brown and every shade of red and brown in between with a little bit of green sprinkled on top.
Mindelo has everything from unfinished brown stone buildings in slum-like, dilapidated condition to buildings painted in bright purple, blue, yellow, orange, green, and red.
Handshakes are nowhere to be found. Instead, the friendly Cape Verdeans greet each other with a fist-to-fist pump with your neighbor followed by an in-sync fist pump to your own chest. The people of Cape Verde always seem to be outside and are always playing happy, lively music.
The streets of the city center are polluted with beggars, mostly men and children, who will walk up to any tourist (most of whom are sailors spending time at Marina Mindelo) and ask for a handout. They are not threatening at all, but the practice is a bit annoying. We actually wonder if it's more of a habit than a necessity. Although the beggars are ever-present, the employed Cape Verdeans are hard-working, kind, and friendly. We have come in contact with many of them in the marina, the markets, and in the boat repair workshop.
The dozens of stray dogs are just part of the fabric of the island of São Vicente. They are friendly for the most part, well fed, and seem to have been adopted by the community although they obviously have no permanent home. Because the weather is so nice—not too hot and not too cold with only very rare drops of rain—they seem content living in the streets and eating random food trash dropped by the locals and tourists or found around the markets.
The open-air buses seem to be the perfect fit for this mild, comfortable climate. These are simply pick-up trucks with wooden benches that pick up the locals and take them where they need to go.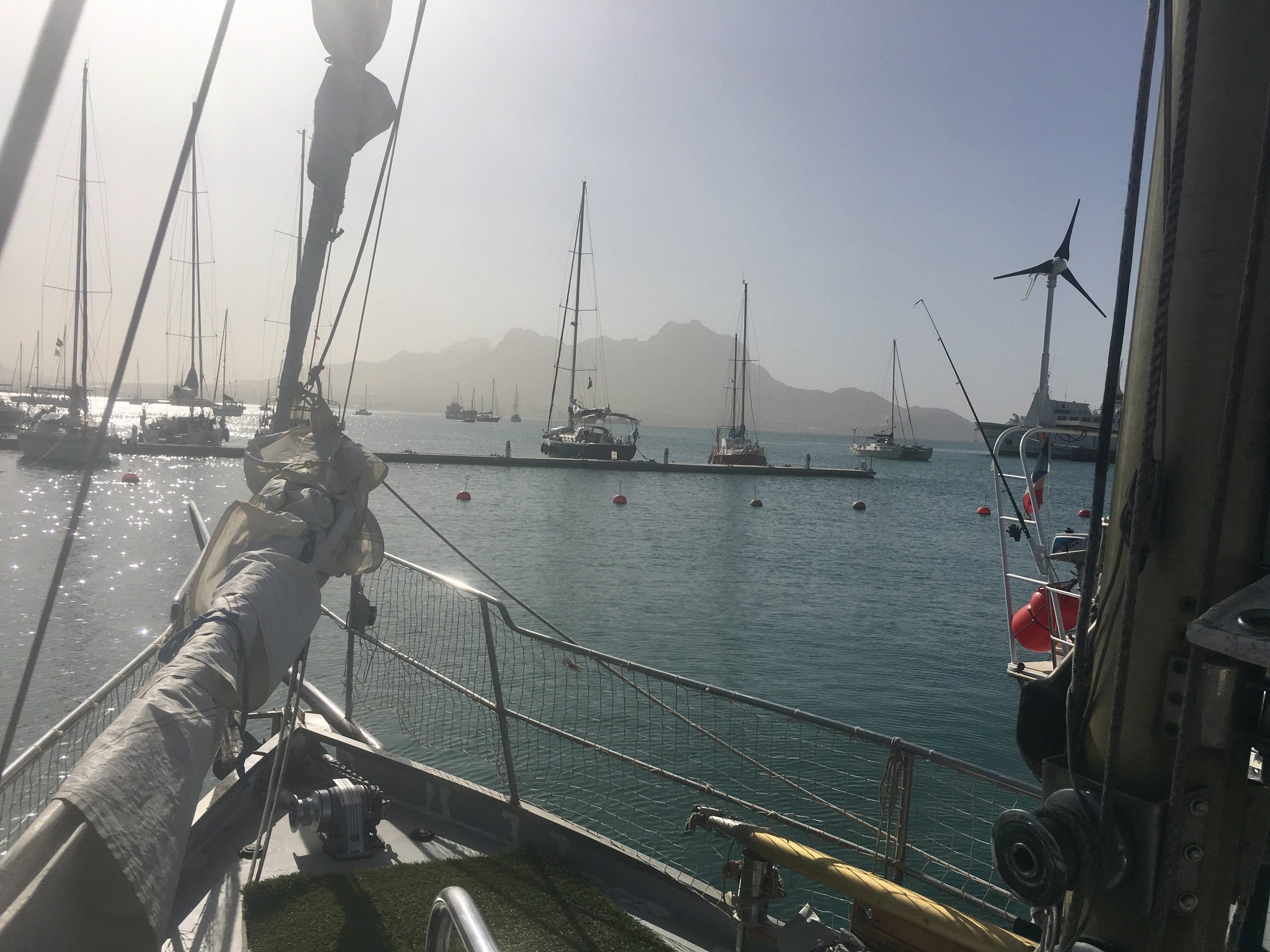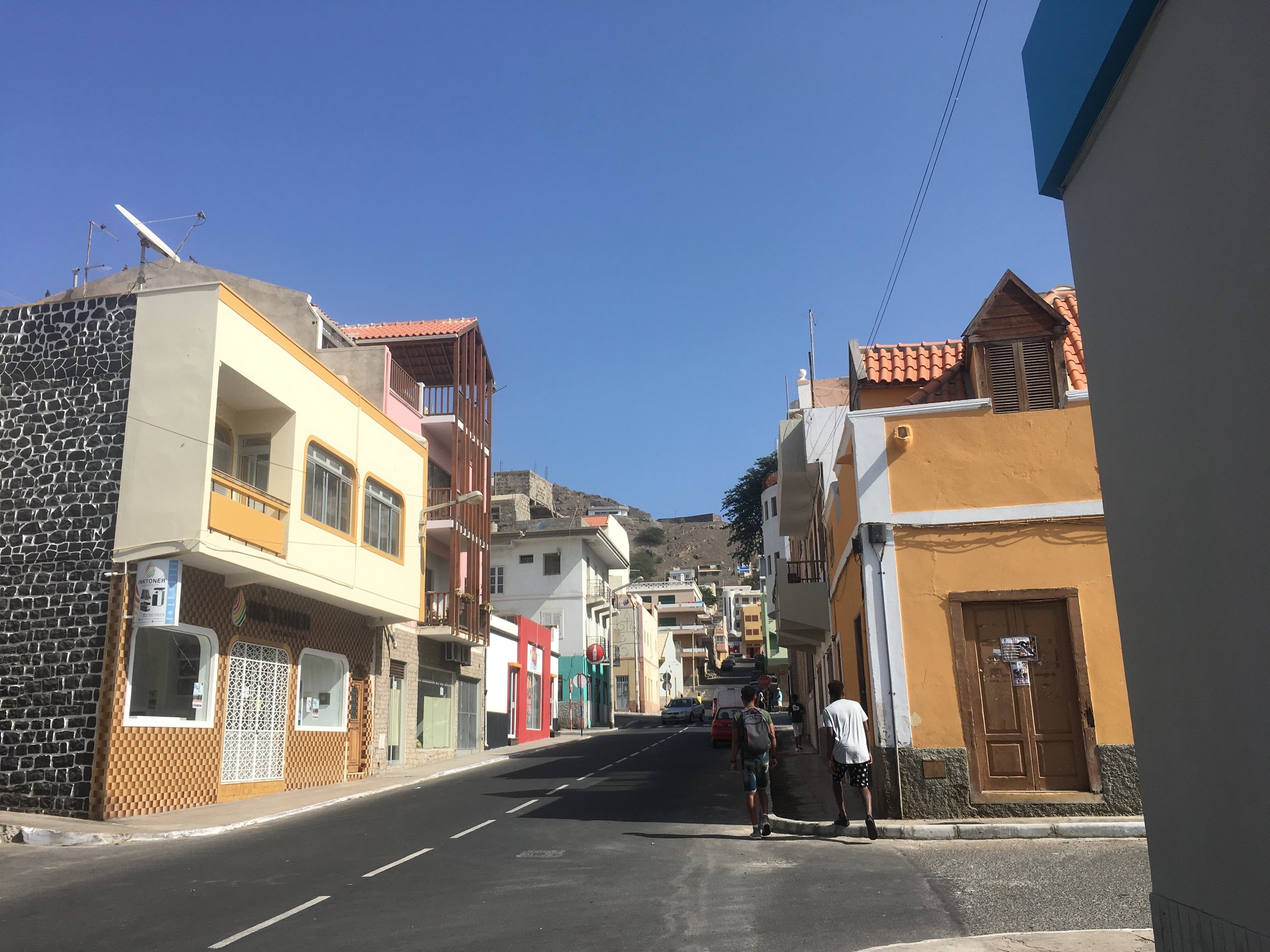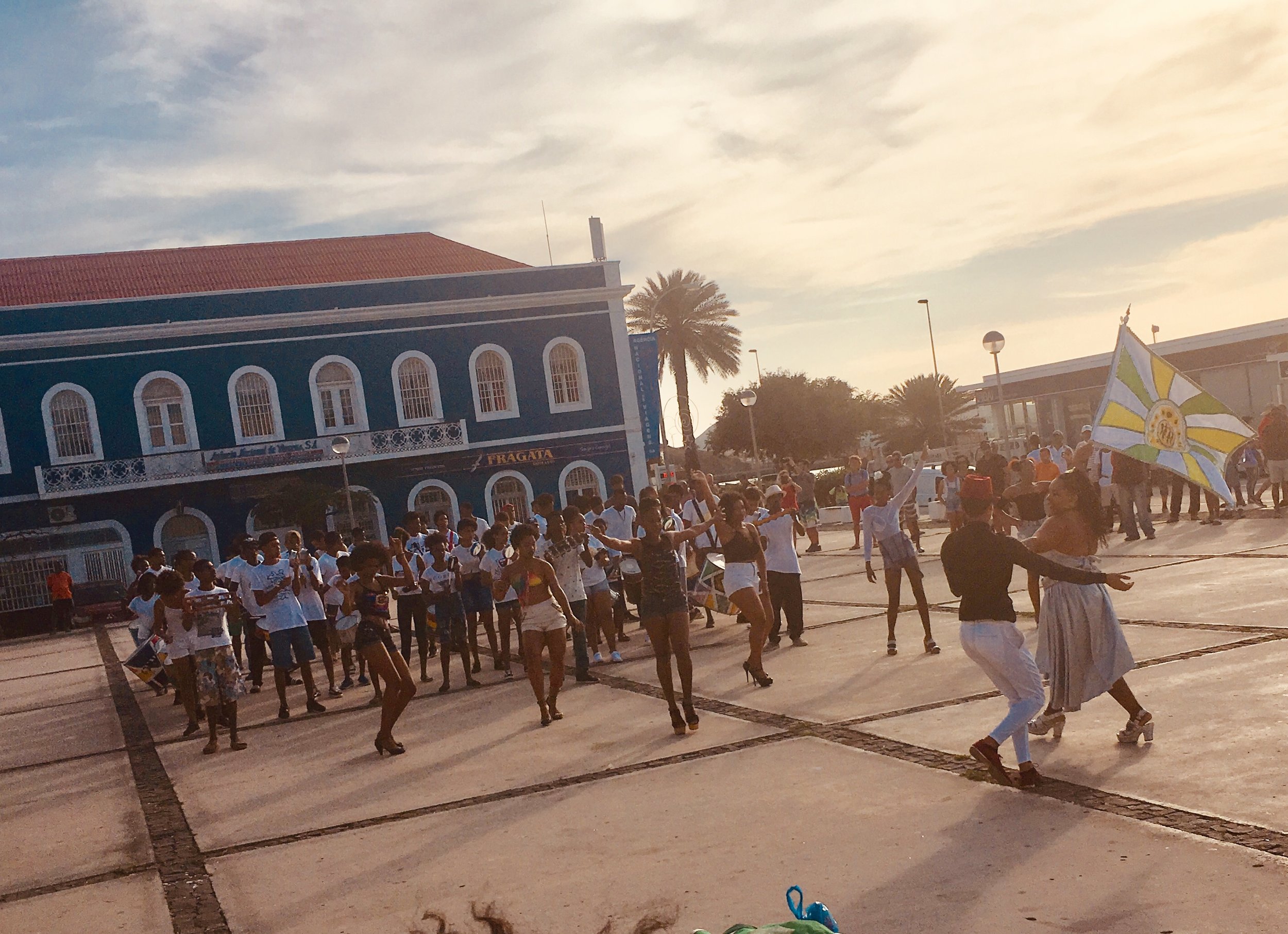 The beaches on the island of São Vicente are completely wild!! It's amazing. There are no tall buildings blocking the coastline view. No restaurants. No hotels. No condos. And hardly any people. No lifeguards or flag signals are there to warn you of heavy waves or dangerous wildlife. You swim at your own risk. This is just nature and beauty in its purest form!
In the Mindelo town square, there is often music and activity. Locals dance in the streets and enjoy daily life. Most of the tourists are either sailors like us staying in the marina or anchored nearby, or people stopping for the day on cruise ships. A walk through the city center is always filled with color and life. There are often free concerts in the main square performed by well-known Cape Verdean musicians.
Because of its remote location, everything is expensive. It's not difficult to understand why as we try to imagine just how difficult it would be to ship anything here. The internet is weak and sketchy, but we were able to find local data cards that helped us stay connected for the most part.
Our three weeks here have been filled with mostly work for our clients and boat maintenance as we worked hard to get our battle-worn Seefalke into shape for the Atlantic Crossing. But we did find some time to explore this beautiful island and experience the friendly, colorful culture.
Sunday, 6 January 2019
After arriving on Friday and spending some time with our sailor friends from Terrapin, Limitless, and Et Puis Pas Plus, we had a visit from Maik's childhood friend, Thomas, who was stopping over for the day while on a cruise with his family. We spent most of the day with him, but found time to connect with our mechanic, Cesar, from Boat CV, the local repair shop. The machine shop's motto is "If it's made by humans, we can fix it." We were hoping this was true in our case, because we feared that ordering and receiving a new heat exchanger from Germany could take much longer than we wanted to wait. And the expense would also be huge. Cesar's guys came over to Seefalke, inspected the cracked casing, removed the heat exchanger, assured us they could repair it, and then took it back to their shop.
Meanwhile, since we were completely out of clean underwear, I dropped off the last five weeks of laundry at a local laundry service shop and splurged on the wash/dry/fold option for about $42 USD. This was expensive, but it felt like a bargain since it included all our clothes, sheets, blankets, bedding, and towels—four huge sail bags stuffed full of laundry.
Following a mediocre lunch of a very thin fish burger at a local café with Thomas and his son, we spent the evening with Maria and Fredrik Rovik on Limitless. Limitless is a huge, beautiful catamaran. Cap'n Jack and Scout had a blast running all over the boat playing with their new best friend, Tulling, an adorable and energetic Jack Russel Terrier. It's been a while since we've come in contact with a dog that can compete with the energy of our Beagles.
Maik wanted to lift me up onto the main mast to repair our courtesy flag line, but the day before he had thrown out his back. This was a challenge for him and for us. It slowed down our repair efforts and some of the physical boat tasks, although we continued with our less-physical task list—which was long and detailed.
Sunday, 7 January 2019
I had been wanting to try the traditional local dish, Cachupa. This slow cooked stew of corn (hominy), beans, cassava, sweet potato, fish or meat (sausage, beef, goat, or chicken) is often referred to as the country's national dish. Each island has its own regional variation. Cachupa leftovers are often re-fried to make cachupa fria, cachupa guisada, or chachupa refogada (served for breakfast with a fried egg and a fried local sausage or fried mackerel).
We found a nice restaurant on the main street right outside the marina called Nautilus. I ordered the Cachupa while Maik ordered some sort of tempura fried veggies just to also try something different. We would have been fine just sharing the Cachupa because the serving was huge and it was very heavy and filling. It was warm and hearty and absolutely delicious!!!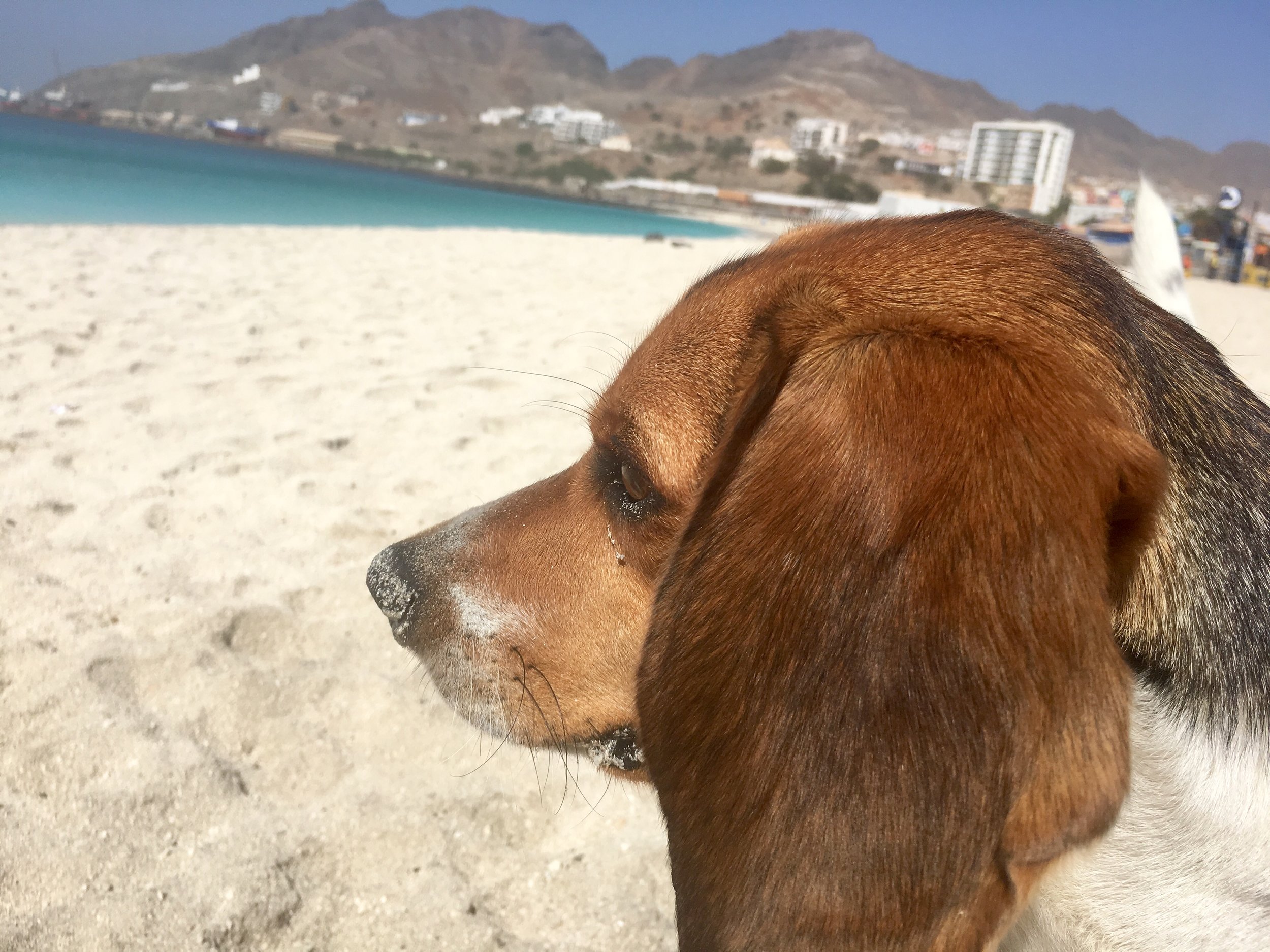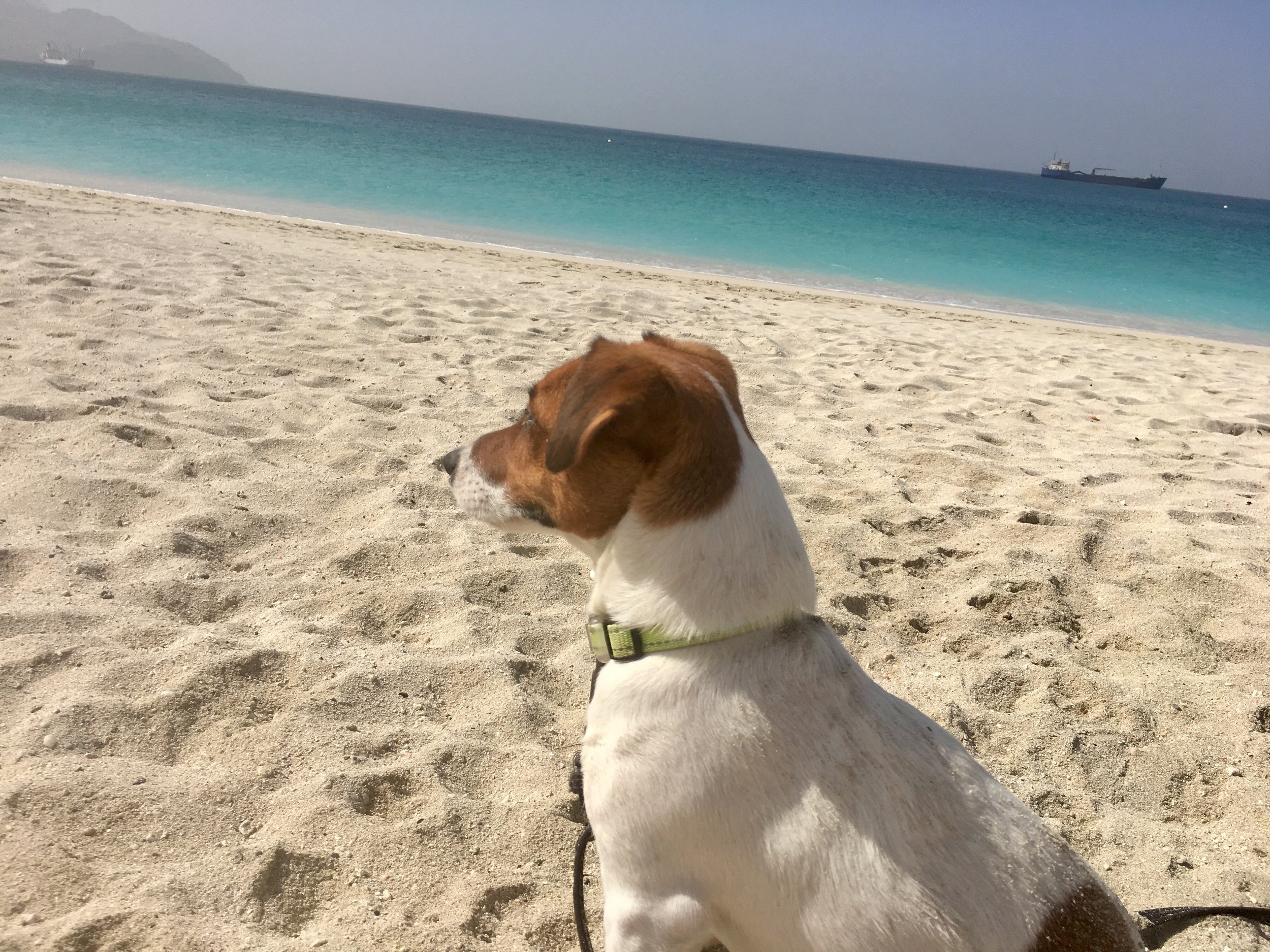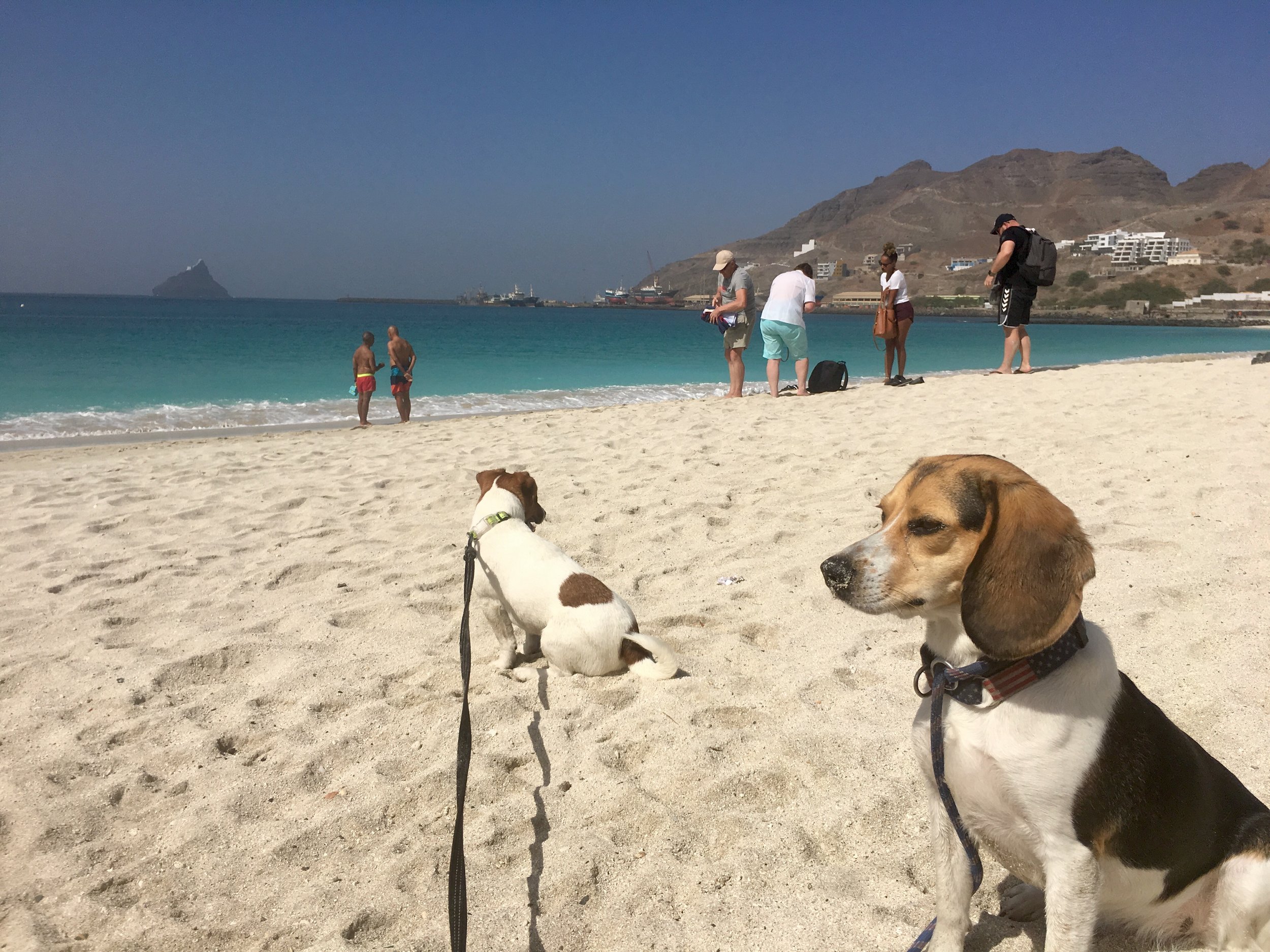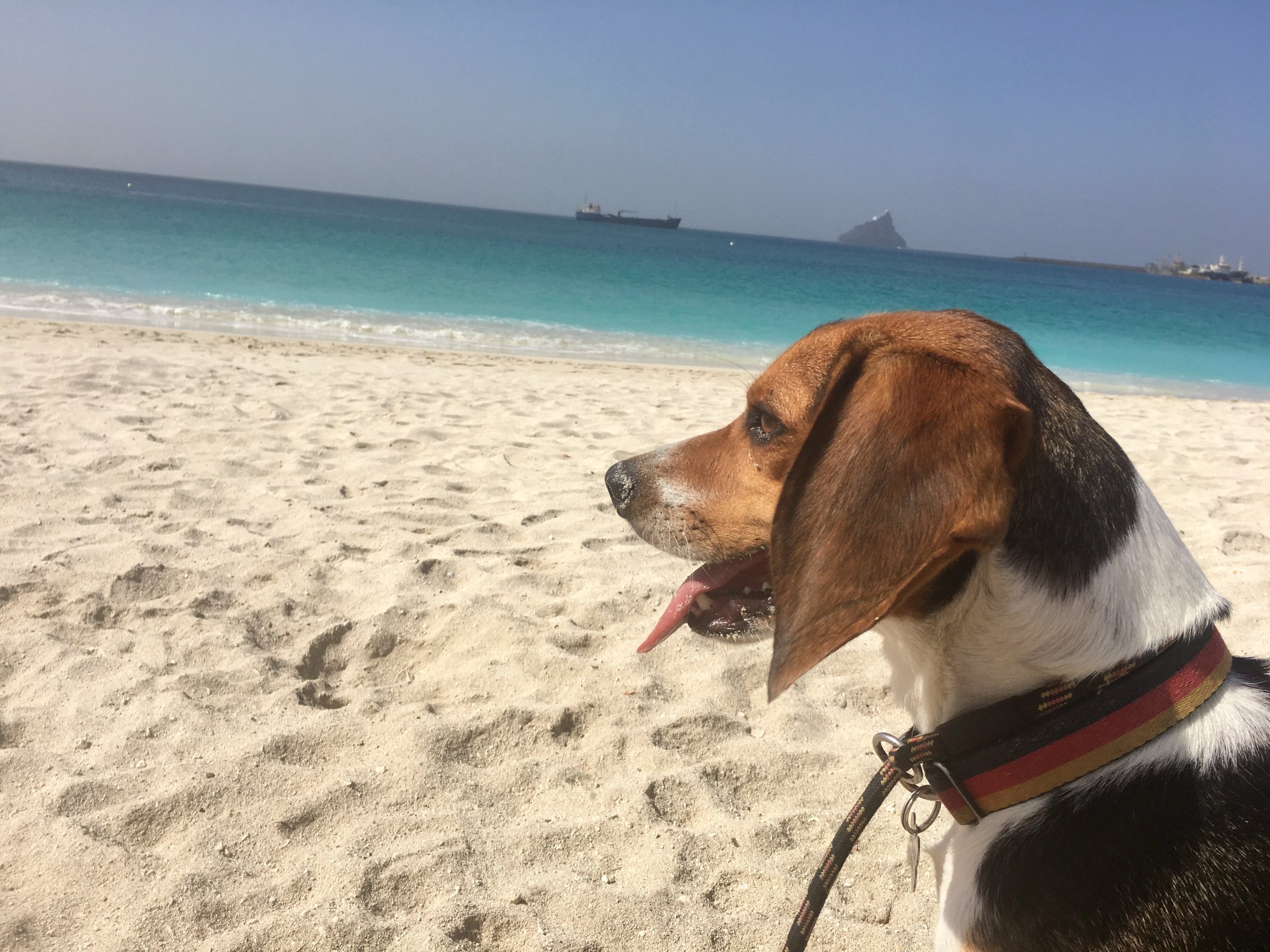 Tuesday, 9 January 2019
Maik had a lot of work to do for his clients, a few phone conferences, and he also wanted to explore the city via drone with his new buddy Fredrik from Limitless, who also has a drone. The boys took off with their toys, and I decided to take a walk to a nearby beach. I invited Fredrik's wife, Maria, to join me, but she wasn't feeling well. So, I volunteered to take Cap'n Jack, Scout, and their new pal, Tulling, to the beach for a couple hours.
Tulling loves the water and wanted to jump right in. Cap'n Jack and Scout love to be ON the water, but don't particularly love to be IN the water and aren't quite sure about the waves at beaches. I was worried about unleashing three dogs who would likely run off in three different directions. Instead, I kept them all on their leashes. We walked the entire length of the small beach, Praia de Laginha, and then I sat for a while on the sugary white sand and admired the amazing blue and aqua colors of the water while the pups all spent their time digging. That's right—they all three just dug holes in the sand for a few hours. We had a lot of fun.
It was cool to get a different view of Monte Cara, which we can see every day from the marina. Monte Cara is a mountain in the western part of the island of São Vicente. Its elevation is 490 meters. If you look carefully at the top of the mountain, you can see a human face looking at the sky. This is why it's called Monte Cara, which means "face mountain." It is a landmark in the city of Mindelo.
That evening, I wanted to try another local restaurant. We headed out in search of something new and tasty. We stopped at a nice Italian restaurant that had some variations of pizza and pasta but with a local flair. But they wouldn't allow dogs, so we walked around a little and finally stopped at a local dive. Generally, we just love to find these "hole-in-the-wall" restaurants where all the locals eat. We are rarely disappointed. This time, we were not so lucky. I had fish that looked and tasted like a pork chop—and that's all I have to say about that.
Thursday, 11 January 2019
Maik and I both spent the previous day working and barely left the boat at all the entire day. Maik was working again, but I was all caught up. He had a few more conference calls, so I decided to leave the pups at the boat with him and see what it was like at the beach all by myself!
It was a gorgeous but extremely windy day. I just lay there and soaked in the sun and got lost in the pages of a book for about three hours. Two stray dogs lay down next to me and napped in the hot sun. It's been a while since I've been truly alone and with nothing to do. It felt so good to just relax.
As I was walking back to the marina, I caught a glimpse of some of the local graffiti, something I love to see in all the places we visit. São Vicente markets itself as the home to some of Cape Verde's greatest musicians, writers, and thinkers. Mindelo is considered to be the cultural hub of the island.
I walked by the Universidade do Mindelo, which is one of only seven institutions of higher learning on the islands of Cape Verde. This university has only been around since 2003. It consists of one gray building on the corner of one square block.
That evening, our French neighbors, Alain and Alexa, from Et Puis Pas Plus joined us for dinner on Seefalke. They have been sailing the world together for 10 years and told us their most favorite place in the world is Panamarina. We have decided we must go there. We will possibly take a little detour on our way from the Caribbean to Alabama.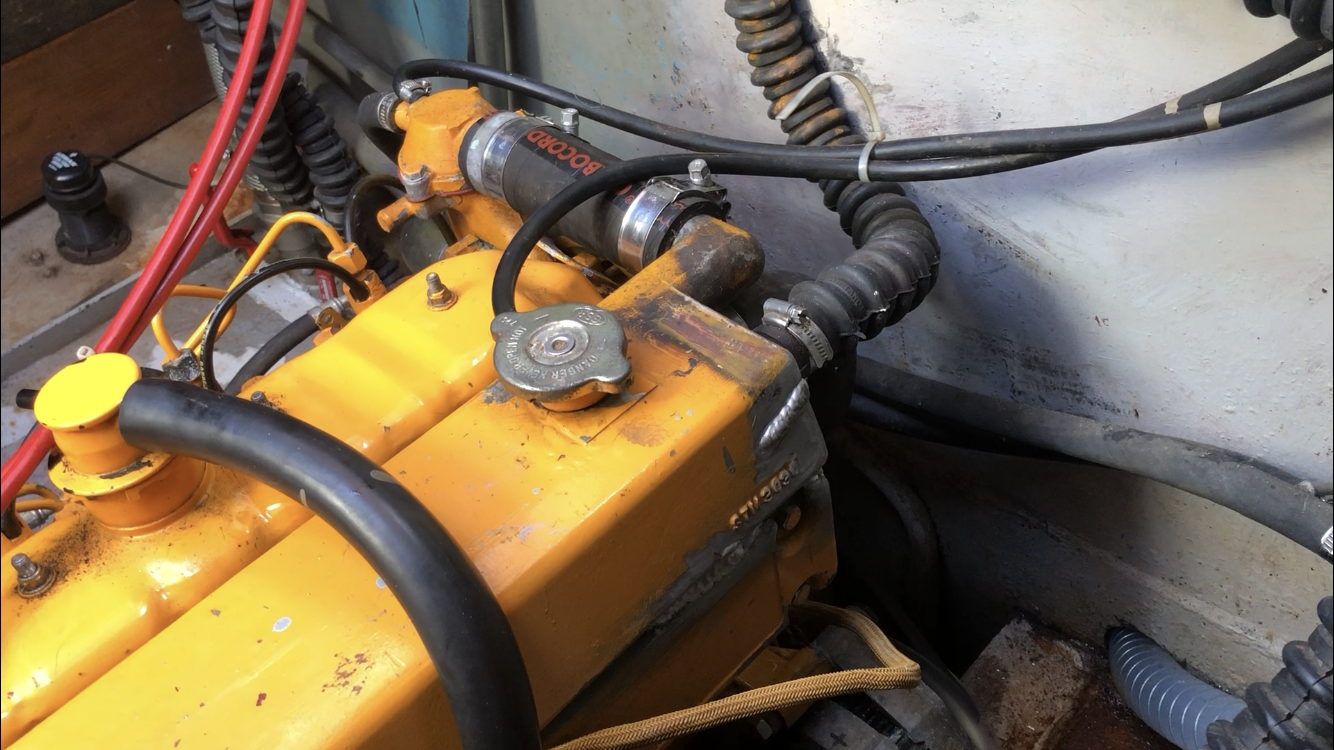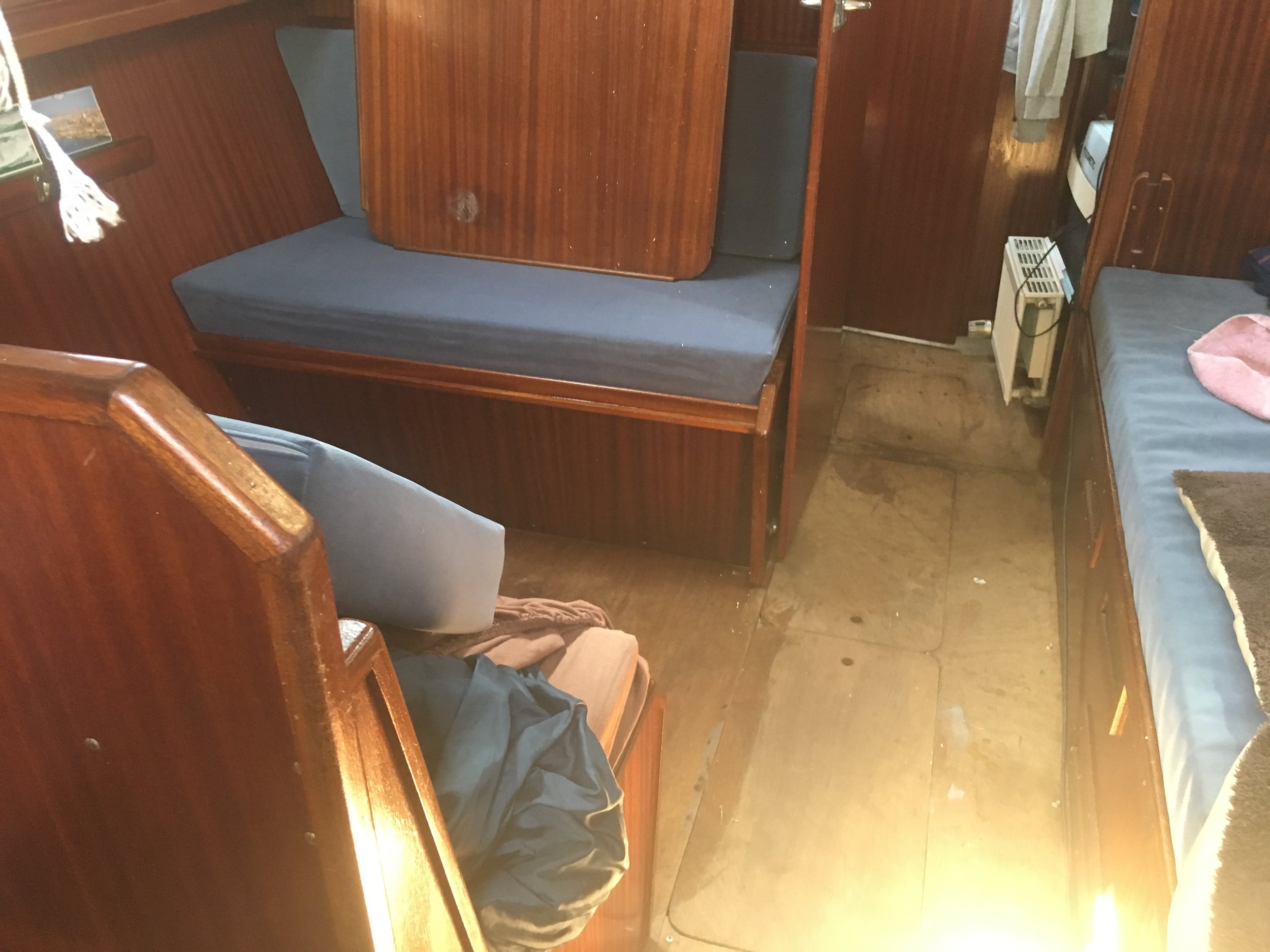 Friday, 12 January 2019
Maik spent the day working on Seefalke's flesh wounds from when we slid into the fuel station pier as we entered Marina Mindelo. This was mostly cosmetic damage as some of Seefalke's bright orange paint was stripped from her starboard side hull. We inflated our dinghy, Nela, and Maik began first by sanding the affected area, then applying rust preventer, then primer, then Seefalke's signature bright orange paint.
This marina is full of battle-worn ships! Almost every sailor in the marina was busy making repairs after long voyages and in preparation of even longer voyages. Not many people sail to Cape Verde unless they are crossing the Atlantic, or sailing to southern Africa. Some find their way to these remote islands when some sort of boat-related malfunction happens after leaving the Canaries. Others just use it as a break point when sailing from the Canaries to the Caribbean.
Every ship in the marina was working on repairs of some sort. The marina was active with the sounds of drills, sanders, hammers and conversations among sailors helping each other get fit to return to sea. Even with our broken motor, Seefalke was in better shape than most of the ships in the marina.
As the paint was drying, we walked through the city some more and decided to venture far beyond the city center. This is where we found many local people out in the streets, listening to music, enjoying the amazing weather, and peddling more fresh vegetables. We constantly ran into the stray dogs of each neighborhood. It's crazy how Cap'n Jack and Scout would bark and become agitated by some of them, and others didn't even get a reaction from the Seadogs. One large brown dog just casually walked behind us for several blocks as if he were part of our pack.
That evening, we decided to leave the exhausted Seadogs on Seefalke, and we returned to the local Italian restaurant that had originally rejected us. I had a yummy salad full of fresh Cape Verdean veggies and a delicious pizza covered in fresh tuna, cheese, and artichoke.
Sunday – Thursday, 14-17 January 2019
Once again, Maik left us for a few days. This time, he went to Germany for a family funeral. There is only one airport on this small island. It is located about five kilometers from the Mindelo city center, just north of São Pedro. We passed it a few times while exploring some beaches, and we only saw one small airplane there at any given time. Its runway is 1,975 meters (6,480 ft) long and its width is 45 meters (148 ft). They generally have one flight per day to Lisbon, Portugal for connections to other parts of the world.
I mostly used this time to work, work, work for my clients. But I also found time to work on the main cabin floor—a project I've been wanting to tackle for a while. I sanded and cleaned the raw wood floor and applied a few layers of polyurethane. I couldn't find wood stain anywhere in town, but the clear coating really moisturized the wood and brought out some deeper brown tones. It looks so much better.
I removed the stained, worn-out blue fabric that snapped to the floor and served as something of a "carpet." I think this fabric floor coating has been in Seefalke since it was built in 1974. At least it looked that old. I hated this and was happy to get rid of it and replace it with the more natural, warm, wood tones. I'll probably need to apply a few more coats of varnish, but it was a worthwhile project and kept me busy and distracted while Maik was away.
On Wednesday evening, our French neighbors invited me to join them for dinner along with another French sailing couple. Everyone was speaking French, but charades skills often come in handy in this situation. I never felt left out as these lovely people continuously tried to include me in conversations. One of the women teaches English at a school near Madagascar, so she was able to translate all the best conversations for me and was very kind to speak to me in English for most of the night. It was almost 23:00 before we ate dinner. I must learn to adjust my digestive schedule if I want to hang with the French!
Thursday, 17 January 2019
Maik returned from Germany around 13:00, just in time for the repaired heat exchanger to be installed at 15:00. We ran the motor for about 20 minutes. The engine performed perfectly. No leaks. Before he left for Germany, Maik had gone to the repair shop to check out the progress. It was full of very hard-working local men working in either flip flops or their bare feet. He described the equipment and machinery and tools as "ancient." It was amazing the quality of work they delivered working in such an environment. It's a good thing. There are not many options in this part of the world. The next morning, we ran the engine for 90 minutes and it passed our test with flying colors.
Saturday, 19 January 2019
We rented a car and drove all around the island of São Vicente. We first drove to Praia Salamansa and enjoyed spectacular views of the surrounding mountains, crystally-dynamic blue waters, and pounding waves while several local kite surfers put on a show for us! As the hounds were enjoying their unleased time, Maik launched the drone and got some amazing footage from high above us.
As he was filming, a young local boy from the nearby rural village approached Maik, curious about the drone. He was probably about 12 years old and didn't speak English or any of the other languages Maik knows, but they were able to find a way to communicate. Maik said he could tell the boy was fascinated seeing his home town from a completely different view. We are fairly certain he had never seen a drone before, and it's possible he had never seen a video camera of any kind.
Soon, about 10 other kids came running toward us as Maik was landing the drone. The boy told them of the flying camera and they all became wide-eyed and looked to Maik to show them the magic machine. Unfortunately, the battery needed to be charged so Maik couldn't launch it again for the new spectators. One of the kids had a small tray of seashells he had gathered from the beach. He had used the shells to make trinkets to sell. I bought a small turtle he created from the shells and a shell bracelet. Total price – 5 euros, which is probably more money than he had ever seen at one time before.
We set out to explore more of the island. We found a huge wasteland with a giant mountain sitting virtually in the middle of nowhere and decided to launch the drone again. We were amazed to discover that the mountain was actually a volcano that had been inactive for millions of years. Volcano Viana is not the most well-known volcano. It is not very notorious and does not spit lava, or smoke. It is small and off the beaten path. But it's just breathtaking, so we made a short video.
From there, we drove to Praia de Sarangaca, another totally wild an uninhabited beach with spectacular views and even more brilliant shades of blue!
We then decided to drive to the top of Monte Verde and see the island from its highest peak. We could see many of the surrounding islands and noticed the overall dryness of the island. In many places it's desert-like with mostly sand, rocks, and mud. There is not much grass anywhere and not much natural vegetation. But the beaches that surround the entire island highlight the amazing azure waters of the Atlantic.
Sunday, 20 January 2019
We had the car another day and decided to go to the other side of the island to the beach at São Pedro. This beach once again had vibrant blue water. It also had gorgeous golden-blackish sand and was surrounded by another small village with buildings as colorful as a Crayola box. The wooden boats that lined the shore were also painted in a multitude of bright colors.
We were welcomed by about 10 stray dogs who seemed to be a built-in alarm system for the village. Cap'n Jack and Scout joined in the bark fest as we made our way to the water.
The water was a bit cold for me, so I played on the beach with the dogs while Maik tried out the scuba suit he bought in the Canaries. He went into the clear water, but he didn't see much sea life.
Monday, 21 January 2019
As Maik was continuing to nurse his sore back, I woke up with huge sty in my left eye. I think it could have been caused by a combination of the very windy, dry weather and the wind blowing sand in my face the past two days. I'm not complaining. It was totally worth it, but the sty was very painful and uncomfortable and annoying. I worked some more on my floor project and also worked on applying some varnish protection for the wooden trim surrounding the cockpit.
That evening, there was a free concert in the Mindelo city center square. One of Cape Verde's pop stars (can't remember his name) was performing a free concert. It was such a lively and energetic atmosphere as the locals and tourists enjoyed the free entertainment into the early hours of the next morning. Of course, we didn't last that long.
Tuesday, 22 January 2019
As my sty began to get worse, we headed into the city in search of a pharmacy. We found one with a line that was all the way out the door and into the street. I stood in the queue for about 10 minutes before I realized I needed to take a number. In Cape Verde, and in most other countries other than America, I have learned, you cannot just walk into a store like Walgreen's and get over-the-counter drugs—not even antibiotic ointment or saline eye drops. All the medicines and ointments and other things Americans can usually can grab off of a shelf are stored in locked cases behind a huge counter manned by licensed pharmacists. You can't even get aspirin without first consulting the pharmacist.
While walking back to the boat, we stumbled upon a cool classic car show in the middle of one of the busy streets in the city center. Once again, Cape Verdeans were enjoying an afternoon of fun, free entertainment in Mindelo.
Wednesday, 23 January 2019
Many ships have come and gone in the time we have been here in Mindelo. Boats come into the marina with battle scars and many required repairs. Then a few days later they head west toward the Caribbean or south toward the southern points of Africa. We have had no less than six different neighbors on our port side who have stayed a few days and then continued their journeys. We have been here for three weeks now and so have our French neighbors, who have a much worse problem than us—a broken mast!
Once again, we had dinner with Alain and Alexa on Et Puis Pas Plus. You may remember from a previous blog that we met these lovely people in Arrecife and their boat's name is loosely translated into English as, "That's all I have to say about that."
Alain and Alexa are becoming such good friends as we continue to spend time with them. Their carefree style matches the name of their beautiful white steel ship—a ketch in need on one more mast.
Thursday, 24 January 2019
Since there are no laundry facilities in this marina, and since we had so much work and projects to continue to pursue, we splurged again on another batch of laundry. This time it was only one bag rather than four.
As many of you know, I've been working on solving our "trash" problem for the crossing. Think about how much trash you generally have in a week. Multiply that by three or four weeks. This is how much trash we could potentially have onboard Seefalke during the Atlantic crossing and with nowhere to dispose of it. This has been weighing heavily on my mind since last August.
I've come up with a few solutions. Anything organic goes overboard. Any major packaging of food and/or supplies is thrown away before we leave the marina (for example, cereal boxes). Ziploc bags are my new best friend. Plastic bottles are smashed and crushed to take up less room in the garbage. We have a Diaper Genie for the head to handle waste paper. AND, we just came up with this brilliant idea....
We have several 8L jugs of water that we constantly use to refill just a couple of smaller reusable bottles for drinking. By not using too many smaller water bottles, this eliminates the large number of bulky bottle trash on board. Then we use the empty 8L jugs for paper trash. A lot can be stuffed in there and it can be sealed! Much better, much more compact, and less smelly than trash bags. Brilliant, right? Can you give us any other tips for what to do with all the trash on board while crossing the Atlantic?
Sunday-thursday, 27-31 January 2019
I was at the marina's floating bar on a lovely, mild evening when a sweet couple from the Netherlands approached me and asked if they could pet Cap'n Jack and Scout. We started a conversation and I learned that Caroline and Fred have been sailing on Pegasus for a while and have been in Cape Verde for several months. They have visited eight of Cape Verde's 10 islands and will not leave again until after the famous Cape Verde Carnival on Sao Vicente, which is a colorful spectacle of music, dance and street processions.
During the Mindelo carnival, also known as the Creole festival, the streets come alive with colorful dance troops and spectacular floats, each competing to win the coveted carnival prize for being the best. Unlike the similar carnival in Rio, this is very much a local affair, but in recent years it has become increasingly popular with people traveling to the island from all over the world who all come to join in the celebrations and watch this vibrant festival of life.
The celebrations start in January with colorful parades held every Sunday. We actually got to see one this week. It was so cool. The procession went through the streets and anyone who wanted to join in the dancing and celebration just jumped right in. The week leading up to Shrove Tuesday (in 2019 from the 2nd to the 6th of March) is crammed with parties and other events, eventually culminating in the main parade, which runs late into the night.
We spent the rest of the week truly focusing on work, creating videos to release while we are at sea, and working on small boat projects which are ever-present. Maik's back is still bothering him, but my sty has cleared. Seefalke seems to be in ship-shape and fit for the crossing.
This week, we will continue to work hard toward our goal of crossing the Atlantic. We have used most of the provisions we gathered in Arrecife, so most of the major provisions will need to be replenished. It will be more difficult to find things here, but we are on the hunt.
We originally had our sights set on a late-week departure. But at this point, we think it will take longer than that.
There are three things that must be in perfect shape before we make the three-week crossing—the ship, the crew, and our work.
Right now, only one of those three things is fit for the crossing—Seefalke. Maik and I both have more work than we likely can complete this week, and Maik is still struggling with his aching back. At the moment, these two things will delay us a bit longer. We won't take any chances, especially with Maik's ability to physically skipper the ship. So we wait . . .