Cabedelo, Brazil — Marina Jacaré Village
When we arrived in Cabedelo, Brazil on February 27, we met Ellen and Felipe, Brazilians who are the proprietors of our favorite local restaurant—a small tent underneath which they grill meat on a stick and mix Caíparinhas, the traditional local cocktail.
When we arrived, Ellen was deep into her 7th month of pregnancy and beginning to get uncomfortable carrying around the extra weight in the unbearable Brazilian heat.
Yesterday, I saw these lovely friends in the lobby with their gorgeous baby girl, Elizabeth, who is now two months old.
That's how long we've been here!
Other sailors have come and gone—venturing off to fabulous destinations around the world. And here we sit.
Seefalke has been stripped down to its bare bones and repainted to look like new. We have installed three new solar panels and no longer need the electrical land connection to provide our ship with energy. We have sanded and painted the cockpit and built a structure on our stern for the dinghy. We have ordered, received, and installed a new anchor and chain. And here we sit.
The locals all know our names, our dogs' names, and our kids' names. Maik is practically fluent in Portuguese, a language he first began studying during our sail across the Atlantic. I traveled to the U.S. for two weeks, while Maik has been to Germany twice and the U.S. twice. And here we sit.
We endured life on the hard for six weeks and used a strategically-engineered puppy crane to lift Cap'n Jack and Scout in and out of the boat twice a day, every day, for 45 straight days. And here we sit.
I have researched and written 20 articles for various clients, while Maik has managed several major projects for his clients. We have written a 102-page eBook "How to Sail with Dogs," and created 14 videos. But we are still sitting here.
It's been fun. It's been long. It's been hot. We love it here. But trust me, we don't want to stay any longer. No offense to the lovely people, the beautiful landscape, the relaxed culture, and the billions of mosquitos who will certainly miss our tasty blood, but it's time to GO!
Rather than recount our day-by-day activities of the past three months as I normally do in this logbook, this time I'll just tell you a few stories about our time here.
A Simple Daily Routine
Life in Cabedelo is relaxed, friendly, and HOT! Surprisingly, we have managed to grow accustomed to the brutal heat that is just part of our temporary home that sits just 7 degrees south of the Equator.
Every day, we awake with the sun (around 05:30) and make coffee while the humid air is still cool enough to drink it. Workers show up around 07:00 to sand, weld, paint, etc., etc., etc.. We pack our backpacks and our seadogs and walk about 50 meters to the marina lobby to work, work, work. The internet is strong in the lobby, but its nonexistent on the boat, which is now back in the water where it belongs.
This has been our office for the past three months. We are working as much as possible while we can.
During the six weeks we sat on the hard in the boatyard, our routine included craning the puppies on and off Seefalke every day and climbing the ladders several times a day to get to our home sitting 3 meters above the cement ground. Even in the middle of the night, we would climb the ladders if we needed to use the bathroom since using our onboard head was impossible while on the hard. We also used the puppy crane to hoist groceries, gas cans, laundry, and other supplies.
We worked every single day for about eight hours as if we were in a regular office. We are not complaining, but we are also not living the life of a permanent vacation as some people may think. Sometimes, we see the other sailors coming in and out of the open-air lobby after surfing or exploring or sightseeing, and we feel a quick pang of jealousy. But then we remind ourselves that this is not a bad office and much better than being trapped inside four walls.
We have the rare opportunity to work while sailing. We have jobs that allow us to work from anywhere in the world, and this is a tremendous gift! We just have to remind ourselves of this at times.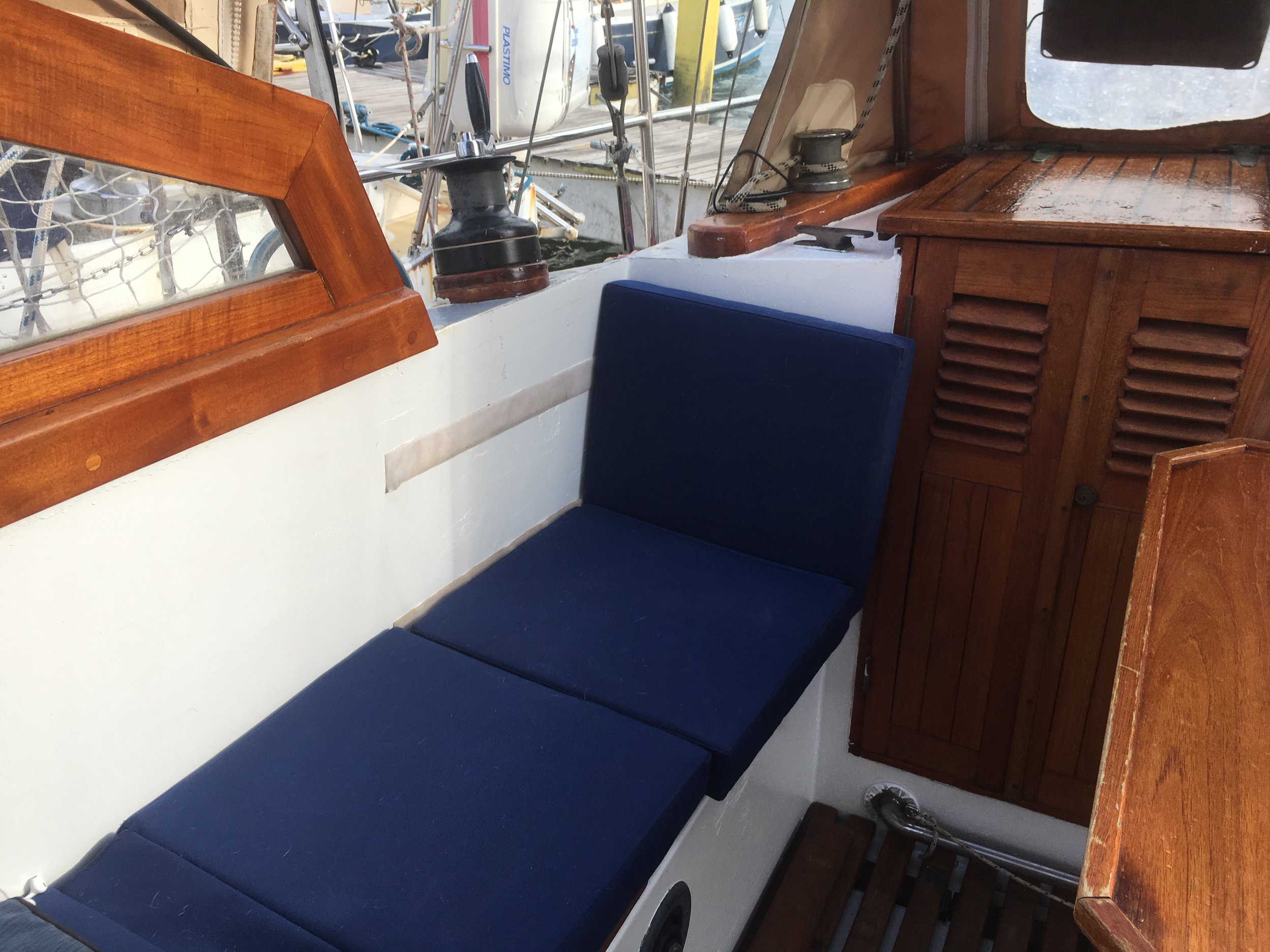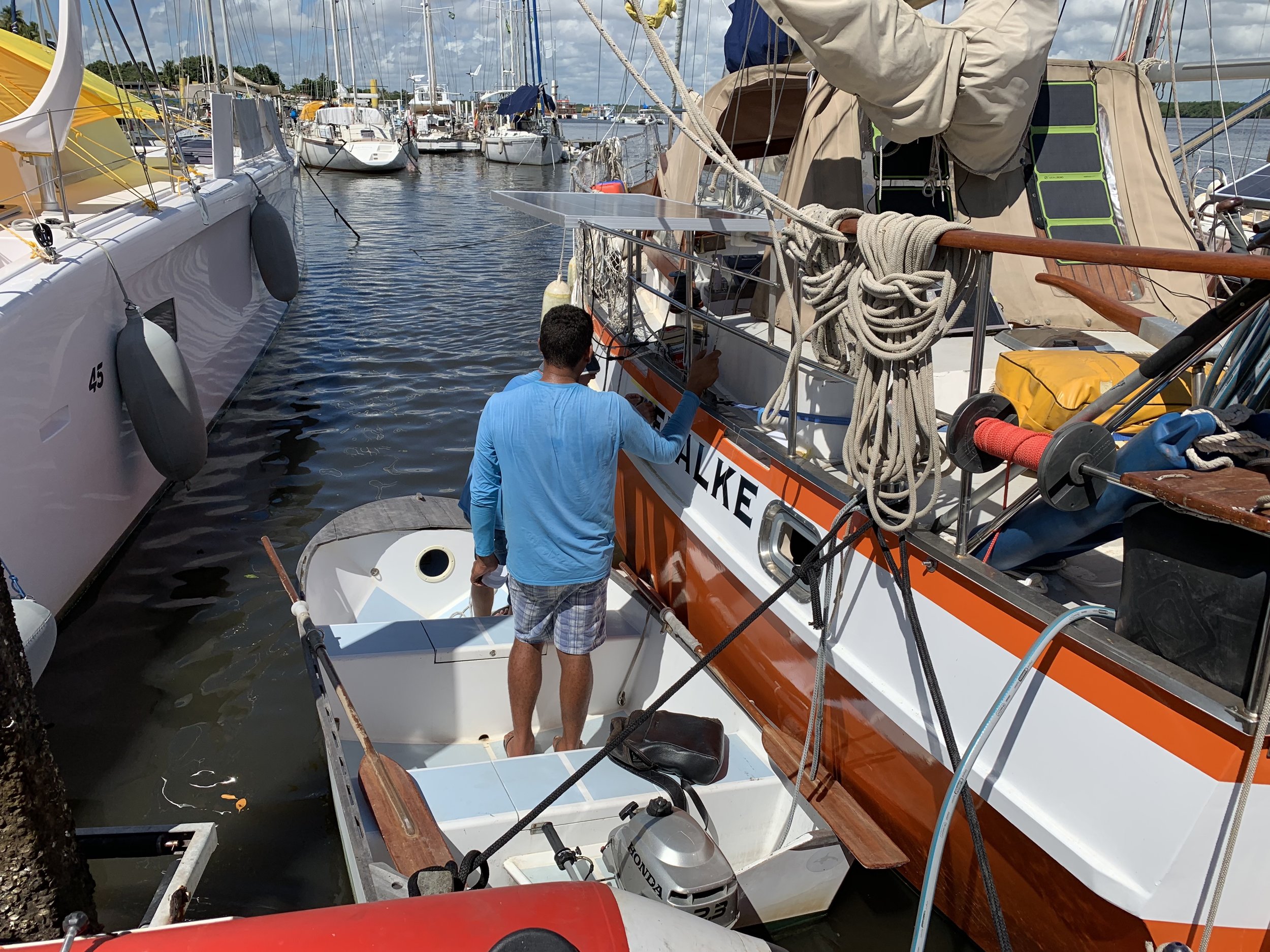 Boat Projects vs. Work Projects
If you have the time, the best way to make repairs on a boat is to do them yourselves. Repairs are expensive, and they also require time. Whether you are in the marina, on the hard, or at anchorage (we have experienced all three in the past three months), sitting here in this port is not free.
Each day we are here costs us mooring fees. Each part and supply we need for the boat costs money. We must pay import fees for some parts. But the good news is that the local labor is inexpensive and very high quality!
We would love to do all these projects ourselves, but that requires time. We wrestled with the decision to hire out most of the work, but in the end, it came down to simple math.
We could do the work ourselves, but it would take longer and would limit our abilities to do the work required for our regular jobs. We asked ourselves, "Do we do the work ourselves, save money on labor, and neglect our jobs? Or, do we work our jobs and pay the cheap labor prices so it all gets completed more quickly?"
In the long run, we could earn more money that we could save.
So, we decided to bust our asses for our clients while the locals simultaneously get the work done on the boat. This way, believe it or not, we spend less money, less time here, and also save on mooring fees.
The Seadogs, a Donkey, and My Broken Toe
On Wednesday, May 15, the sun was setting as the seadogs and I casually walked out of the marina lobby after a full day of work. There was a stray donkey standing near the marina entrance.
Yes, a stray donkey—which, by the way, is not an unusual thing to see just wondering around the dirt streets near Marina Jacaré.
I didn't see it at first, but Cap'n Jack and Scout did. They went charging after the donkey so abruptly and so forcefully, they pulled me to the ground and dragged me several feet until I finally was smart enough to let go of their leashes. The donkey never moved or reacted in any way to the two Beagles howling directly in his face.
The encounter left me with a broken 5th metatarsal on my left foot and scraped most of the flesh from my right leg. My foot was extremely swollen and sore for about a week and continues to cause some pain. Maik went to the local mercantile and found some ice, which helped a lot, but I tried to mostly just rest and stay off it for several days.
One thing about living in a very small space is there is always something to hold on to. For this reason, I was able to maneuver around the boat fairly easily and avoid putting weight on the swollen, sore foot. But when I needed to make the trek to the lobby to use the bathroom, I rigged a boat hook to use as a cane, which helped to keep my weight off the painful foot.
I have since healed almost completely—another indication of how long we have been sitting here.
I also had another minor injury several weeks ago. While Maik was in Germany the second time and we were on the hard, I missed the last step of the ladder on a very early morning bathroom run. My hind end broke the fall when it met the cement ground. I twisted my ankle slightly, scraped the palm of my left hand, and my ass was very sore for a few days, but all was ok. I'm not in a particularly dangerous environment. I'm just clumsy.
We Have Cold Drinks!
While I was in the U.S., Maik ordered a proper fridge for Seefalke! While he was on his second trip to Germany and I was here alone on the hard with the dogs, the fridge arrived (on Tuesday, April 23). Our new best friend and taxi driver, Marco, was so sweet to go pick it up for us and deliver it to the marina.
Of course, then I had the challenging task of finding a way to get the fridge up and into our boat. It's not much bigger than our little cooler, but it is bulky and heavy. One of our daily workers, Anderson, saw me wrestling with a way to attach the heavy fridge to the puppy crane. He was so sweet and picked up the fridge, hoisted it onto one shoulder and then climbed the ladder to transfer it on board!
I was so grateful and immediately got it hooked up and running. We don't really have a good place to put it due to its size and a short power cable, so for now, it is sitting on the end of the settee near the navigation corner. But it's ok. We now have COLD DRINKS and a place to store meat and other things that require refrigeration! After nine months living onboard with only lukewarm drinks in the broiling heat, I feel like we are in the lap of luxury!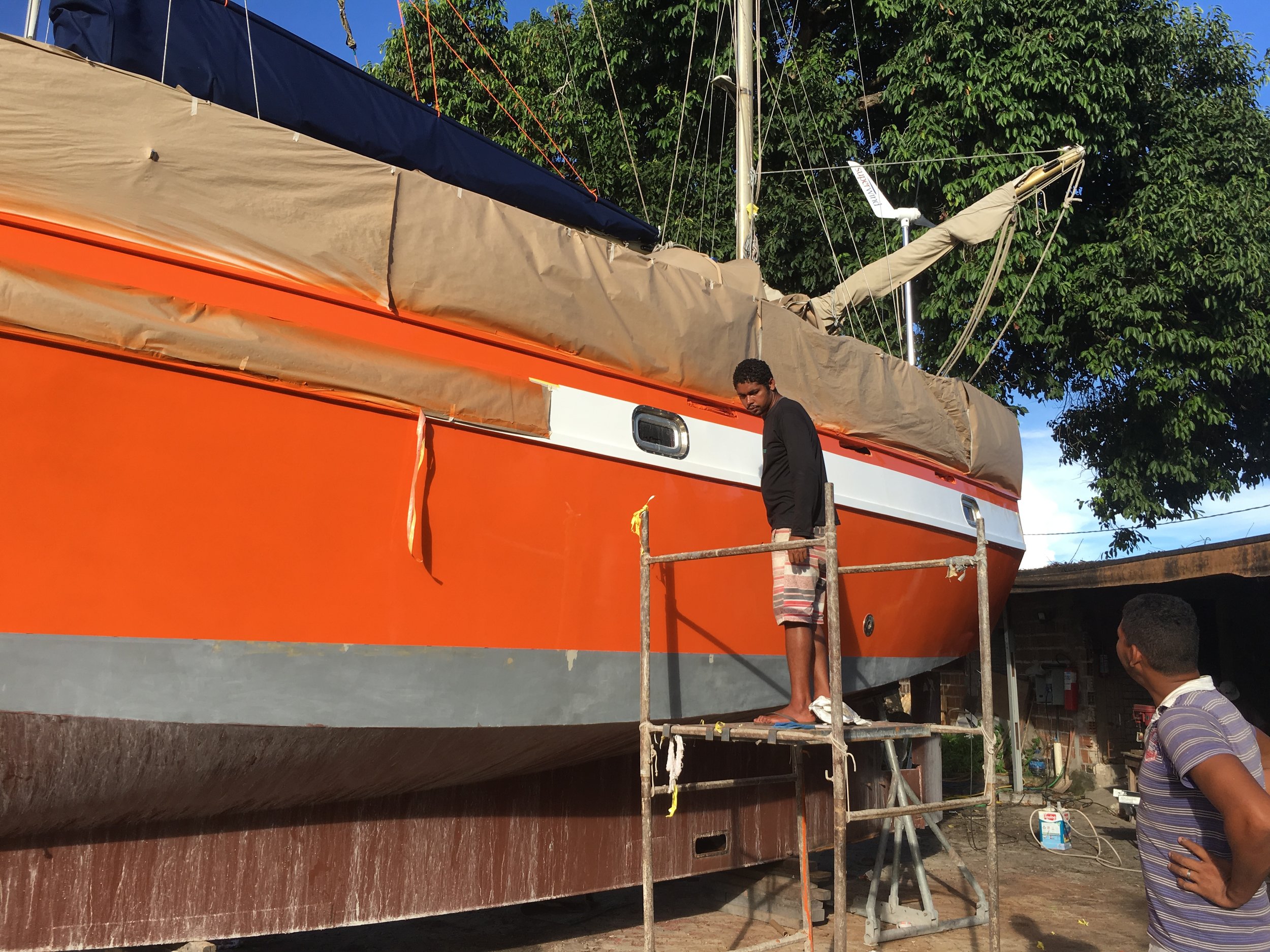 Longest Paint Job Ever! (and other project updates)
We sat on the hard for 45 days, and it took every single one of them to get this paint job done. Seefalke was stripped to the bare bones, sanded and primed with four layers of grey primer. She looked like a huge grey battleship. During that time, there was welding required to repair some rusted areas of the keel and the leaking fuel tank was also repaired. Then she was painted with two layers of white paint. Four coats of orange paint were required to return our beloved ship to her former beauty.
I'll never forget Monday, April 29 when the orange paint finally was applied! It was so cool! We love how Seefalke always stands out in a crowd! After that, her underbelly required antifouling and more sanding. We were finally able to get her back into the water on Thursday, May 2.
But first, we had to remove all the rainwater from the engine room, repair some cracks in the steel cockpit floor, and then refill the fuel tanks. We repainted the markers on the anchor chain and installed the new anchor. Christoph and his team had been working on the solar panel/dinghy davit structure, which was almost finished but could be completed once we were in the water.
While in the marina, we finished the work on the rusted steel in the cockpit and also received our cool new cockpit cushions that Christoph hand made from navy blue sailing material to match our lazy bag.
On May 8, Christoph and Anderson installed our solar panels, and on May 9 the repairs were made to our bow sprit and anchor windlass. On May 18, we applied our new SEEFALKE name to the boat to finally complete the paint project. It feels like we have been working on these projects forever, but it's all coming together as we finish all the final small details.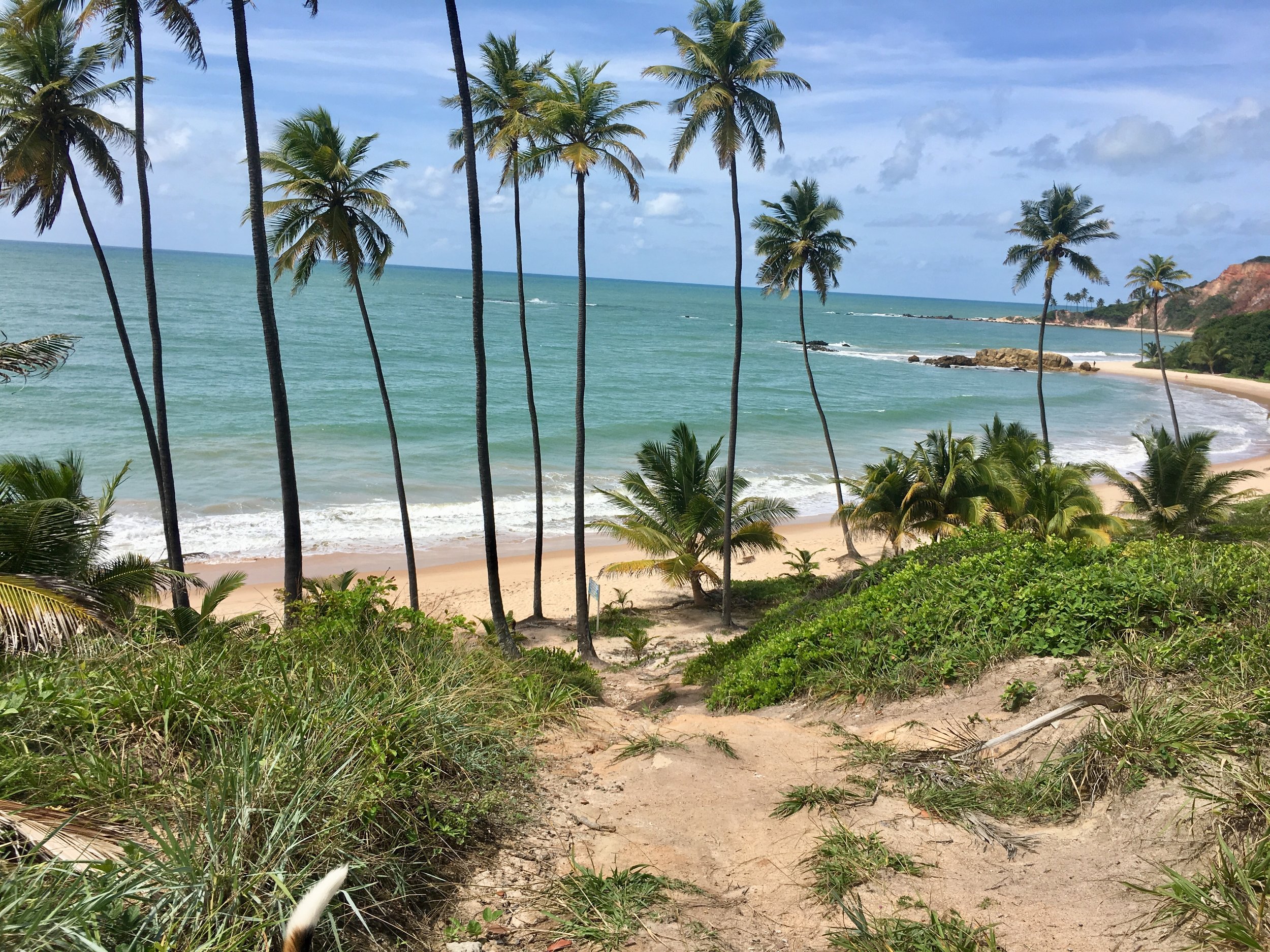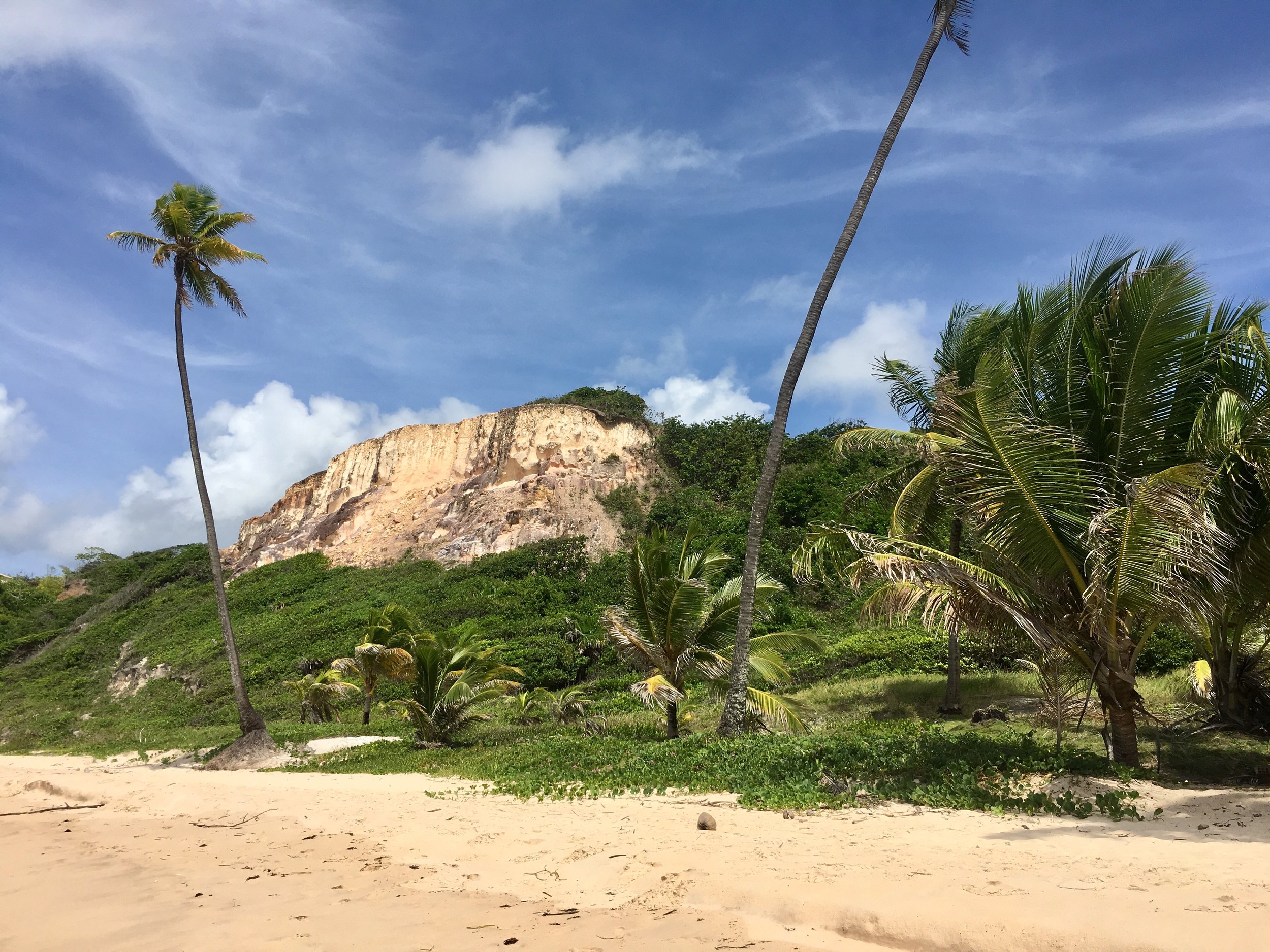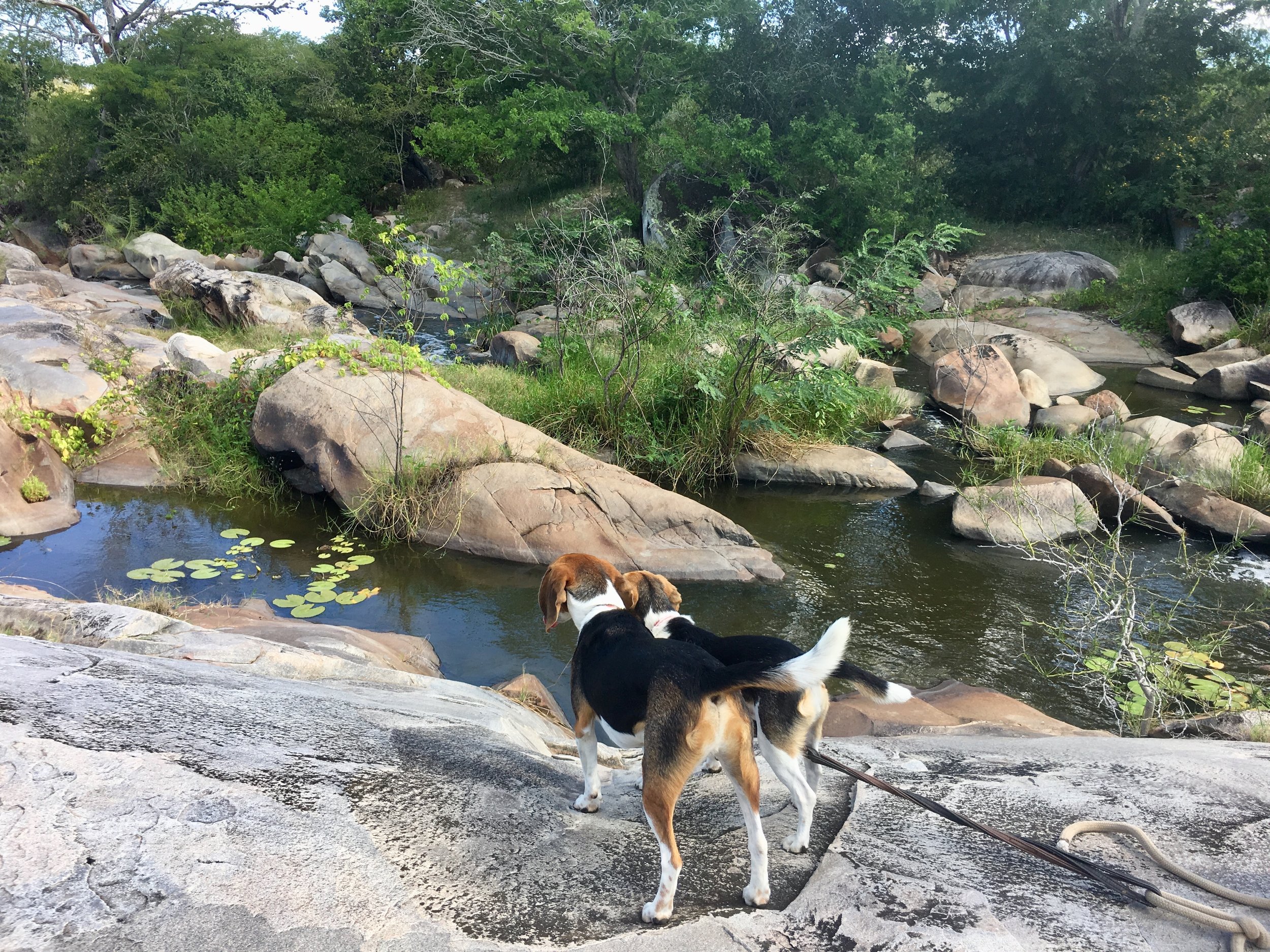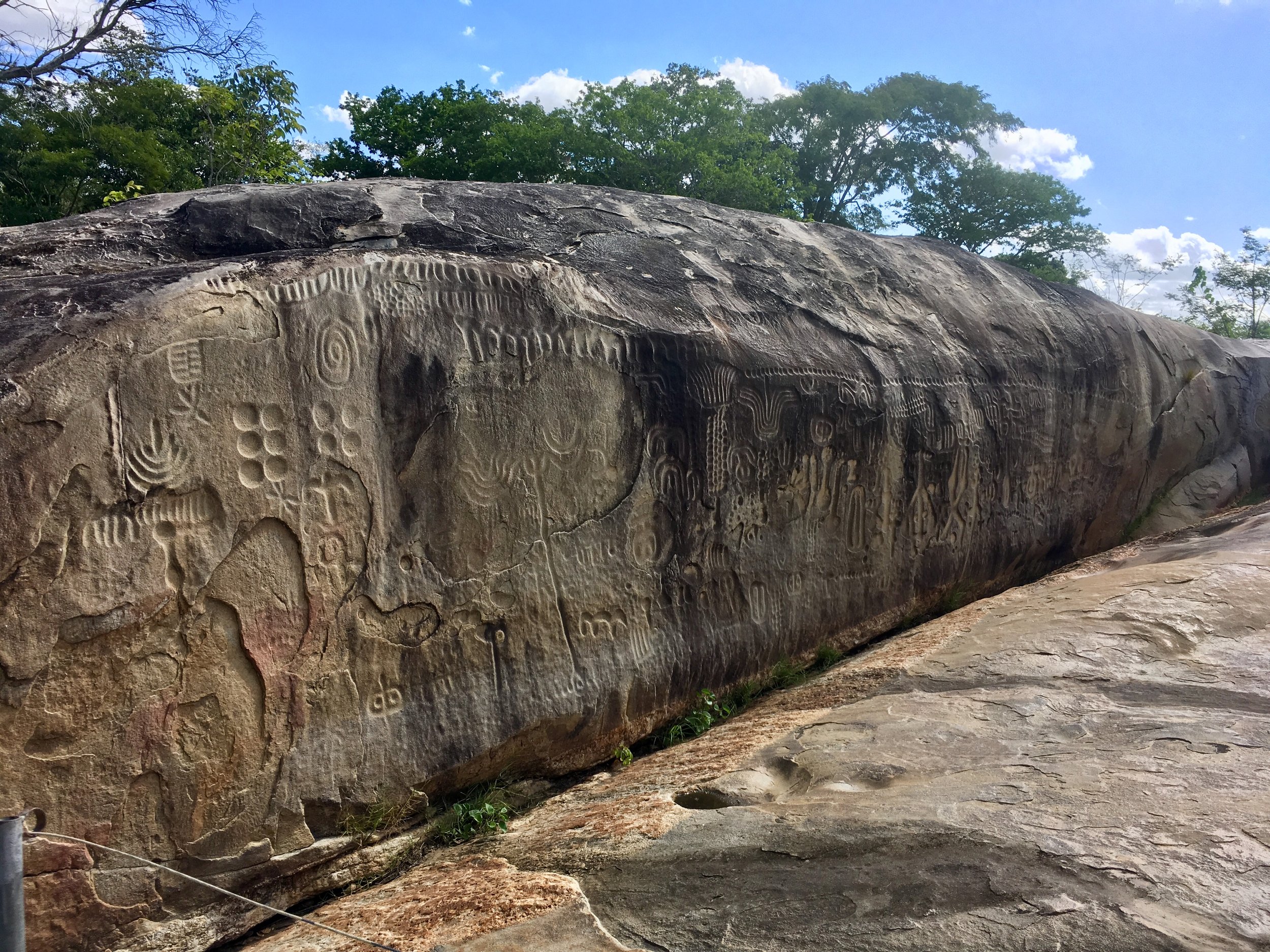 Our Beach Tour
We had been sitting here for so long and working so hard every day on work projects and boat projects, we decided it was time to see a little bit of this part of Brazil.
On Saturday, May 4, we worked half a day, then rented a car and went in search of a BEACH!
We drove about two hours to Praia de Maracaipe, a beach inserted in the Municipality of Ipojuca, Pernambuco, located about 75 km from Recife. With its sprawling fields of coconut trees on one side and a gorgeous ocean with gigantic waves on the other, it's a local hangout that looks like French Polynesia.
"Maraca", as the regulars call it, is the backyard of the Sufis who reside in Ipojuca and in Recife, especially after the shark attacks that occurred in the capital and in Vancouver. The beaches situated south of the port of Suape (PE) are more prone to surfing, for not allowing the passage of sharks and for being environmentally more balanced.
Open-air dune buggies are rented for transport along the sand-filled roadways along the beach.
At any time, you will see a local casually climbing a coconut tree as easily as a monkey to retrieve the refreshing green coconuts that locals sell to tourists for only 2 Real each (about 50 cents in USD). With a sharp machete, the local peddlers slice open the top and pop in a straw. We tourists drink the water/milk directly from the coconut. Delicious!
We had a lovely day with Cap'n Jack and Scout. It was so nice to get away from the marina and explore this beautiful country.
The next day (Sunday, May 5), we worked another half day, then headed on another two-hour drive to see the famous Ingá Stone. Off the beaten path, the Ingá Stone (Pedra do Ingá in Portuguese) is located in the middle of the Ingá River near the small city of Ingá, 96 km from Joāo Passoa, in Paraiba State in the northeast of Brazil.
The Ingá Stone is also called Itacoatiara do Ingá. It is a rock formation in gneiss which covers an area of approximately 250 m² with entries whose meanings are unknown. Several figures are carved in low relief, suggesting the representation of animals, fruits, and constellations like Orion and Milky Way. It is composed of some basalt stones covered with symbols and glyphs which are undeciphered until now. Scholars think it was created min. 6,000 years ago by natives that lived in the area until the 18th century.
On Monday, May 6, we did some major provisioning since we had the car. We got a carload of food, 100 liters of water, other some other supplies. But we need much more before we can set sail again.
After another long week of work, on Saturday, May 11 we rented another car and went to Tabatinga beach. I'm not kidding, I think this is possibly the most beautiful beach I've ever seen. We unleashed the hounds and let them run and play for hours while we walked and explored the multi-colored mountains and exquisite tropical nature surrounding the beach that had hardly any people on it. It was the absolute opposite of touristy—wild and spectacular!
Then next day, Sunday, May 12, was Mother's Day. I was sad and missed my kids a lot. Bo gave me a call and we talked for about an hour and Tom also gave me a quick call. Then I was able to text with Shelby for about three hours, and this just made my day! But I still miss them a lot.
That afternoon, we went to Praia de Pipa, which was the opposite of Tabatinga. It was incredibly touristy until we made it past some of the major rock formations that looked like lava fields. With all the graffiti and art galleries, we could easily see this is where the local artists peddle their talents.
On the way back to the marina, we took a quick drive past Tambau Beach, which is a popular, palm-fringed city beach featuring bars, eateries, and craft vendors.
We needed to return the car the next day, so we decided to take a quick drive to the immigration office to be sure our 3-month visas were still intact. Fortunately, our time was extended due to the fact we had both left the country during our three-month period.
Our Amazon Dilemma
As you know, our original plan was to sail from Cape Verde to Barbados and continue up along the Caribbean to Alabama. At the last minute, just two days before we set sail from Cape Verde, we changed our minds and decided to sail to Brazil. For one thing, we wanted to sail across the Equator. But the other main reason for the change in plans was so that we could sail the Amazon Delta.
We ordered all the charts and began to research.
Every sailor we talked to who had never sailed the Amazon encouraged us not to do it. Every sailor we talked to who had done it (which was only two sailors), said we would always regret it if we didn't do it.
We went back and forth on this as we began to learn about the risk and rewards of this particular journey.
The Pros
This is a once-in-a-lifetime opportunity that not many sailors have attempted.

We want to sail through the jungle and the rainforest and experience the history and the beauty of the Amazon's unique channels.

We have the perfect boat for this journey—steel construction that sits high on the water.

We want to experience the thrill of uncharted territory
The Cons
This part of the Amazon is known for piracy and high crime.

The entry to the Amazon is where the world's largest river meets the world's second largest ocean (The Atlantic), making the entrance maneuver especially challenging.

There is significant debris (large logs, for example) that are moved violently by heavy current.

Traveling alone without a local guide in this area is not recommended.

The area is remote with little connection to the outside world, so emergencies become even more critical.

There are swarms of mosquitoes and other dangerous parasites.

There is extreme heat and even higher humidity.

It is currently the rainy season. This means the river level increases by 6-8 meters, which means more debris in the water and a more violent 'meeting' with the heavy Guyana Current.

The high current only gives short slots in which sailing is possible. We would need to motor most of the way through.

A large part of the Amazon Delta is uncharted, and other parts have last been surveilled in the 1950s.

The trip would be very time consuming.

There are other rivers in the area (French Guiana, Suriname, Guyana) that are smaller and safer and also provide the jungle sailing experience.
To counter some of the cons, we got together with two other sailors who at first considered traveling with us in a caravan. We thought "safety in numbers," would help with the high-crime areas. Also, there would be someone to help if one of us had engine trouble or required other boat repairs.
But the other two sailors decided against the risk and left us alone again.
We found a local guide, recommended by our friend and taxi-driver, Marco. He wanted 300 Real per day (about $75 USD), which we thought could be fair considering we would have a local who speaks the language and also knows the areas to avoid. But are we ok with having a stranger onboard with us? And would he lead us to the danger rather than away from the danger?
We have barking dogs onboard—a built-in alarm system—which is helpful since most of the locals are afraid of dogs. But we feared something could happen to them, for example, a bullet from a pirate's gun.
We recently spent a lot of time and money on repairs to the boat, and the danger of damaging the boat in these conditions is high.
We are not easily frightened and don't like shying away from a challenge, but we are also not suicidal. And in the end, we finally decided that the risk would not be worth the reward. Tune in to our passage plan to find out our Plan B adventure!!!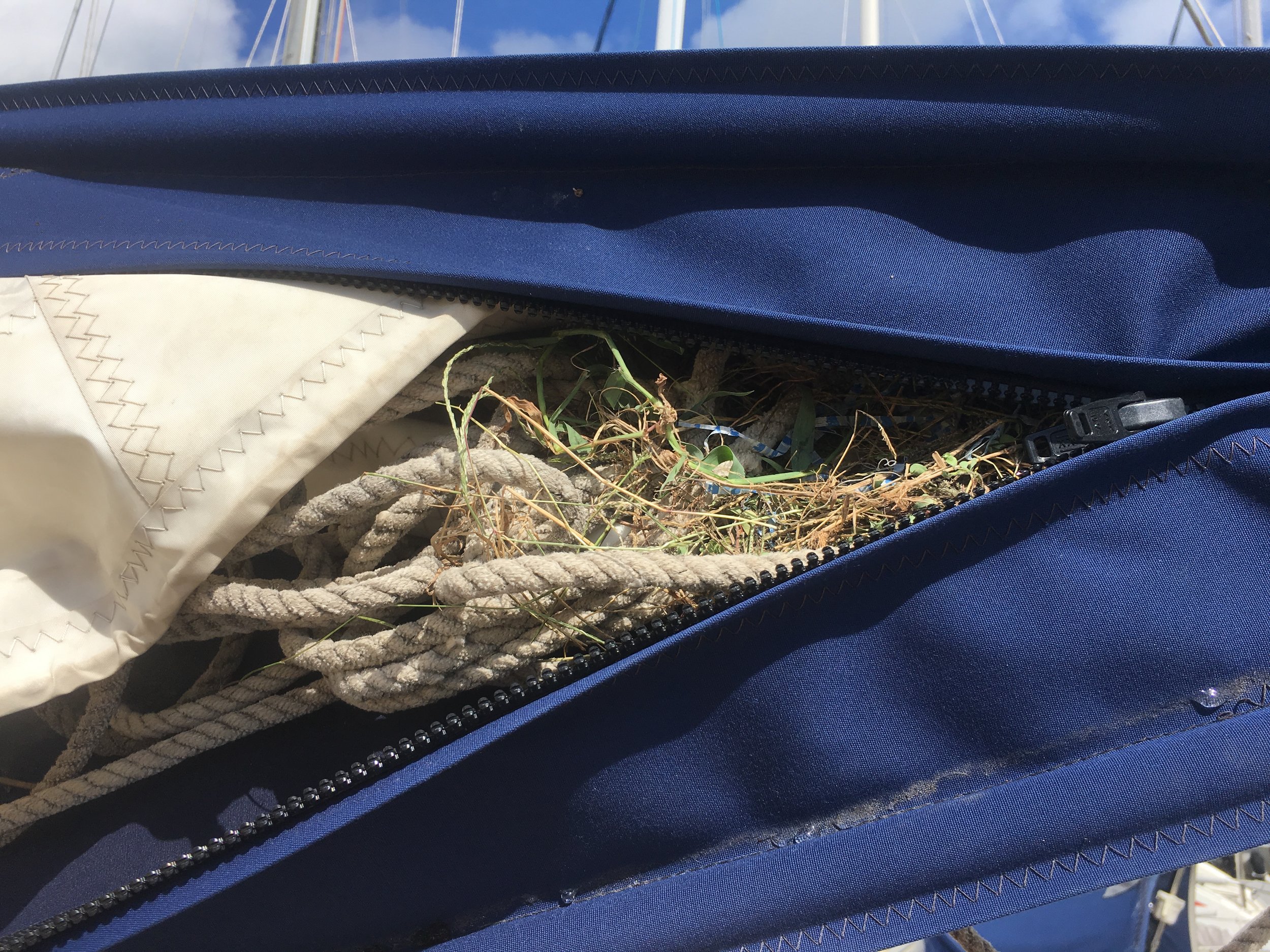 Provisioning, Organizing, and Angry Birds
Maik went to Texas May 21-24 for his son, Tom's graduation from high school. I was so disappointed that I could not attend, but one of us must always stay here with the dogs and the boat. I was also disappointed to miss the adoption ceremony for Ashton, my brother's son. It was also a big week for my daughter, Shelby, who completed her first full year of full-time teaching.
While Maik was away, I emptied the bow cabin and began organizing and making room for provisions. We desperately need to restock water, food, and supplies for the next sailing adventure.
I was still recovering from my donkey-induced foot injury, so I was working in the cockpit rather than the lobby while Maik was away on this short trip. One morning, I noticed several birds hovering around the end of the main sail boom. The birds were frantically flying in and out of the opening of the new lazy bag and taking twigs and grass and sticks in with them. They were obviously building a nest.
I shooed away the birds, opened the lazy bag, and found a huge nest inside. There were no eggs, so I removed the nest and tried to close the bag and fill any openings. The birds continued to return and tried to get in, but I kept shooing them away. I felt like I was playing a real-life game of Angry Birds. We love birds and all animals, but they needed to find a home elsewhere.
One thing is certain. When birds are building a nest on your boat, you've been sitting in port too long. Our sea legs are itching. It is most definitely time to GO!