Cabedelo, Brazil, South America
For the past several weeks, we have been stuck on dry dock in the shipyard at Marina Jacaré Village here in Cabedelo, Brazil. It feels so strange to be on the boat, but not in the water. Living on dry dock is like living in a tree house. It's not easy. It's not convenient. But like everything else we have experienced so far, it's another adventure.
During the past month, I took a two-week break and headed to our land home in Gulf Shores, Alabama, U.S.A. to work a little and visit with family and friends. I had not been home since before we set sail on this journey seven months ago.
Meanwhile, in Brazil, Maik continued to work on at least eight major projects during this past month—all while living in our sailboat tree house. Most of these projects are still ongoing. Here is a recap of our last month in Cabedelo, Brazil and Alabama, USA.
Thursday, 14 March 2019
We continue to be completely inspired by the other sailors we meet and their stories. We have been in Cabedelo for so long we have seen many sailors come and go. I've said this many times, but it's important to say it again—with sailors, it's never goodbye. We always know that there is a chance we will see our sailing friends again somewhere in the world at some point. This will make even more sense if you read all of this logbook entry, as well as previous entries.
In my last blog, I mentioned our friends, Robin and Philemon, who recently sailed down to Patagonia on the southern tip of South America. They sailed around Cape Horn and then sailed for 40 straight days up to Cabedelo. They have a very cool steel ship, Bekwaipa. This is a French word that Robin learned from his grandmother. Loosely translated, it means "the opposite of not stable."
We were walking by their boat on the pontoon while they were working outside on boat projects and invited us onboard for a tour. This is not a bright, shiny, or fancy boat. The green and white steel structure is covered in rust and in some parts of the cabin there are no walls, only open insulation. But this is a STABLE boat, so the name fits! Their inside layout is similar to Seefalke. It has the appearance of being messy and cluttered, but it's very organized for them. They have creative rigs everywhere, including a long board with their depth sounder attached to the end. They simply hang this off the back stern when they need to test the depth of the water. It's simple and unsophisticated, but it works.
They have surfboards on board and look like typical vagabond surfer dudes. They are so cool and are living a cool, free lifestyle. They are making plans to head back home for a month and then return here to sail to the Azores next.
That evening we ate dinner at our favorite outdoor meat-stick truck and eventually drew a crowd. We were joined by Robin and Philemon, Sophie and Tobias, and Felix and Emeline. Everyone but Maik drank Caipirinhas (the official Brazilian cocktail) and talked for hours about the addiction of sailing and the sailing lifestyle. There is a unique and instant connection with other sailors who love this lifestyle.
Friday, 15 March 2019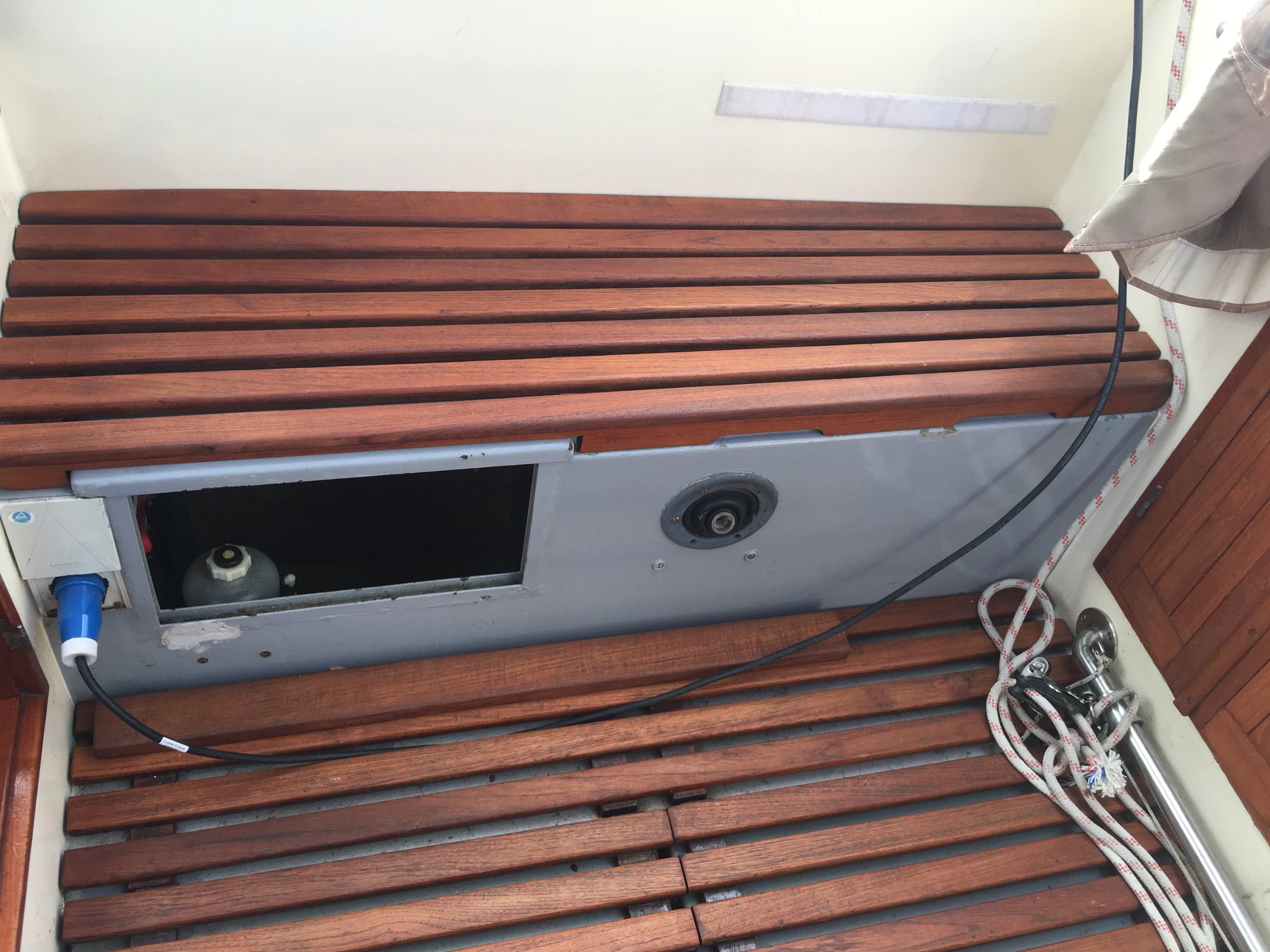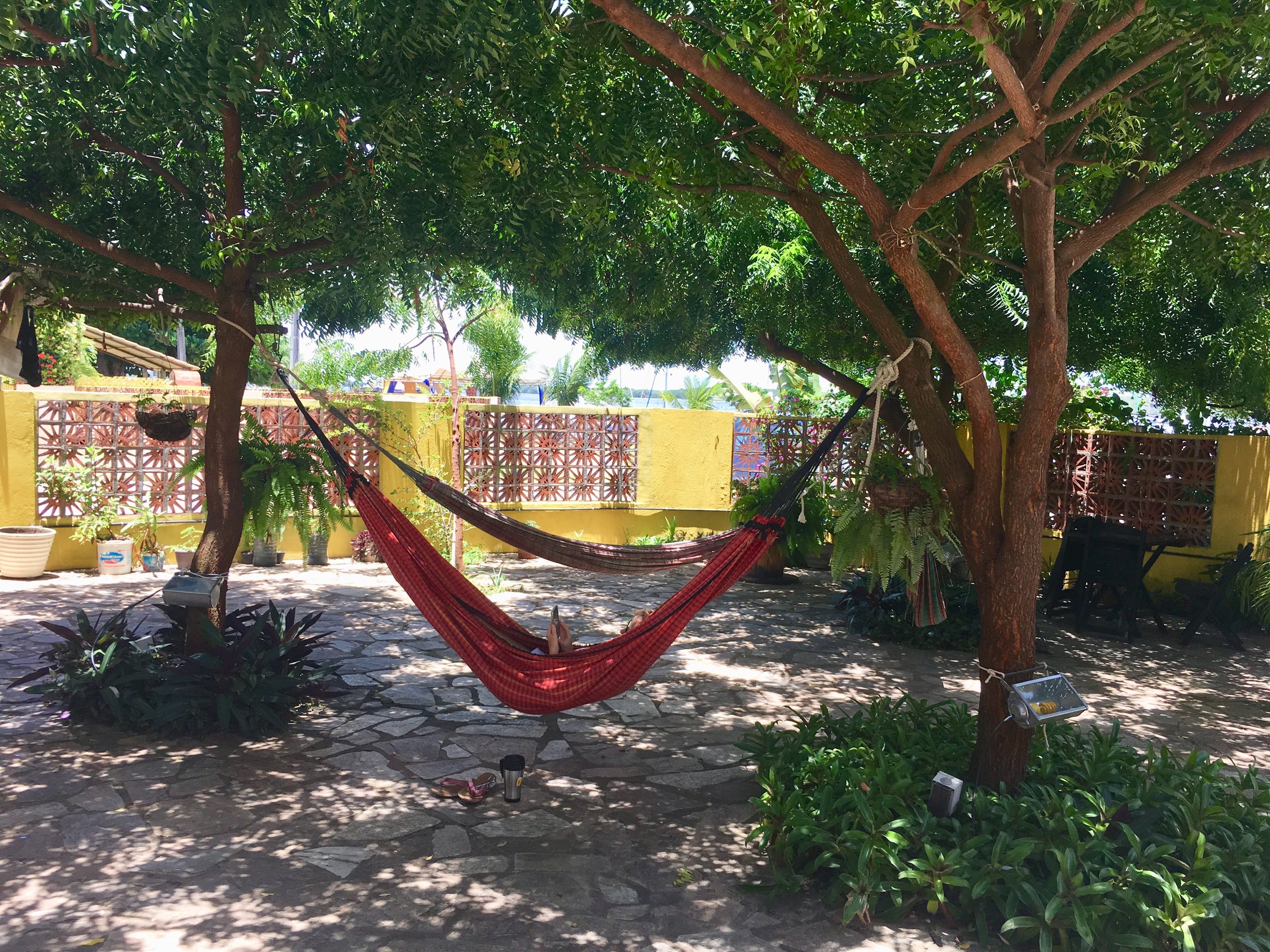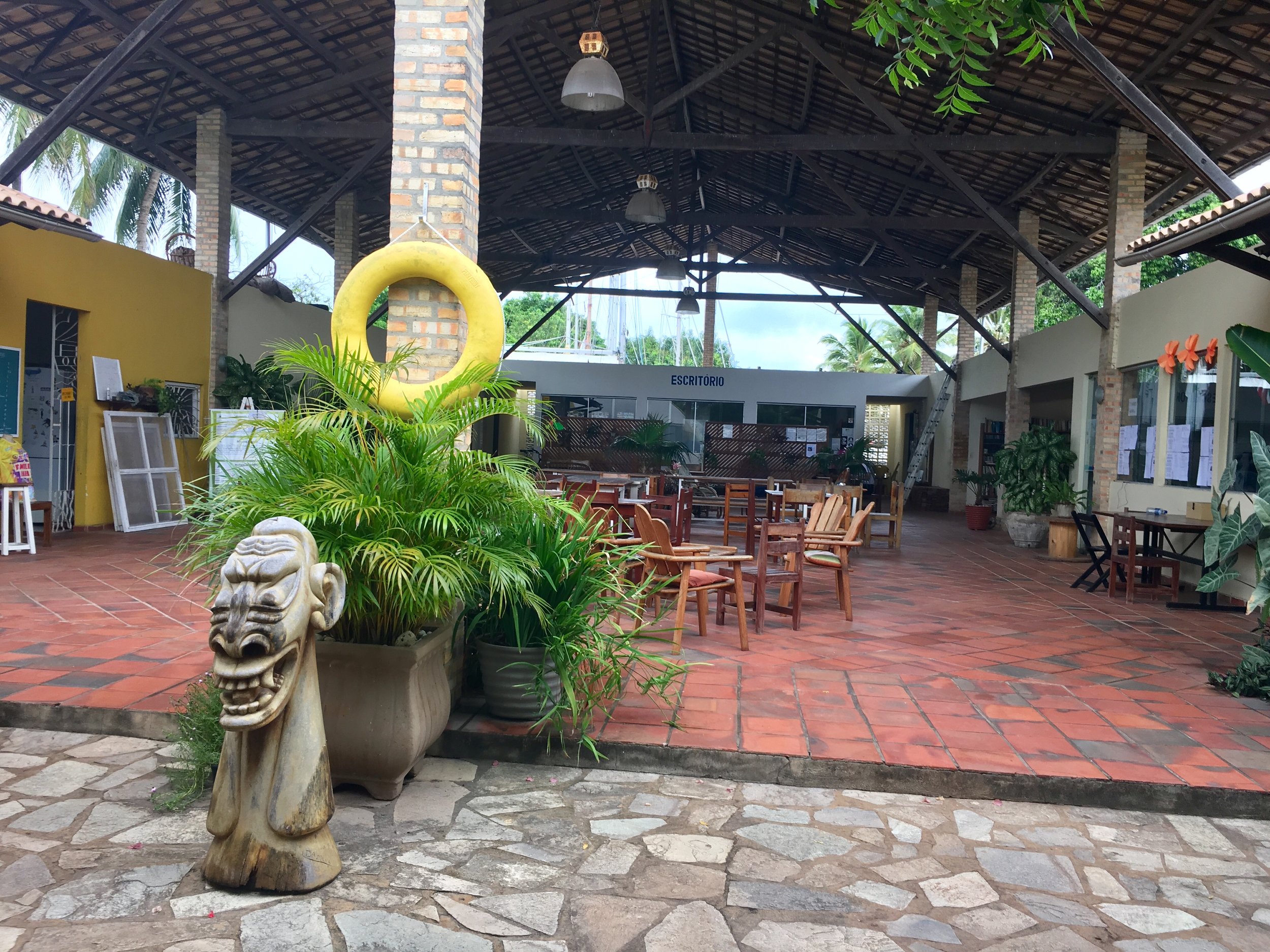 Christoph surprised us at breakfast with our finished cockpit boards. They had all been sanded and oiled and look brand new!
Again, we worked all day in marina. This is a very open and social area for the sailors here. The washrooms and showers are here, as well as a small diner with a limited menu, and a laundry service operated by a sweet Brazilian woman, Annabella. Most important, there are tables for working, hammocks for relaxing, and a cool breeze that makes its way through the open-air breezeway. A few tents overhead provide shade and protection from the rain.
There is a library full of books that you can read while in the lobby, or you can "leave one and take one." Books are available in just about every language. This is also where the office of the Harbor Master is located as well as access to the marina maintenance crew.
But most important, this is where all the sailors hang out to get relief from the heat and of course, to talk with other sailors. There is always upbeat music playing, which we have trained ourselves to tune out while working.
There are a couple of stray cats and one kitten that has been adopted by all the sailors and marina crew. These cats drive Cap'n Jack and Scout crazy. We generally bring the Seadogs with us into the lobby every day while we work so that they also can get a break from the extreme heat.
We met another cool sailing couple, Mer and Dan. Mer is French, and Dan is British. They have been in Brazil for three months and head toward French Guiana next. They are young, not sure their exact age, but I would guess mid-to-late 20s. They have an apartment in London that they rent out for what they call a "ridiculously obscene price" and use the money they make from the rental to support their cruising kitty. They have no other source of income, so they always stay at anchor, never eat out (only cook on the boat), and do 100% of their boat maintenance themselves. I still find it fascinating that if you want to sail the world, you can find a way financially.
At dinner that evening, Maik and I talked about how on land our international relationship seems completely crazy. How ridiculous it seems to have a relationship with one person who lives in the US and the other who lives in Germany. People have asked us for the past six years how we manage this, and it isn't easy. I wouldn't recommend this kind of long-distance relationship, although we found a way to make it work all these years. But at sea, it's completely normal and common for relationships to exist without borders. And no one we meet in these many ports seems at all surprised when we tell them I am from America and Maik is from Germany. In fact, it's rare to find couples cruising together who are from the same country.
Tuesday, 19 March 2019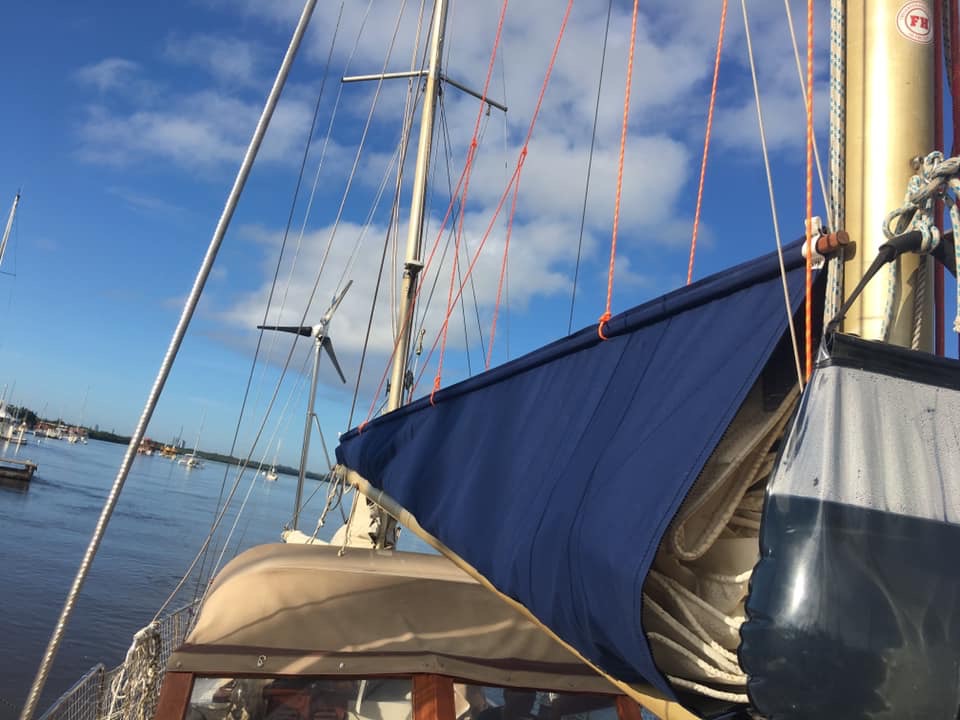 We had a lazy bag made by Christoph that we were set to install on this day. It was Maik's turn to strap on the bosun chair and make the climb up the main mast to the top of the crow's nest to install the rigging.
A lazy bag is a device designed to wrap itself around the main sail with lines attached to the mast spreader, creating a bag to capture the main sail when the halyard is released. The sail drops right into the bag. In addition to looking really nice and clean and organized, this is a safety feature when we are at sea. We no longer will have to fight the sail that may be flapping in heavy conditions when we try to bring it down, nor will we have to hand tie it on the foredeck. The sail will simply drop into the bag, the sail will be contained, and then we zip up the bag when conditions allow.
Wednesday, 20 March 2019
We said goodbye, for now, to Robin and Philemon, who headed to Europe by plane for a month. They were so sweet and baked us homemade bread before they left.
That afternoon, I interviewed Emeline for one of the international pumping magazines for which I often contribute articles. She is a female engineer who sails six months of the year, and then works on an offshore rig the other six months of the year. She is among the 1% of female engineers for her company. She is at sea even when she and Felix are not sailing the world in their little monohull, Sea You. It's a fascinating story that I will post for you once it's published.
I spent the rest of the week making a list of supplies to find while in Alabama and preparing for my trip to our land home.
BACK IN THE GOOD OLE USA (March 24 – April 8, 2019)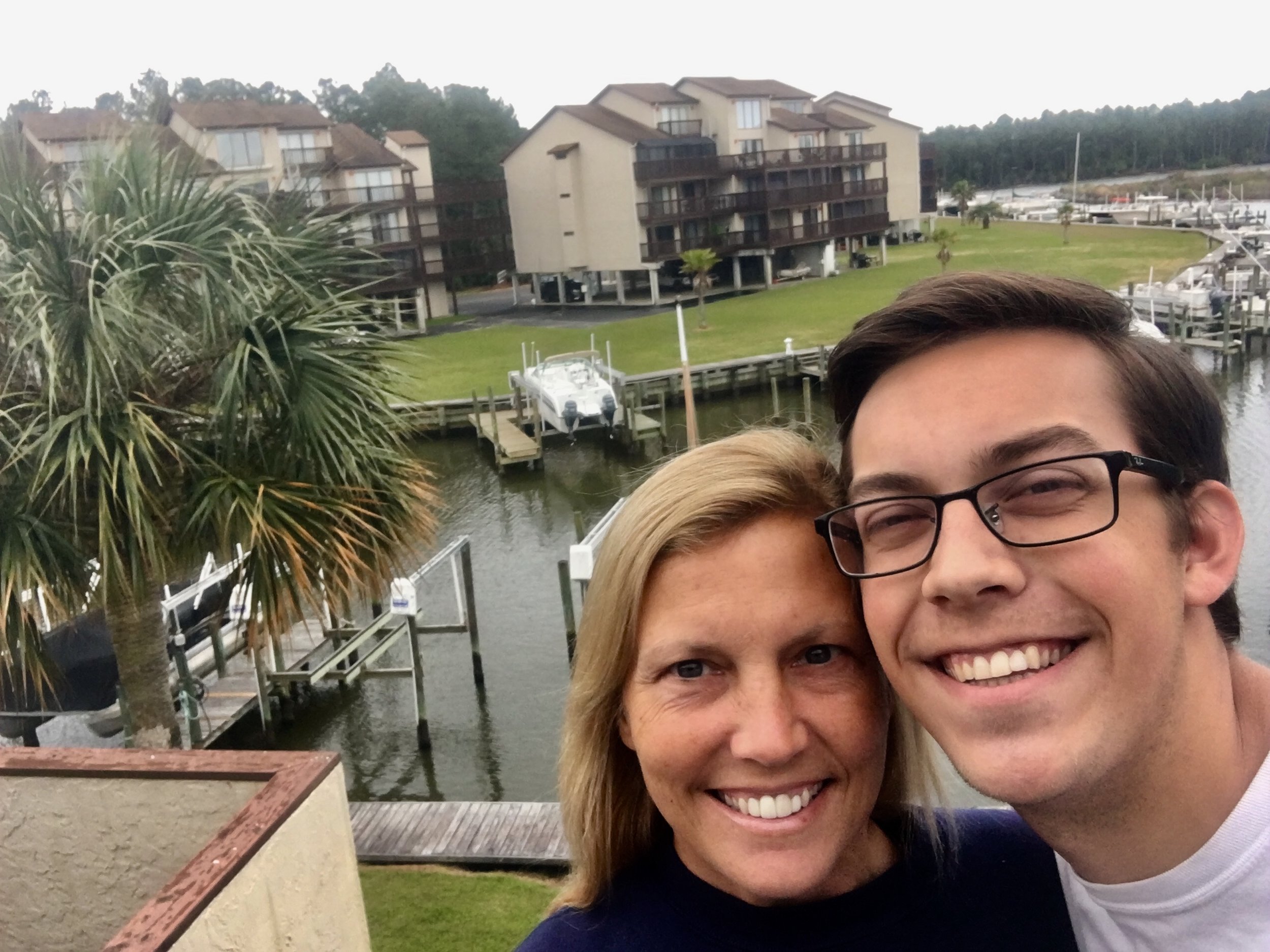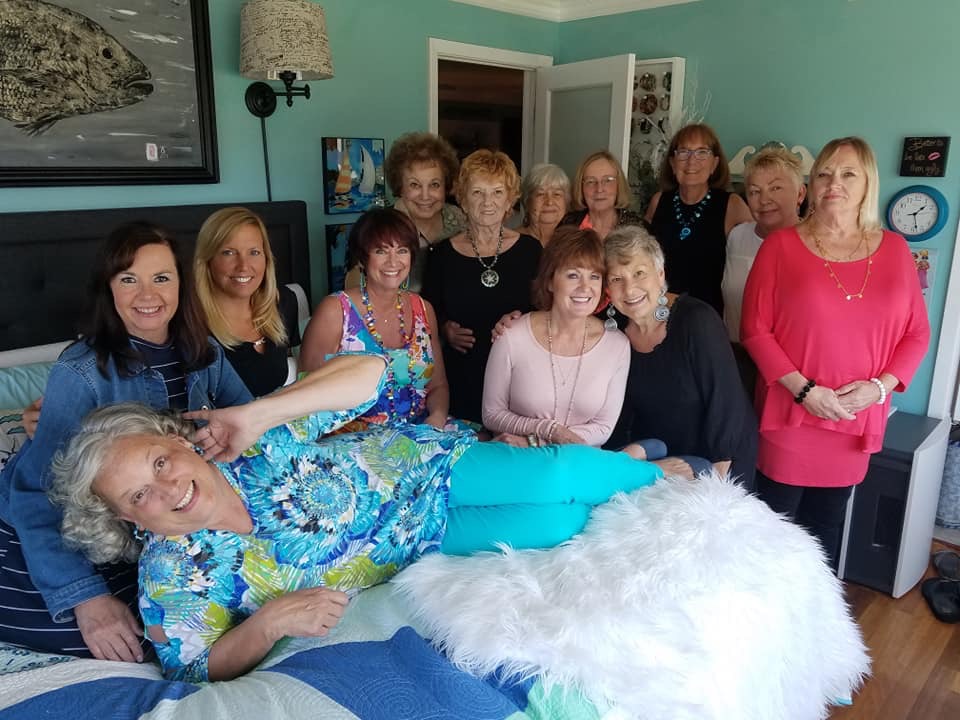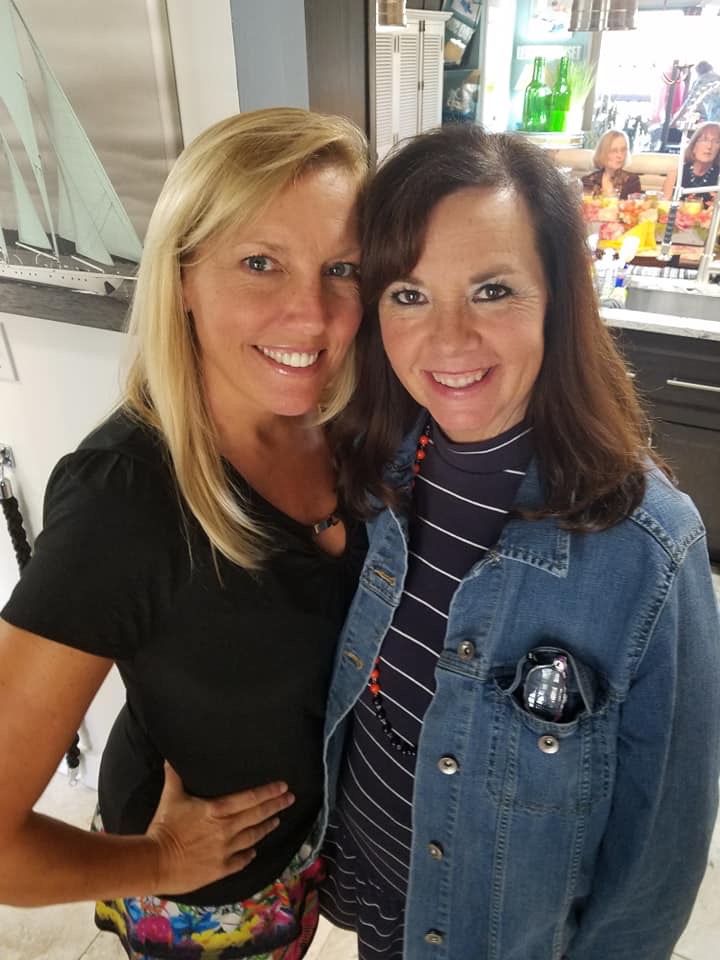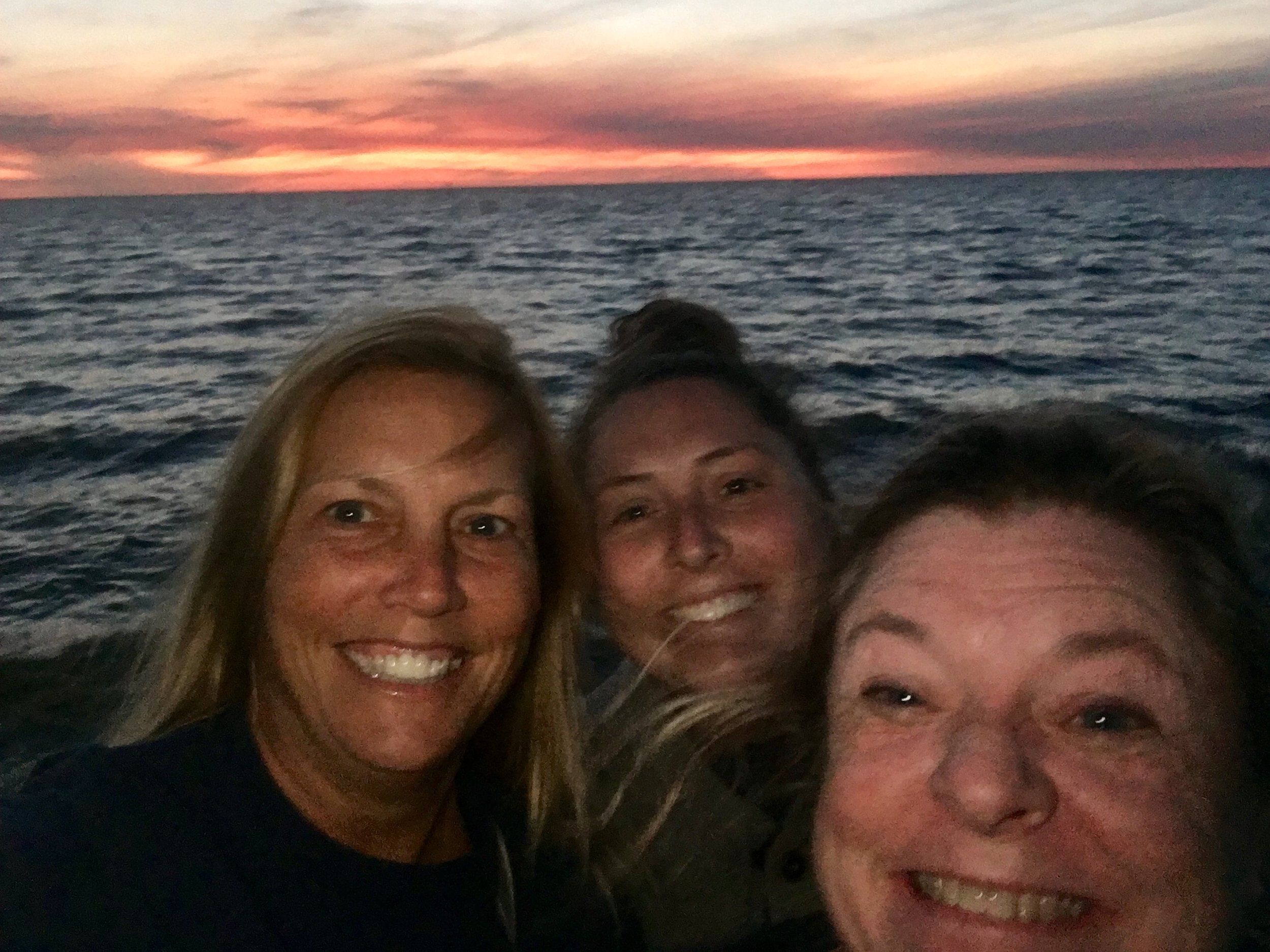 I had not been back in Alabama since Thanksgiving, and I had not been to our apartment in Gulf Shores since I left with the pups to fly to Germany on July 30, 2018. Seven months is a long time to be away from home.
I had an early flight from Recife, which meant I needed to leave the marina at 04:30 with our taxi driver/friend Marco to make the 2-hour drive to the airport.
It felt strange being on an airplane. The 8-hour flight was ok, but I had a 14-hour layover in Orlando. It was an overnight layover, so I decided to take a cheap hotel near the airport and sleep during the layover. This made the 1.5-hour flight to Pensacola the next day manageable and helped me quickly shake any jet lag.
My dear friend, Michele, picked me up from the airport. I planned to stay two nights with her and Doug while we had renters in our apartment in Gulf Shores. Maik had given me a long list of boat supplies to find while in the states that we couldn't get in Brazil. Michele and I went on the hunt at WalMart and Lowe's. Oh, how I have missed these great American super stores!
We filled her car with supplies and headed back to her house for a barbecue with more friends — Steve, Catherine, Jenny, Fritz, and of course, Doug (Michele's boyfriend). We had a blast catching up! It's so great to see my American friends again!
I made it to Gulf Shores on Monday morning and struggled a bit to settle in. It didn't feel like home without Maik and the pups, but I immediately got busy on several projects after visiting with more friends—Trisha, Krista, and Tom.
One of my main tasks for the trip was to try to sell enough things in my offsite storage unit to move to a smaller, cheaper storage unit. I was able to easily sell tons of old furniture items on Facebook Marketplace and brought a few things back to the apartment to use there. During the two weeks stateside, I was able to accomplish moving from a 10 x 10 storage unit to a 5 x 10 unit, cutting my footprint and the monthly payment in half. I was able to use the money gained from the furniture sales for all the boat supplies I needed to purchase.
Meanwhile, I also sold my car to my friend Trisha—my cool VW Beetle Convertible. I love this car, but it's just sitting there all these months, so now I can save money on the payments and insurance. It was a huge expense each month, so this is a relief to be free of that. We still have our old beat-up Jimmy truck that we can drive while in Gulf Shores, and this is all we really need. We barely need one car right now, and we definitely don't need two!
I struggled to find a good rhythm at home—especially at first. I was enjoying the long, hot showers and the unlimited supply of ICE, but I found it hard to concentrate on real work. I thought I would love being in the civilized world so much that maybe I wouldn't want to return to Brazil, but this only made me want to get back to the boat more. I continued to realize that some of the creature comforts I always thought I couldn't live without are just not that important to me anymore.
As the famous sailor, Robin Lee Graham, once said, "At sea, I learned how little a person needs, not how much."
My amazing son, Bo, came to visit me for the weekend. It was fantastic to have some very high-quality one-on-one time with him. I miss my kids so much and this is the hardest part of being at sea!
Bo and I spent the weekend talking, catching up, and watching all the Oscar-nominated movies. This is our tradition. We do it every year and come up with our own opinions of who should have won the Academy Awards. We highly recommend BlackkKlansman and Green Book. They were our favorites over the weekend, but we also liked The Wife and The Favourite.
We also spent some time over the weekend cheering on our Auburn Tigers with our neighbors, Tom and Krista! Our team made it to the NCAA Final Four Basketball Tournament for the first time in history, but lost in the first round. It was cool to share the experience with other loyal Auburn fans and friends! War Eagle!!!!
During my second week home I got to spend a lovely dinner with friends/neighbors, Lynn and Mike, and then got a visit from my sis-in-law, Pam, and my niece, Allie, who drove all the way from Decatur to visit me for a couple days. We went to the beach and had a fabulous time together. We also went to Mobile and had dinner with my other sis-in-law, Dana, and my niece, Ashton, and nephew, Wells, at their restaurant, The Dumbwaiter.
It was fabulous seeing family, but I was devastated to not be able to spend any time with my parents or with my precious daughter, Shelby.
Time in Gulf Shores was productive and went by so fast. I loaded up three huge suitcases full of supplies for the boat, then headed back to Pensacola for another fun evening with Michele and Doug, and our friend, Shirley.
After an early flight out of Pensacola, I had another long layover in Orlando. This time it was 10.5 hours and during the day rather than overnight. I stayed at the airport and caught up on all the work I didn't get done during my hometown visit.
BACK IN BRAZIL (April 9 – 14, 2019)
While I was in the U.S., Maik had moved Seefalke onto dry dock in the Marina Jacaré Village shipyard and had been extremely busy with repairs and upgrades.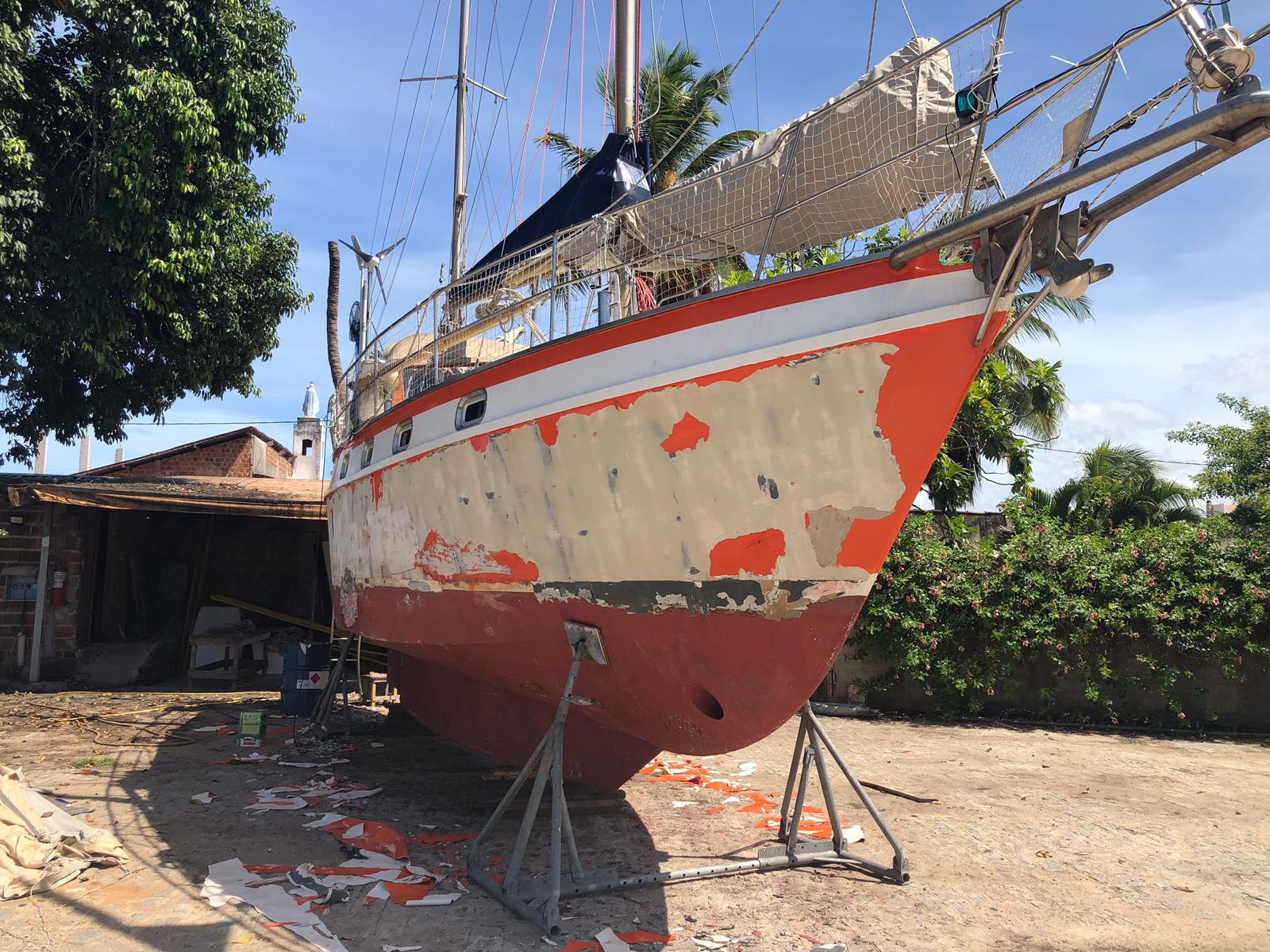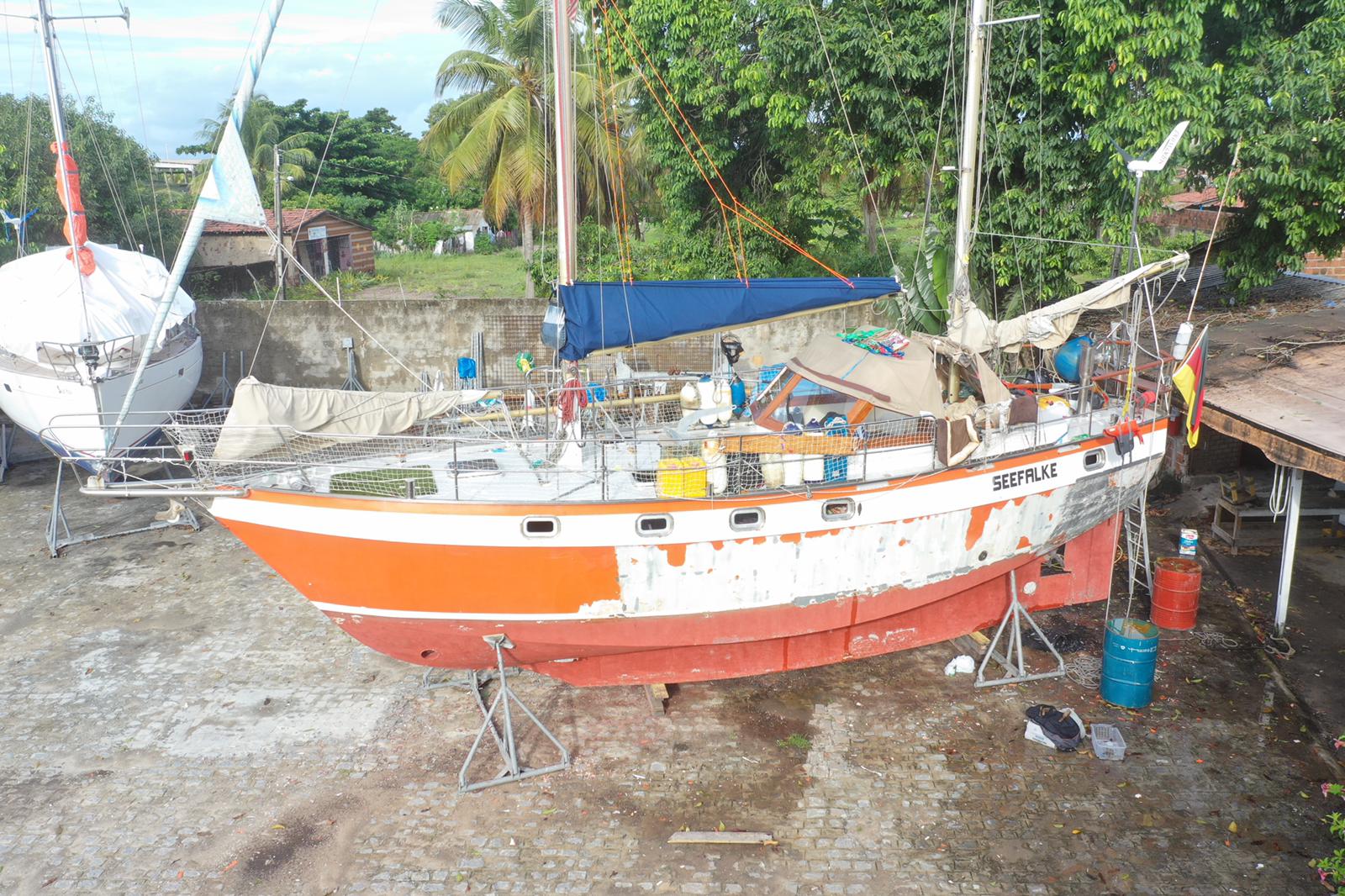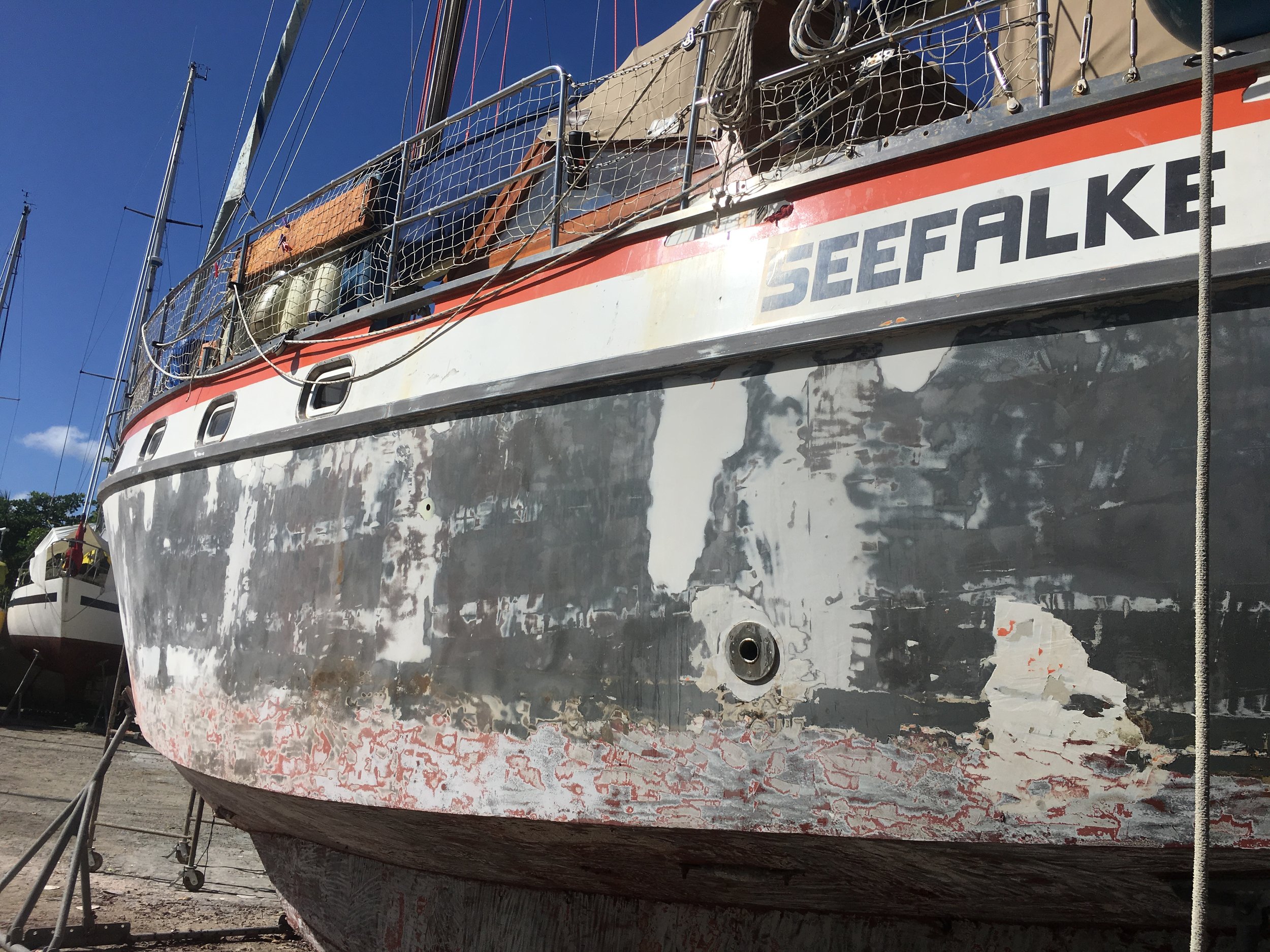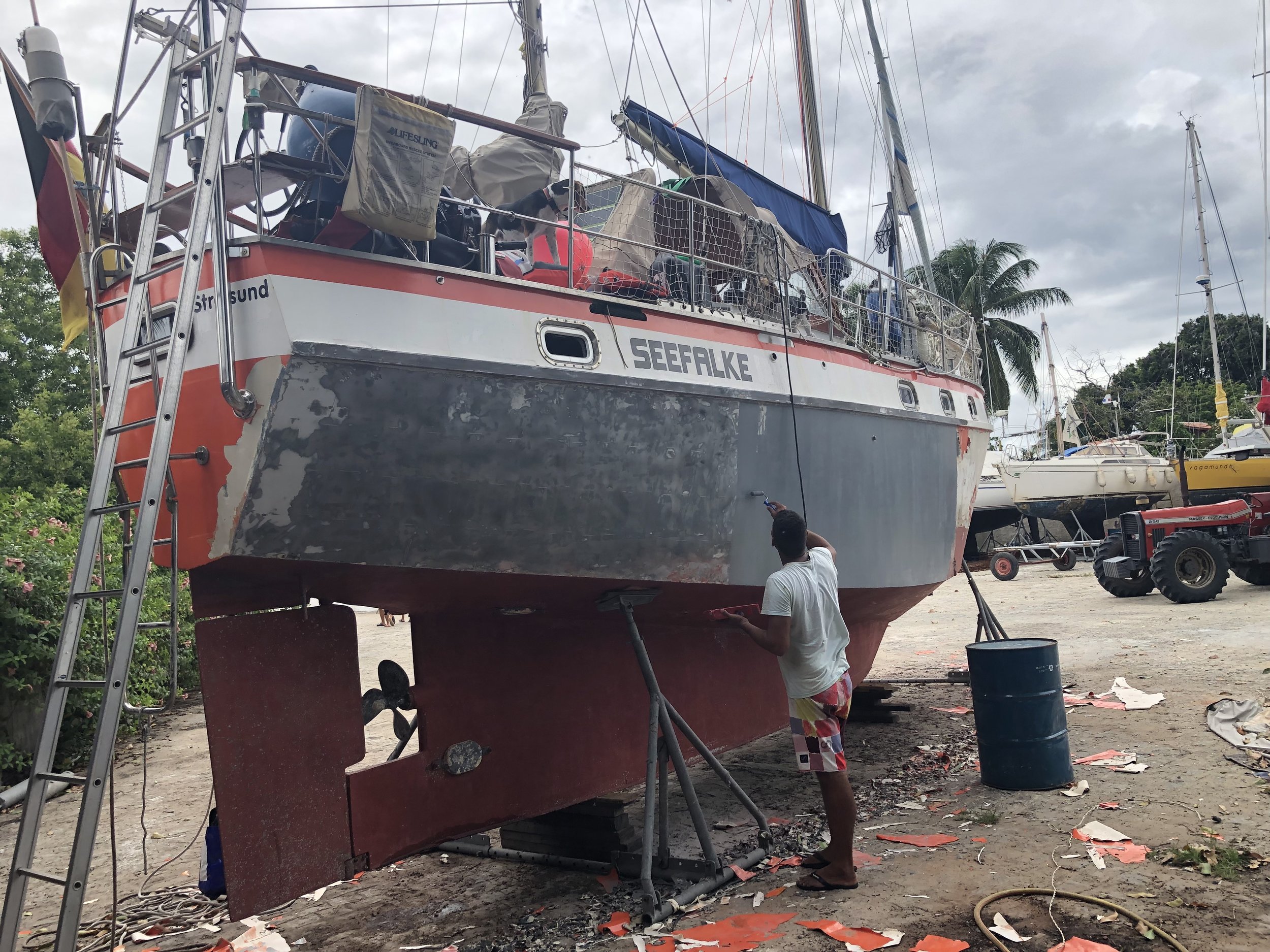 As Marco drove me into the marina, I didn't even recognize Seefalke. Her bright orange paint had been almost completely stripped from her hull and there were little bits of orange paint peelings all over the dirt ground in the shipyard.
Maik and the pups had gotten used to living on dry dock since the day after I left for the U.S., and I learned quickly what it's like to live in a sailboat on dry land.
We have access to electricity and water, but we can't use the head at all. There is a bathroom in the marina lobby, which is just a short walk from the shipyard, but it's a major project to get in and out of the boat.
We have a swimming ladder attached to the back of the stern, but it's not long enough to reach the ground while Seefalke is sitting on dry land. We have another traditional ladder leaned against Seefalke's stern. We climb a few steps on the regular ladder, then switch to the swimming ladder to climb the rest of the way to the top. On the way down, we use the swimming ladder then can switch to the regular ladder. We also have a huge oil can we can step onto on the way down. This system works, but it is especially inconvenient when I need to go to the potty in the middle of the night. But this is our situation at the moment.
As I mentioned earlier, living on dry dock is like living in a tree house!
Then, there is the issue of getting the Seadogs on and off the boat. Seefalke's deck is about 3 meters (10 feet) off the ground. It would not be safe to try and carry Cap'n Jack and Scout up and down the ladder.
Maik used his engineering and seamanship skills to engineer a puppy crane for them. We strap them in their extraordinarily safe life vests, which have two handles on the top. Safety straps with D-rings connect the life vest handles to a line that is rigged with a block to the mizzen boom. Then we can simply lower them or raise them safely and securely with the well-designed puppy crane. They don't seem to mind. Their tails are wagging the whole way. We posted a very cool video of this system for our Patrons. You can join our crew on Patreon for as little as $2 per month to get extra features like this.
ONGOING REPAIR AND UPGRADE PROJECTS
Paint Job
The paint job project is ongoing. At this point, we have scraped all the paint, sanded, and began the priming stages. Removing the paint is not as easy as it sounds as our ship had four decades of paint layers. Heavy rain delayed the project several days and continues to extend it. Seefalke still needs several layers of primer, with sanding in between each layer, and then the bright orange paint.
Maik considered painting Seefalke a different color as he has never really loved the bright orange facade, but I wouldn't let him. Her orange color is part of her character and personality. She was meant to be ORANGE!
After all that is finished, we will apply the coppercoat antifouling on Seefalke's bottom and then give that coating a harsh sanding before putting her back in the water.
Fuel Leak
Sometimes, when you fix one thing on a sailboat, you uncover many other problems and issues. After Seefalke's paint was scraped, we discovered a leak in the main diesel tank that is in the keel of the boat. There was a crack in the structure of the boat that we later learned was caused by the boat being placed on the support timber in the wrong place when we moved her out of the water. We have now emptied the tank and flushed it with water many times. The crack has been welded, but the next crucial task will be welding the tank from the inside. Again, more detail is available on Patreon.
Solar Panels
One of our other ongoing projects is installing our new solar panels, which have been ordered.
As you may remember we realized during our Atlantic Crossing that we have not quite reached energetic self-sufficiency yet. One of the old solar panels is down, and the other one is covered by the sails most of the time, while the wind generator remains behind our expectations.
We have decided to significantly upgrade our solar inventory from 90 W to 690 W. We will use the existing massive mast of the wind generator and will install a similar mast on the other side. On the beam between them we will install a 280 W solar panel and the support will also serve as davits for our dinghy.
In addition to the big solar panel on the stern we will install two smaller solar panels of 160 W each on each side of the sea fence. Those will get adjustable mounts to direct them toward the sun, if conditions allow.
The davits are a great side effect of the structure as we desperately need more space on the stern deck. Being able to move the dinghy to the davits will clear the stern deck almost entirely. Also, it will be much easier to deploy the dinghy, when needed. It was impossible to get the necessary blocks here in Brazil, so I bought them in the U.S. at West Marine in Orange Beach and brought them back with me, along with three huge suitcases full of other supplies we couldn't find in Brazil.
New anchor & chain
You may remember that we had to leave our anchor and chain at the bottom of the sea in Fernado de Noronha during our Atlantic Crossing. This week, we received the new anchor and chain and will install it as soon as the painting is completed. We marked the 50-meter chain with white paint every 5 meters and orange paint every 10 meters (two sections for 20 meters, three sections for 30 meters, etc.) so that we will know the depth of the anchor as we raise it and lower it with the windlass.
For continuous detailed updates on these and other ongoing projects, join our crew on Patreon!
Meanwhile, we said goodbye, for now, to our German friends, Dieter and Claudia, who are headed to French Guiana. But on the same day, we said hello again to Robin and Philemon, who returned from their month-long break with family in Europe. It's so hard to believe we have been sitting here this long!
We also said hello again to another French sailor we met in Cape Verde. He left Cape Verde about two weeks before we did and made his way to Brazil. He then went to El Salvador and then attempted a solo voyage to Cape Town, South Africa. But he didn't make it. Somewhere along the way, the headwind and massive waves were impossible for him to maneuver. Somewhere in the middle of the Atlantic, he made the decision to turn around and return to Brazil. He was at sea for 36 straight days and never made it to his destination. This is one sailor we definitely didn't expect to see again so soon.
Meanwhile, we continue with our routine of working in the lobby every day and working on all these boat projects. This week, we will take a break from work and boat projects to explore Brazil a little. We really haven't had the opportunity to do that yet. Maik heads to Germany next week to spend time with his daughter for Easter. Hopefully, when he returns, we will be closer to our next adventure—a cruise along the Amazon Delta. We are so ready to get back to sea. But for now, we will live in our dry dock tree house for at least another few weeks . . .
As a friend of Sailors and Seadogs, you allow us to earn a small commission if you make a purchase through our affiliate links! If you shop on AMAZON, you can support our voyages at NO COST TO YOU! Just click this link and start shopping!