After our longest passage to date—520 nautical miles from Morocco to the Canary Islands—we had an even longer list of chores, work, and provisioning to take care of with possibly only one or two more stops before the Atlantic Crossing.
The first three days in Arrecife, the capital of the island of Lanzarote, we just settled in and went to work, knowing we had a lot to accomplish. The marina was covered in Christmas lights with holiday music playing all day and into the evening. It was a festive atmosphere as sailors were either hunkering down for the holidays in the Canaries, or preparing to leave their boats to go to home ports all over the world to be with land-lubbing family and friends.
We spent three days catching up on work for our clients, videos, boat projects, shopping for boat supplies, and rest. Even though the 7-day passage from Morocco to the Canaries was relaxing for the most part, we were exhausted and perhaps a bit overwhelmed with the amount of work ahead of us.
Tuesday, 11 December 2018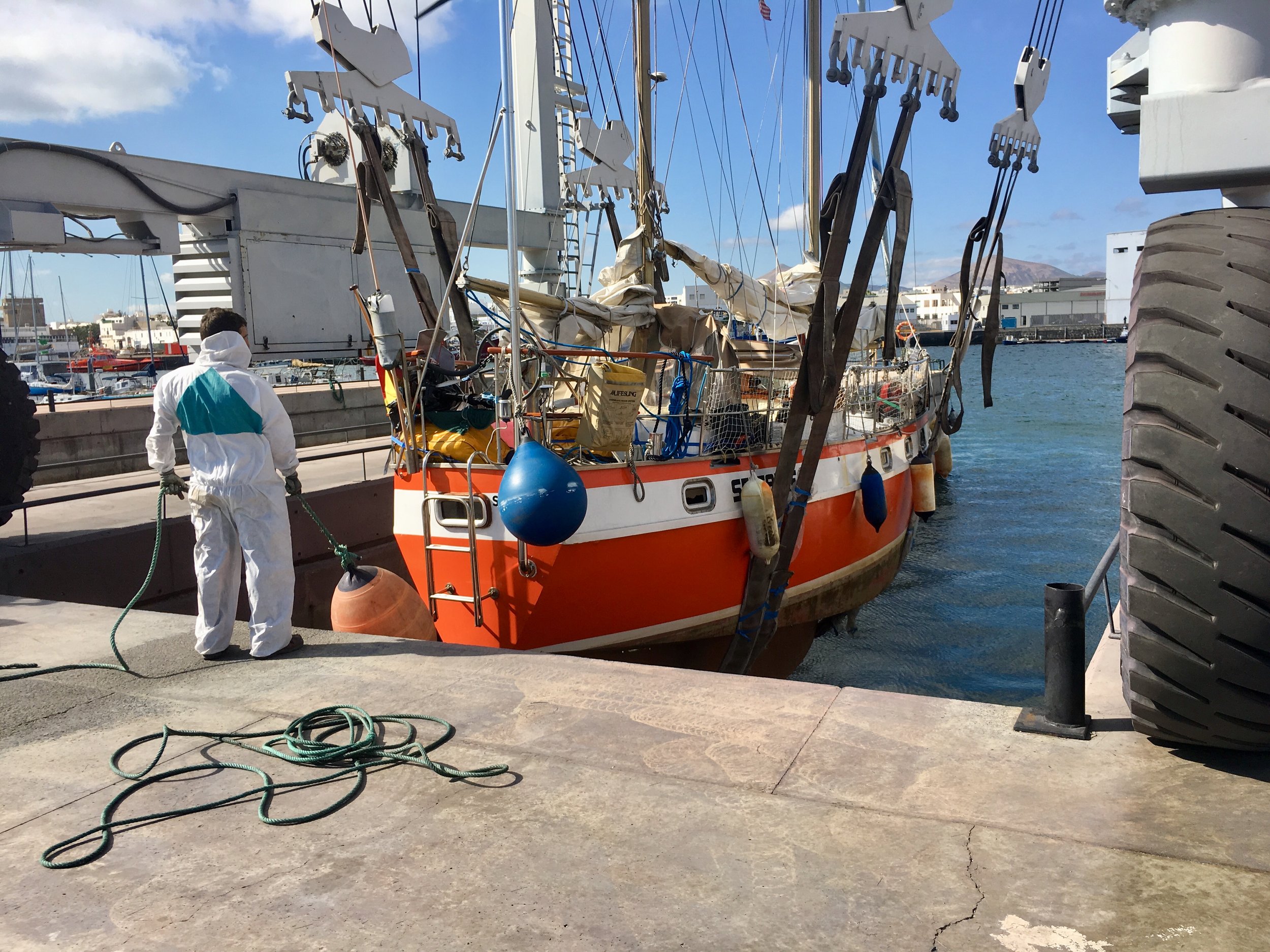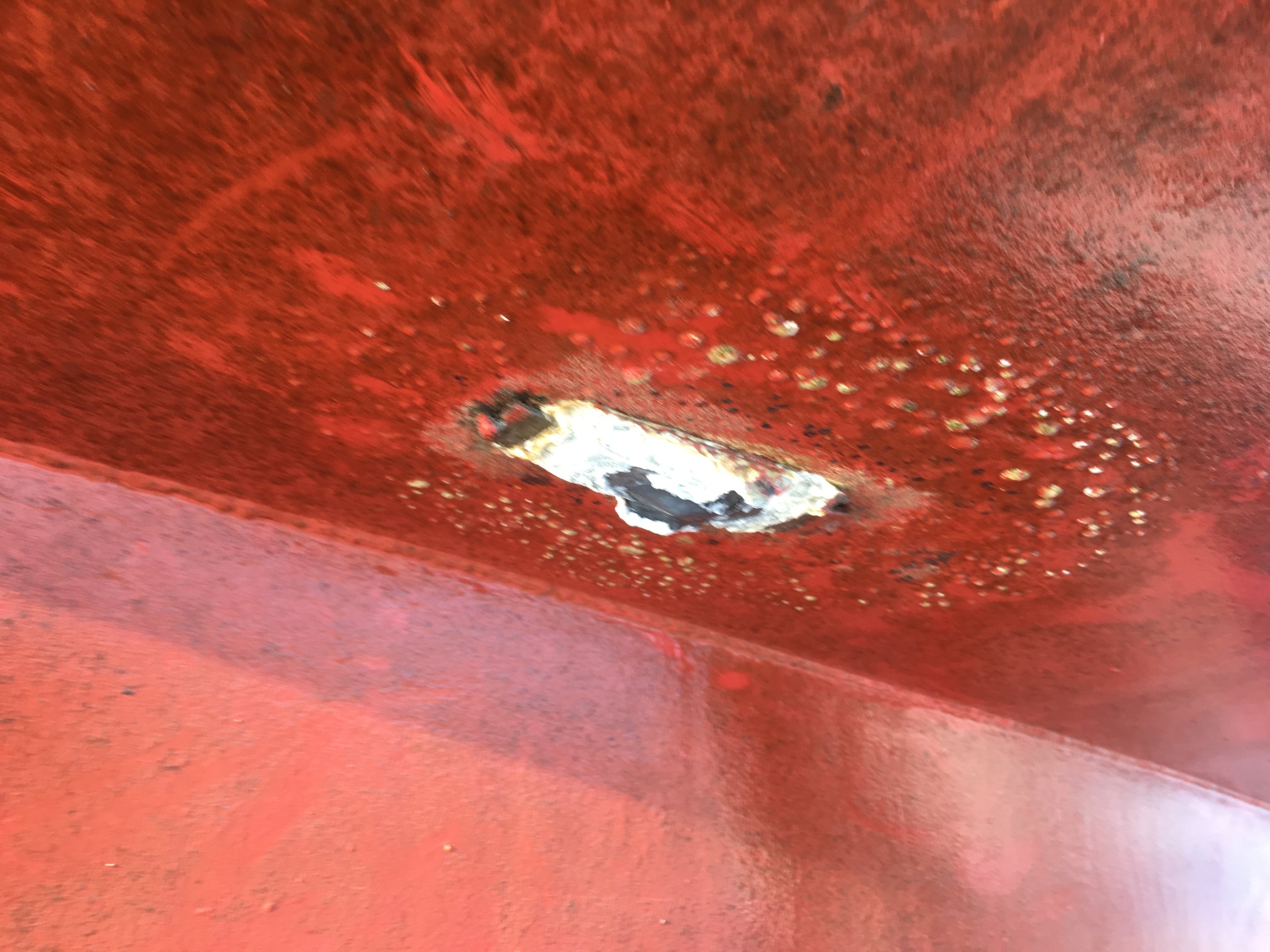 On Tuesday we immediately began prepping Seefalke for her date with a crane. We needed to get her out of the water so we could replace the corroding zinc anodes.
Sailing a steel ship is a constant fight against corrosion. At every stop, we are married to our paint brush, and by this I mean that we are constantly brushing rust corrosion prevention chemicals onto various spots all around Seefalke's steel frame. But under the surface, it's the zinc anodes that help us protect the underwater hull from corrosion. If interested, you can learn more about this by watching the video we made that's all about our process to replace the zinc anodes.
When we first spoke with the marina maintenance crew they weren't sure how long this would take, but we anticipated three days. We later learned they could make the replacements in about six to eight hours.
Around 08:30 we cruised over to the loading dock where we carefully positioned Seefalke on top of huge belts inside a concrete alcove and were lifted out of the water along with our 11-ton vessel. This was an easy task for the crane that's designed to handle 110 tons.
We went to a little cafe on the marina promenade for coffee and breakfast and began making our list of needed supplies. With Seefalke out of the water and nowhere to sit and work, we decided to go into the city and explore a bit.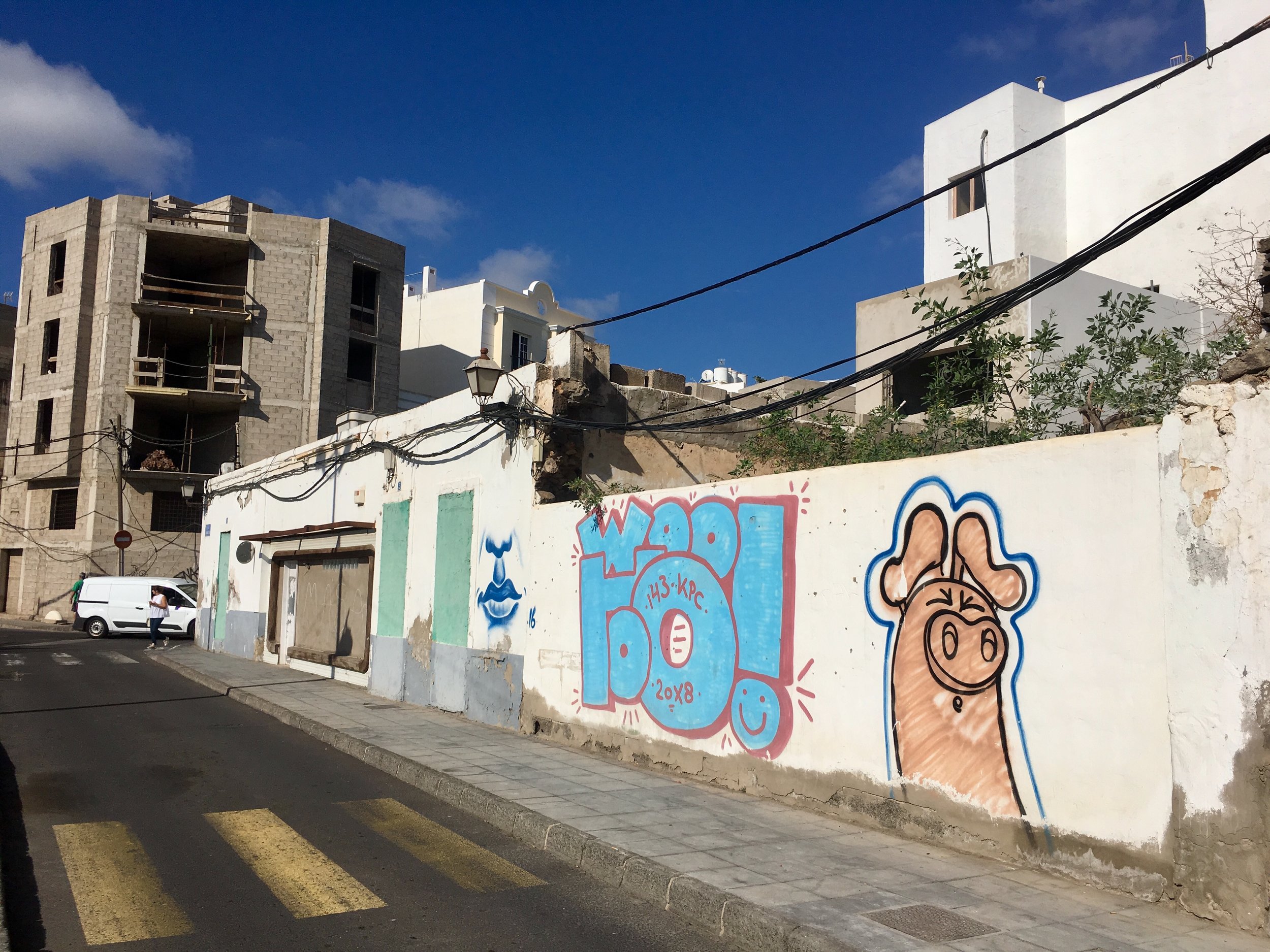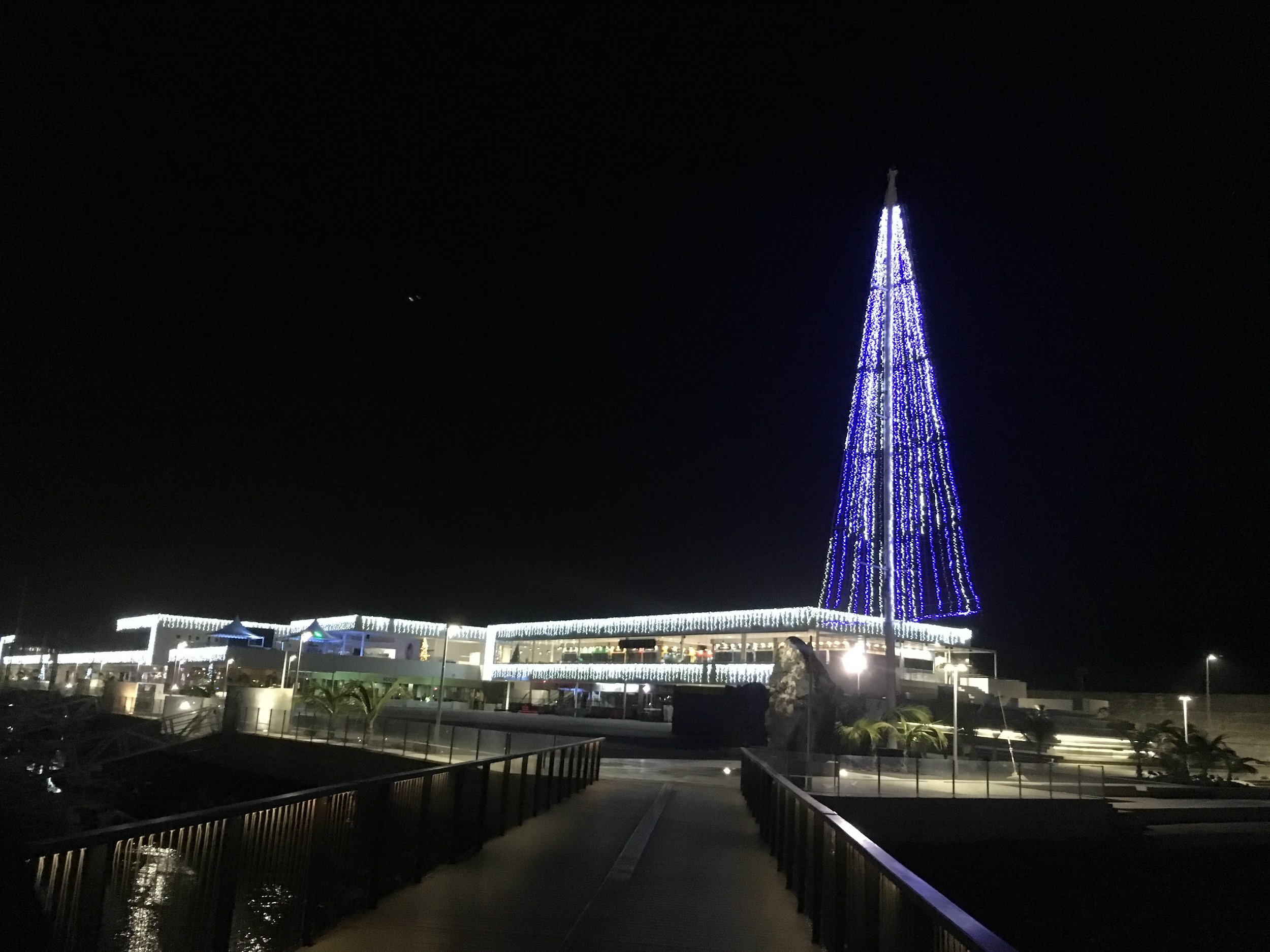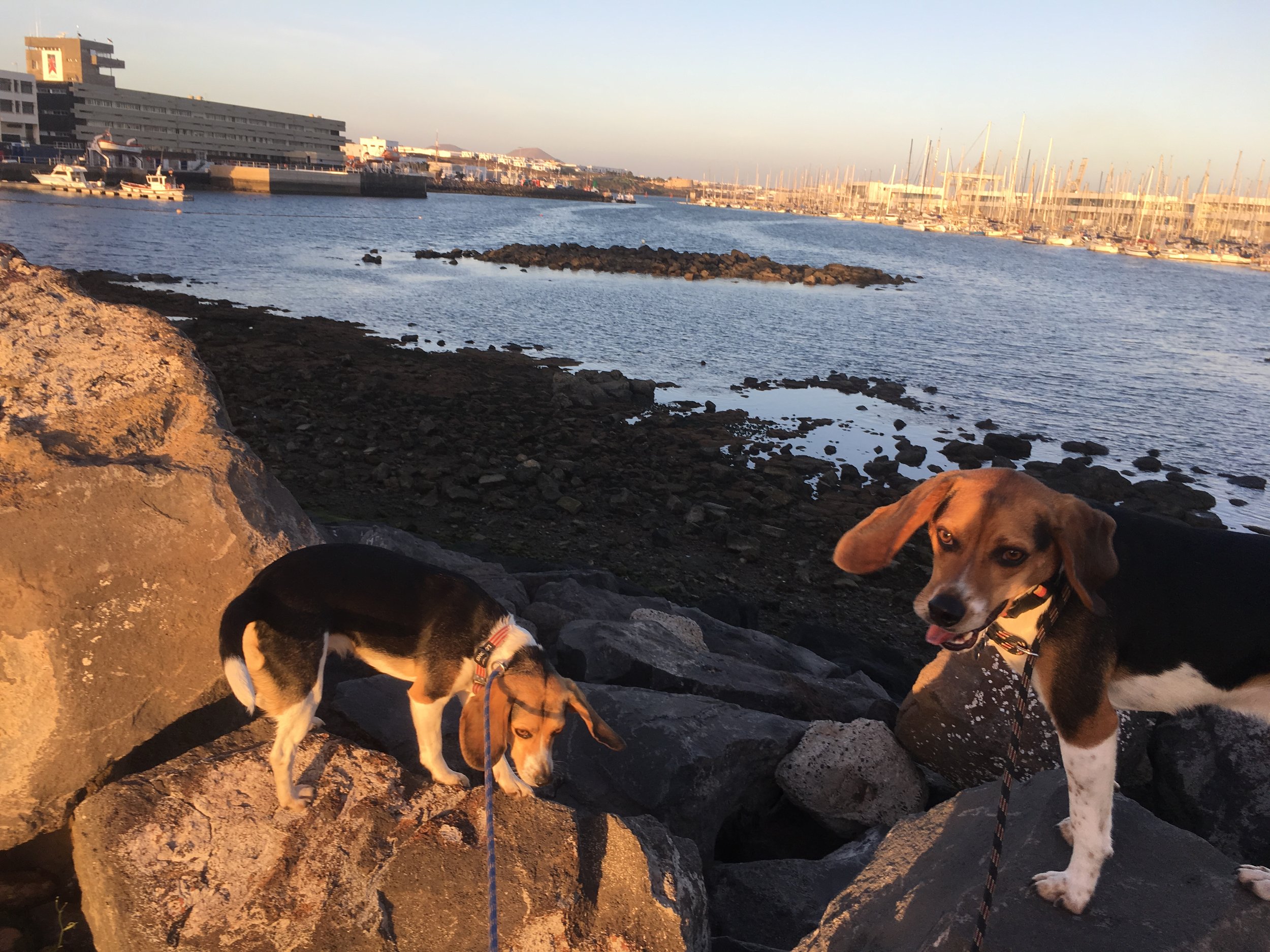 Arrecife is a lovely sailor's port with just a short walk from the marina to the city center. In the middle of the city center there is a huge bay with hundreds of wooden fishing boats anchored there. Many of them are stranded on the low-water sides, all busted up and neglected. I love old wooden boats, even the ones that are in disrepair. I always wonder about the story each one has to tell.
As we walked through the city, we made our way to the shore line, where we saw the Museo de Historia de Arrecife, a history museum based inside a castle on the waterfront. The Castillo San Gabriel was founded in 1593 when a square shaped fort was built over the course of five years to create a defense against pirates.
I was taking photos of the castle and the fortress surrounding it when an American couple walked by and said "War Eagle!" I was wearing an Auburn t-shirt and love it when I am greeted with my alma mater's battle cry when I'm far away from home. This nice couple, Dean and Lisa, had arrived on a cruise ship earlier that morning. They are Florida Gator fans, and this was very cool to run into people who live so close to our home base in Alabama.
We told them of our sailing adventures and they told us how Dean had crossed the Atlantic many times piloting large cargo airplanes using only a sextant for navigation. We found this as fascinating as they found our impending Atlantic Crossing in a small sailboat.
We returned to the marina and safely got Seefalke back in the water and back at our mooring. And then we got back to work.
Wednesday, 12 December 2018
With a few items checked off our list, we worked half the day and then decided to take a break and explore Timanfaya National Park.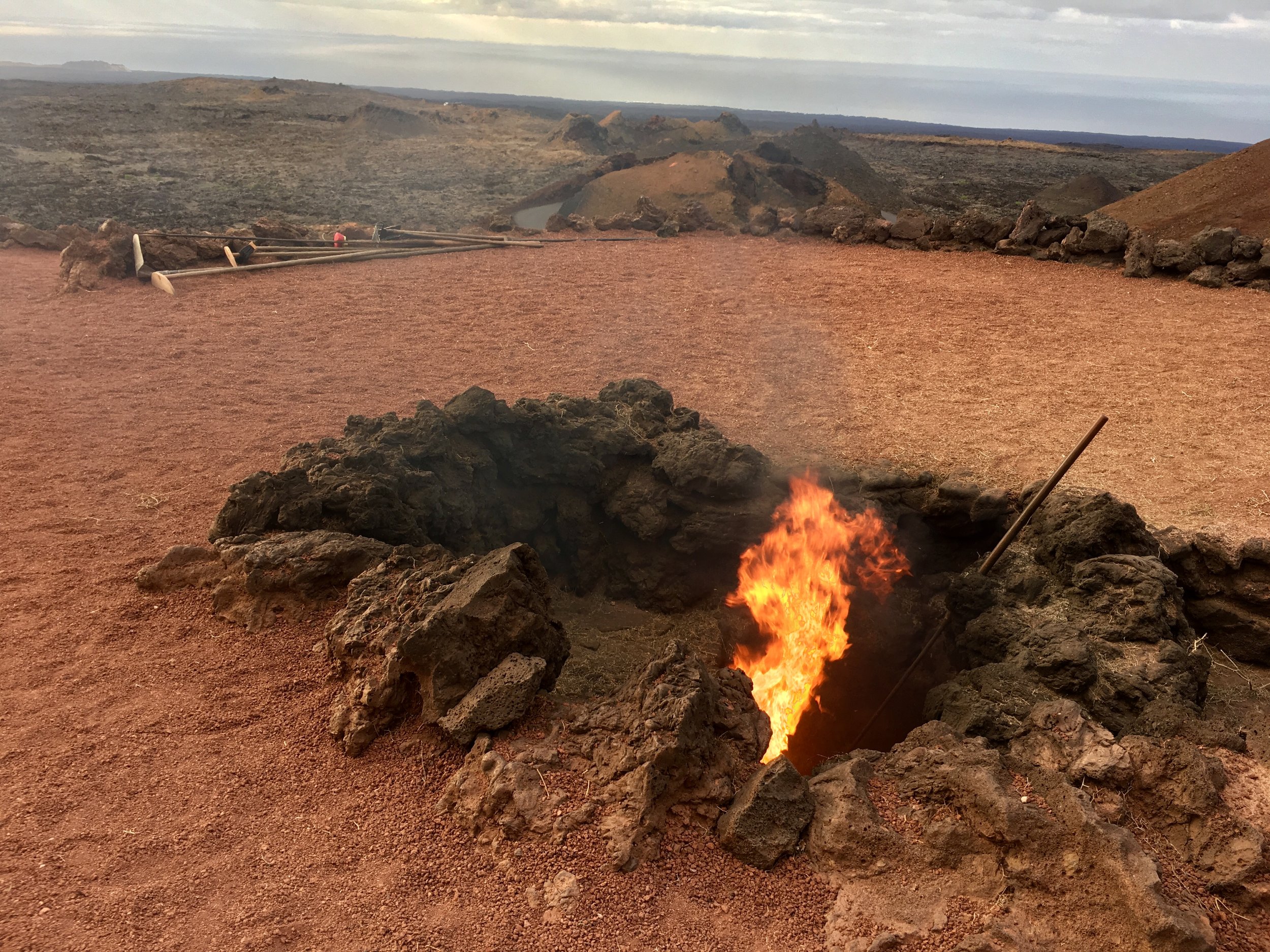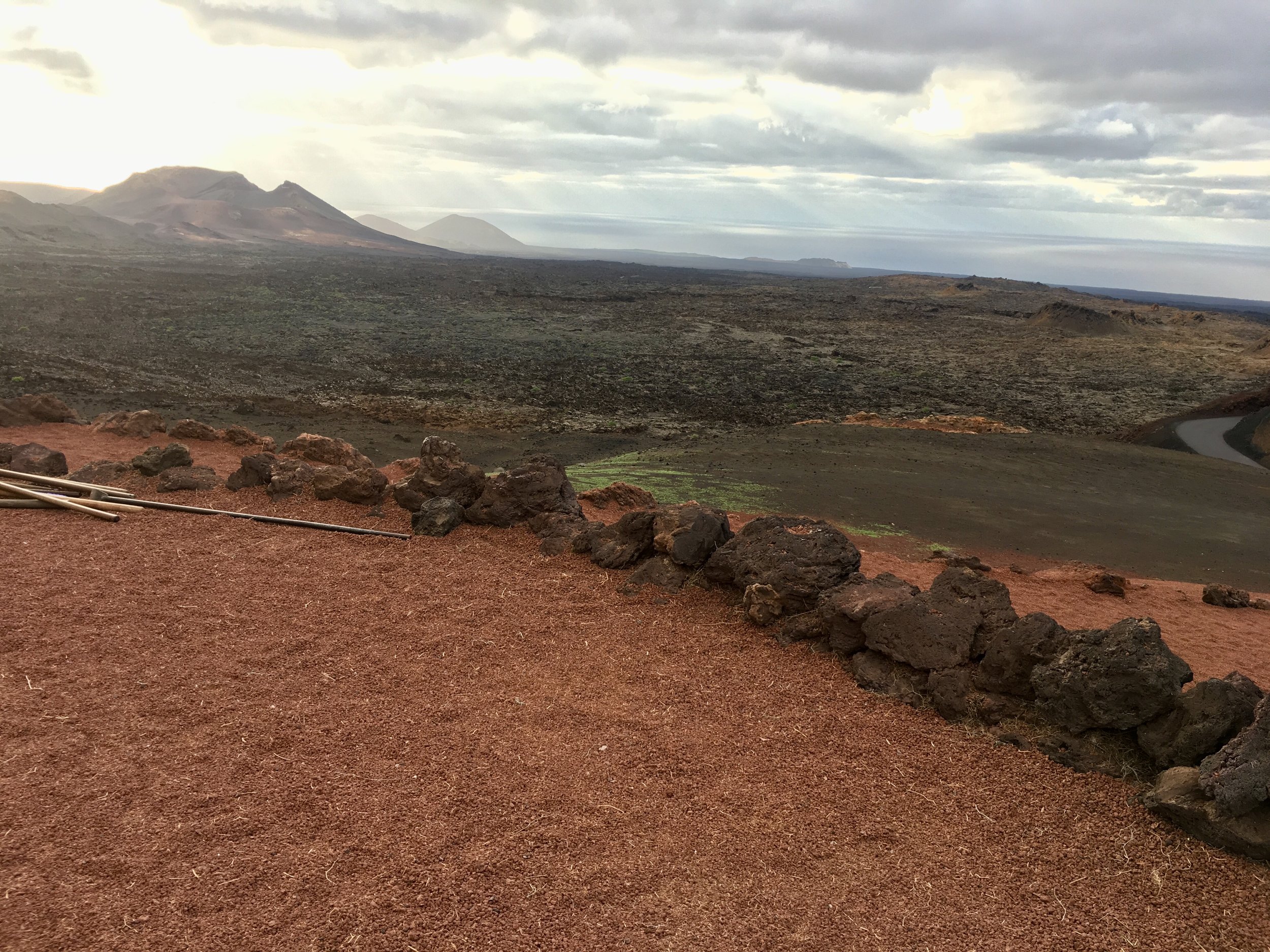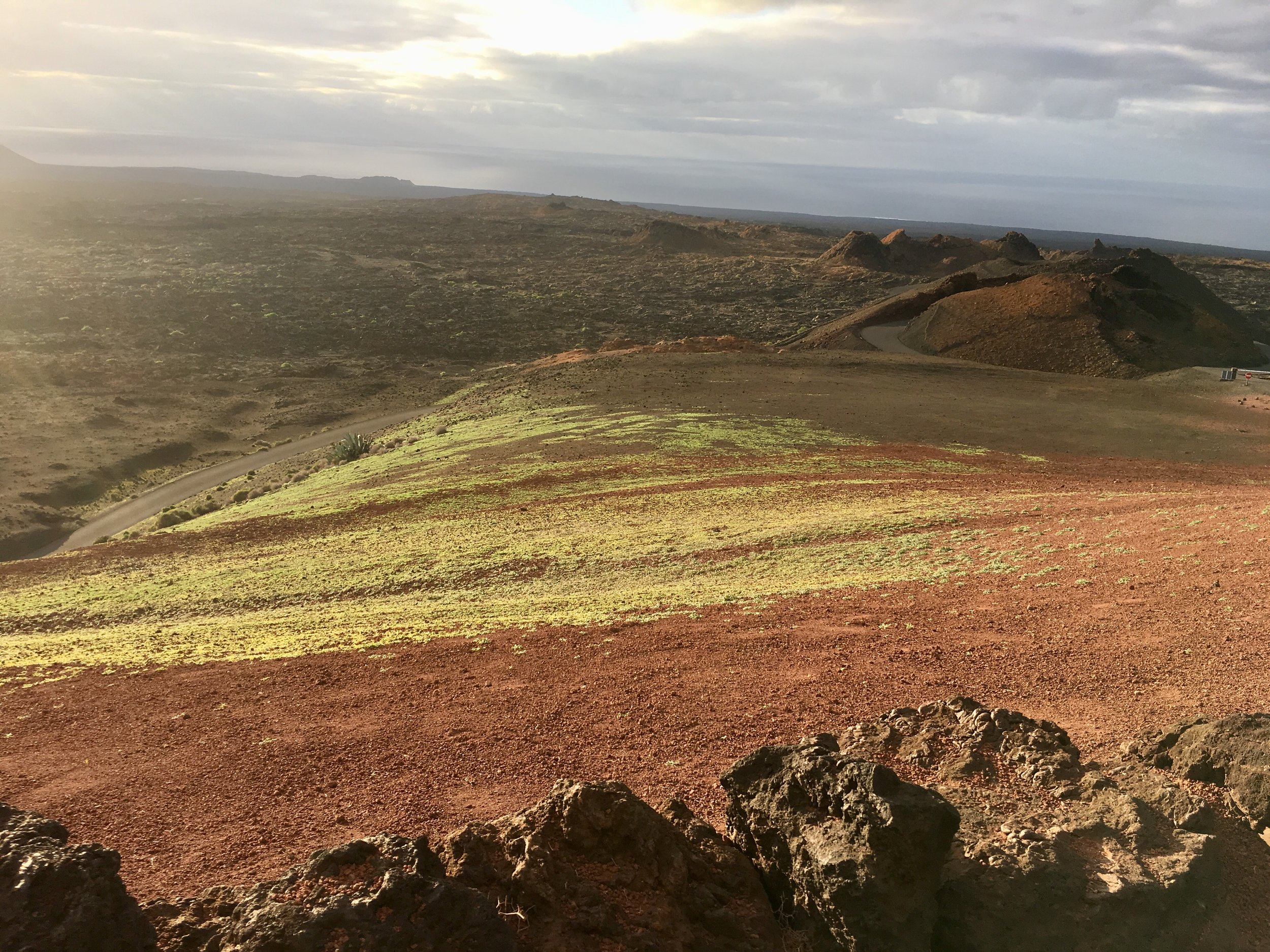 Lanzarote is the northernmost and easternmost island of the Canary islands. It was borne through fiery eruptions and has solidified lava streams, as well as extravagant rock formations.
Lanzarote is known as the "Island of Fire" and it's easy to see why. With hundreds of active volcanoes on the island, some parts of the landscape are literally too hot to walk on or to touch. The layers of various textures and colors make visiting here a uniquely stunning experience. It's a mixture of sub-tropical beaches and lava fields.
The fire mountains of Timanfaya form part of a broad area affected by the volcanic eruptions that struck Lanzarote between 1730 and 1736. More eruptions happened in 1824. The long eruptive process drastically changed the island's morphology, leaving a quarter of it almost completely buried under a thick layer of lava and ash.
Scanning the landscape we saw volcanic mountains that boasted colors of desert sand and dark chocolate brown combined with a rich, brick-red that reminded me of the terre battue of the French Open clay tennis courts. There were also layers of greens varying in colors from a soft, almost yellow green to vibrant rainforest greens and even some tones as dark as a pine tree. When the sun hits these mountains, many shades of orange and yellow are reflected onto parts of the mountains. The landscape is mostly black rock and charcoal lava fields and makes you feel like you are visiting some distant, uninhabited-by-humans planet rather than a sub-tropical island.
Thursday-Friday, 14-15 December 2018
Thursday was another full work day and our Atlantic Crossing list had to wait. We celebrated Cap'n Jack and Scout's second birthday with extra walks and extra treats for them when we took breaks from work.
By Friday, we were caught up enough with work that we were able to return to our ongoing bilge project.
This has been going on since our first week at sea way back in mid-August when we discovered a small leak in the bilge, caused by water entering through the anchor windlass. Maik applied sealant in the places we felt were vulnerable to further leakage and then covered the entire bilge in a smelly orange rust preventer to protect Seefalke's steel belly.
Meanwhile, I worked on a complete, detailed provision list so we could create an efficient shopping list. This took several hours to go through every locker, bilge and crate in which we had food and supplies stored.
As I had the main cabin in complete chaos, along with the open floor since we were allowing the bilge to dry and air out, Maik decided he didn't want all the supply crates in the main cabin anymore. He suggested making the bow cabin a pantry-closet so that our main cabin could be less cluttered.
I liked the idea, but also knew this meant much more work for me. After four months at sea, I had finally put all the pieces of the puzzle together so that things were not flying around while we were underway.
But this made sense to de-clutter our main living area and have one central place for the food and supplies we need the most often. This gave me a brand new Rubik's Cube to solve as Maik prepared to leave us for another week of work in Germany and the Netherlands.
As I was working on my new project, we had a visit from our neighbors just two boats down the pier. A lovely French couple, Alain and Alexa have been sailing the world for the past 10 years in their steel sailboat, Et Puis Pas Plus, which loosely translated from French to English means "That's all I have to say about that." Maik and Alain shared some rust-prevention steel-boat maintenance tips when then they invited us to their boat for coffee.
I just love hearing the stories of other sailors and how they made a transition from "civilized" life on land to a life at sea.
As Alexa prepared strong French roast for the three Europeans and made fun of the amount of milk and sugar I used to "ruin" my American-version of coffee, Alain told us how he retired 10 years ago and immediately transitioned to a full-time life at sea. Alexa is 10 years younger. She owned a shop in France, which she sold to join Alain on his sailing adventures. Ten years later, they are still out there.
Their boat is a beauty! It is all white with a center cockpit like ours and it has two masts, but it is much more spacious on the inside. It's the same length as Seefalke (about 40 or so feet) but almost twice as wide. It's amazing how much extra living space this provides inside. Alain bought the boat from a family friend when it was a steel shell. He hired a cabinet maker to design and build the inside with three cabins, three heads and a large galley and saloon.
We had a lovely visit and then we invited them to Seefalke to show them our communication equipment that they were asking about.
They were departing the next day for another of the Canary Islands and we needed to get to the market. I wanted to get the major grocery shopping done while Maik was still there to help me.
We said our goodbyes to our new friends. It's interesting that goodbye is never really goodbye with sailors. There is always a chance we will meet again somewhere in the world.
With list in hand, we headed to the local market and filled four grocery carts to the brim. After the first two carts, we made a trip out to the rental car in the parking lot to unload. After the second two carts we learned that the store will deliver to the marina for only 4 Euro. I was so happy to hear of this and gladly handed over the money. I wanted to bring the other groceries back up from the car and let them deliver those too, but Maik was stubborn.
So when we got back to the marina, we made the dozens of trips from the car to the boat to unload. Then I got busy updating the provision list while finding a place to put everything...knowing that more would be delivered later that evening. For our complete provision list, read this blog.
Just as I got the first load in place, the second load was delivered. We worked late into the evening but eventually Maik needed to sleep with an early plane to catch the next morning.
We were exhausted, but Maik suggested we walk into the city and eat some local food at a restaurant by the water. We enjoyed the most magnificent paella I've ever eaten and continued to make plans for the next few weeks.
As we fell into bed, exhausted and accomplished, the discotheque in the marina promenade decided to begin an all-night party. It blasted music all night as the locals partied until 06:30 the next morning. Maik was able to turn off his ears, but I struggled all night to get minimal rest.
Week of 16-20 December 2018
The pups and I drove Maik to the airport then I took Cap'n Jack and Scout on a long walk into the city. We returned to Seefalke and I got to work on my new Rubik's Cube project.
I worked on this all week while also finishing the last of my articles for my clients. And every night, the locals partied until 06:30 in the morning with banging bass beats and dancing music booming through the marina. During the days, calm holiday music played, and I stayed busy and productive.
I was so busy I barely left the boat all week, taking breaks only to take the dogs on quick walks. Maik was due to come back on Thursday, so on Wednesday I took a break on a beautiful afternoon. The pups and I took a long relaxing walk into the city. We sat down at a cafe by the water, and I enjoyed a refreshing mojito while basking in the warm sunshine for a couple hours. It was nice, but I missed Maik and wanted to complete my project. So we headed back to our floating home for the evening.
With the music blaring for the fifth night in a row, I decided to close all the hatches and take my chances with the paint fumes and the heat. But the music still made its way, echoing into Seefalke's steel belly, and sleep was nowhere to be found.
Week of 21-24 December 2018
We picked Maik up from the airport and it was so nice to have him back home with us.
With the bilge now dry, Maik applied the paint overcoat and we continued to organize and work on small boat projects.
We worked hard on videos to put in the queue for our crossing. We were hoping to be able to work a little more while at sea but can never count on that.
I was so happy when Shelby and Bo FaceTimed me one afternoon while I was walking the dogs. It made my day but also made me realize I would not be with them for Christmas. This made me homesick. I miss them so much!
Meanwhile, we were making plans to sail to Tenerife, another island in the Canaries, about a 40-hour voyage.
We went live on YouTube with our passage plan and had a fun Q&A to discuss questions about the crossing. We planned to depart on December 23, but the weather had something different in mind. The next morning 30-knot winds rocked the island, and we stayed put.
Meanwhile, friends we had made while in Morocco — Jean Paul, who was born in France but grew up in the Netherlands and his girlfriend, Annaleu, a lovely girl from the Phillipines—had made their way to Arrecife, along with a Swiss couple, Ivo and Dajana, with whom I had been sharing Instagram communication.
We had coffee with Ivo and Daja on Seefalke and they invited us to join them on Silkap for a dinner featuring authentic Swiss fondue along with Jean Paul and Annaleu.
We did as much work as we could during the day, then headed over to Silkap's berth. It was such a lovely evening of fantastic food and new friendships as we enjoyed time with six sailors from eight different countries.
I just can't express how much I love hearing the stories of other sailors.
Jean Paul owned several cafes in Amsterdam but six years ago he sold them all, along with everything else he owned, for a life at sea. He only kept his apartment in Amsterdam, which he rents monthly to help finance the sailing journey. He sailed alone for two years, crossing oceans and traveling the world, but he wanted to share the experience with a companion.
He met Annaleu but had to warm her to the idea of leaving her home in the Phillipines to join him traveling the world and living on a boat. She said that at first she wasn't sure, but when she saw the boat it was nicer than her home in the Phillipines and she began to fall in love with the charming Jean Paul and the idea of a life at sea. They have been sailing the world together for the past four years.
Ivo grew up in a small fishing village in Portugal and built a career in Switzerland as the manager of a government-funded program for people with disabilities. After a couple decades, he grew frustrated with the corporate life and government red tape and began to dream of the freedom a life at sea could provide.
Dajana left her homeland of Slovakia with 40 Euro in her pocket and became an au pair in Switzerland. She earned a college degree while studying to be a digital nomad then met Ivo when he enrolled in the Linkedin course she was teaching.
They have a passion for fishing and for deep sea diving. They took sailing courses, bought Silkap, and have been sailing the world since September.
We all swapped war stories and compared sailing adventures late into the night. It was a fantastic and lovely way to spend an evening, especially at Christmas time when we are so far away from our families.
I also enjoyed a quick tour of both Silkap and Eastbirds. I must admit that I'm a little jealous of the space and amenities they have on their boats. They have proper fridges and even freezers. Jean Paul has a washing machine, microwave, coffee machine, and TV. The living space they both have is much more expansive than what we have on Seefalke.
But Seefalke has character and a history that, for us, no modern amenities can replace. She was built more for blue water journeys than for living comfort and makes me feel safe. This means everything to me. Still, I wouldn't mind having some of those creature comforts, I must admit.
The next morning was Christmas Eve and we awoke to more severe weather conditions that would delay our departure at least another day. We continued with our work and preparations and began thinking about skipping Tenerife and heading straight to Cape Verde on Christmas Day.
This would mean an 8-to-9 day voyage rather than the 40 hours it would take to get to Tenerife. I had to wrap my brain around this change in plans, but I trusted that Maik was making the right decision for us.
On Christmas morning we prepared Seefalke, and made a quick visit to say farewell, for now, to our new friends on Silkap and Eastbirds.
By 16:00 that afternoon, we untied the lines and departed toward Cape Verde.