One of our favorite things to do when we are in port is talk with other sailors. We meet experienced sailors and newbies, full-timers and weekenders.
The sailing community is so cool! We all share weather reports and routes and tips about boat maintenance and living onboard. And of course, we all love to swap war stories.
Everywhere we've been so far, we have met sailors who are headed down to the Canary Islands, just like us. They seemed so surprised when we told them we were excited about making a stop in Morocco.
We asked them why they would miss a chance to explore the northwest African coastline—especially since it's on the way. Some said they were afraid it was not safe. Others heard reports that it's dirty and not many marina amenities. And others said they didn't know if they would fit into the culture.
Whether their concerns were right or wrong, it was a no-brainer for us—we wanted to see for ourselves.
WHERE ARE ALL THE DOGS? Rabat - Thursday, 15 November 2018



I was so happy to finally be in Africa! After a 75-hour passage from Lisbon, Portugal we had arrived in Rabat, Morocco early on Thursday morning. By the time we got through customs and moored Seefalke safely into our slip in Bouregreg Marina we immediately leashed Cap'n Jack and Scout and begin to explore Rabat, which is the capital city of Morocco.
I have visited Islamic countries before, mostly in the Middle East, so I knew that women are treated differently in this culture. I know how to dress to be respectful. Even though it is hot, it's important for women to always stay covered. It's not necessary for tourists to wear a burka, and in fact, most women in Morocco do not wear the traditional Muslim dress with head and face covering as they do in other places I've visited—Abu Dhabi, for example. Some women wear the long dresses and cover their heads. Others wear fashionable but modest clothes and maybe just cover their heads with a scarf. To be respectful, I always kept my arms and legs covered when venturing away from the marina.
After a short walk, the pups and I settled in while Maik went into the city alone to find an ATM and get some local currency (dirham). He also wanted to scope out a restaurant for the evening. Food in Rabat is inexpensive, and we didn't feel like cooking after our exhaustive passage. We also wanted to explore the city a little more.
Maik returned and asked if I wanted a fancy dinner or should we eat like the locals. My answer is always the same—eat like the locals.
As we began walking through the downtown streets, I noticed there were no women at any of the outdoor cafes. Only men were sitting there. I also noticed how people were staring curiously at me and the pups. The locals seemed fascinated with my blonde hair. I didn't see one other blonde-haired woman that day or during our entire stay in Morocco.
The locals were also staring at the two Beagles on leashes walking through the city with us. Many people were frightened by them. It's difficult to imagine how anyone could be afraid of Cap'n Jack and Scout. But in Morocco, there are not many dogs kept as pets. We saw some wild dogs roaming the streets, and we saw dozens of stray cats. But we didn't see one single dog walking on a leash with a human.
Since we set sail from Stralsund, Germany on August 19, we have visited many ports. They were all dog friendly. We could take the Seadogs into restaurants and into shops with no problem. We were accustomed to seeing dogs being walked by their humans everywhere. In fact, in places like Spain and Portugal, it was rare to see someone walking the streets without a dog.
We learned that Moroccans consider dogs to be wild animals—not domestic pets. I suppose it was strange for them to see us taking a couple of wild animals for a walk.
We can understand when we put things into perspective. Maik compared it to how Alabamians feel about armadillos. We see them everywhere, all the time. We consider them wild animals and probably would not keep one as a pet. It would most definitely be odd to see someone walking through the streets of Gulf Shores with an armadillo on a leash.
This must be how the Moroccans feel seeing us walking our Beagles.
I was beginning to understand why people think Morocco is dirty. There was trash lining the streets and it was difficult to find a trash can. Orange peels, cigarette butts, paper food wrappers, and rotting banana peels were simply part of the landscape. I saw at least three men peeing on the side of the street. Maik said he saw a man pooing in full squat right on the street. I'm happy to say I missed that.
Cap'n Jack and Scout didn't seem to mind wading through the trash covered streets. They we're loving all the stinky smells. For them, the stinker the better.
Somehow, we stumbled upon a special place. We found a very cool Moroccan restaurant that allowed women AND dogs - ô Saveurs de la Mèdina. We went inside and were treated to an exceptional meal and a beautiful, colorful Moroccan atmosphere. I ordered beef with grilled plums and apricots while Maik had lemon chicken with grilled green olives. It was so delicious! We soon discovered that the restaurant was owned by a Frenchman, not a Moroccan, which is probably why they were ok with us bringing in the dogs.
VIEW FROM THE CROW'S NEST - Friday, 16 November 2018

We were expecting a visit from our friend, Aziz, who lives in Casablanca. But he would not arrive until later that afternoon, so we spent the morning working and then spent the afternoon making boat repairs.
One of our many tasks was to re-rig the halyard for the mizzen stay sail. It had detached during our last passage. In order to accomplish this, one of us needed to go to the top of the mast—the crow's nest.
On a ketch, there are two masts. We needed to go to the top of the smaller one—the one on the stern.
I eagerly volunteered.
Maik strapped me into the bosun chair, which is kind of like a sling that you can sit in. He carefully rigged it with the mast's built-in pulley mechanism so that he could lift me to the top using a winch.
I'm not a petite person, but I had faith that Maik would not drop me. I kept asking him how much he loved me. I guess this was my way of feeling secure that he would not let me fall from the 10-meter high mizzen mast onto Seefalke's steel stern.
He did a great job! I felt safe. But just in case, I wrapped my legs around the mast and was squeezing as hard as I could with my thighs. Each time Maik cranked the winch, I shimmied up the pole as the mechanism lifted me skyward.
I made it to the top and accomplished my task of rigging the halyard. While up there I snapped a few pictures. I tried to take a video, but I only captured images from the inside of my bra where I had stuffed my phone to keep it secure. The video was off when I thought it was on and on when I thought it was off. However, we captured some video from down below and will share the footage soon!
Aziz showed up later that afternoon and we had a lovely time visiting with him. He offered to show us around Casablanca the next day. We quickly accepted. The best way to explore a new city is with a local!!
Because the restaurant from the night before allowed us to bring in Cap'n Jack and Scout, we returned there and enjoyed another fantastic Moroccan dinner. This time we had couscous with fresh grilled vegetables. It's a tradition for Moroccans to eat couscous on Fridays.
HERE'S LOOKIN' AT YOU, KID - Saturday, 17 November 2018
I awakened early and was so excited to spend the day in Casablanca!
We took the tram to the main train station. But when we approached the kiosk to purchase our tickets, we were abruptly greeted by an official who told us we couldn't bring the dogs on the train unless they were in a bag. A bag? First, we had no idea what he was talking about and secondly, we had no idea where to get a bag that we could use to carry Cap'n Jack and Scout onto a train.
We tried to get on a bus, but again, no dogs allowed.
Then we saw a line of taxis outside the station. We guessed it would cost a fortune to take a taxi 60 kilometers into Casablanca. But at this point we were running out of options.
We talked to a few of them and learned from their broken English and Maik's rusty French and Arabic that their taxis are not allowed to leave the city. I was starting to panic. There is no way I could come this far and not see Casablanca!
One of the taxi drivers got on his cell and about 30 seconds later, a driver walked over and said he would take us to Casablanca for 700 dirham. This is about €70 Euros or around $80 USD. He also was ok with us bringing the dogs along.
We thought this was fair and agreed. Of course, he had the same kind of taxi as the others so we were not sure how he could take us but the others couldn't. Soon, we found out.
When we got to the edge of the city, he pulled over to the shoulder of a very busy highway and made a call on his cell. Maik and I had no clue what was going on.
A few minutes later, another driver showed up in an unmarked car and parked in front of us on the shoulder.
Our driver said, "Get into the other car." As other cars on the busy street whizzed by us at warp speeds we didn't really have time to question the situation. We jumped out of the taxi and the four of us willingly got into the unmarked car with the driver we had never met. He quickly sped away. We felt like we were in a Jason Bourne movie.
The driver was very sweet and drove us into the heart of downtown Casablanca. It took about 90 minutes to get there. Maik pulled out his wallet to pay him the 700 dirham. The driver said, "Give me 1,000." Maik stood firm. "We agreed to 700." I quickly got myself and the dogs out of the car while Maik continued the negotiation, finally giving him the agreed upon amount with a small tip.
Aziz picked us up at the nearby train station. He took us to his favorite restaurant, but we had to leave the dogs in the car with the windows slightly cracked. This made me nervous. But we had no choice. No dogs allowed.
I was sticking out like a sore thumb—no blondes anywhere. Maik is a chameleon. He has a look that can fit in anywhere. He never seems out of place. But there is no way for me to look anything but American. This is fine with me, and I didn't mind the stares. I just smiled at the people and gave them all a friendly, "Hey y'all!"
Casablanca is densely populated. The streets are very busy with lots of people and lots of activity.
It's very touristy in some small areas but Casablanca is mostly local. Again, we saw only men sitting in the cafes and we continued to get stares from people who didn't seem to understand why we would walk through town with two wild animals on leashes.
For me, part of the fun and adventure of traveling is experiencing the different cultures and environments. I find this so enriching. It's important to find ways to venture outside your own bubble.
The high touristy spots in Morocco are Agadir and Tangier. In Casablanca, we were tourists among locals and quite the novelty for them. There were beggars everywhere and this American blonde was a hot target. I must have said "No" a million times.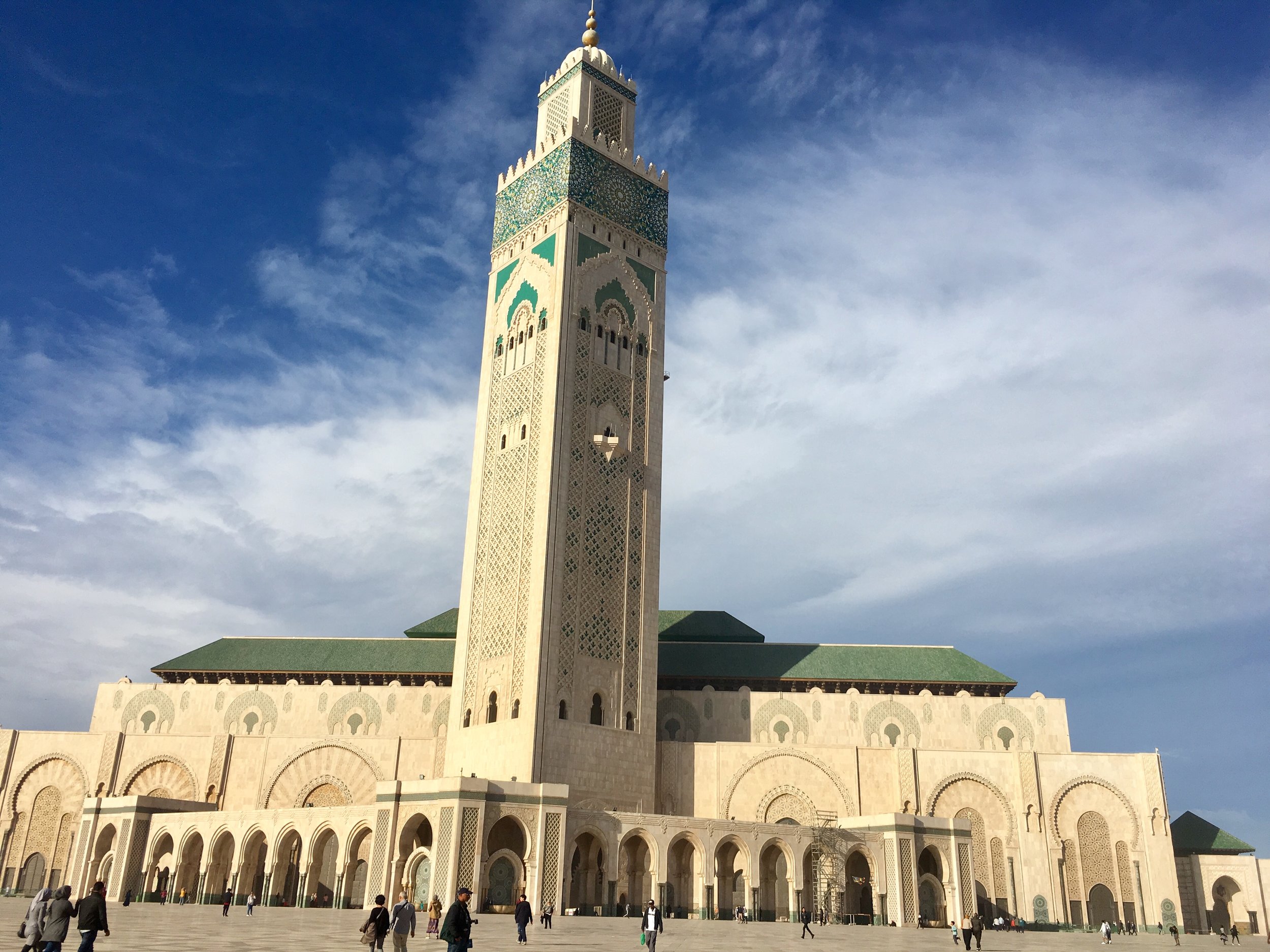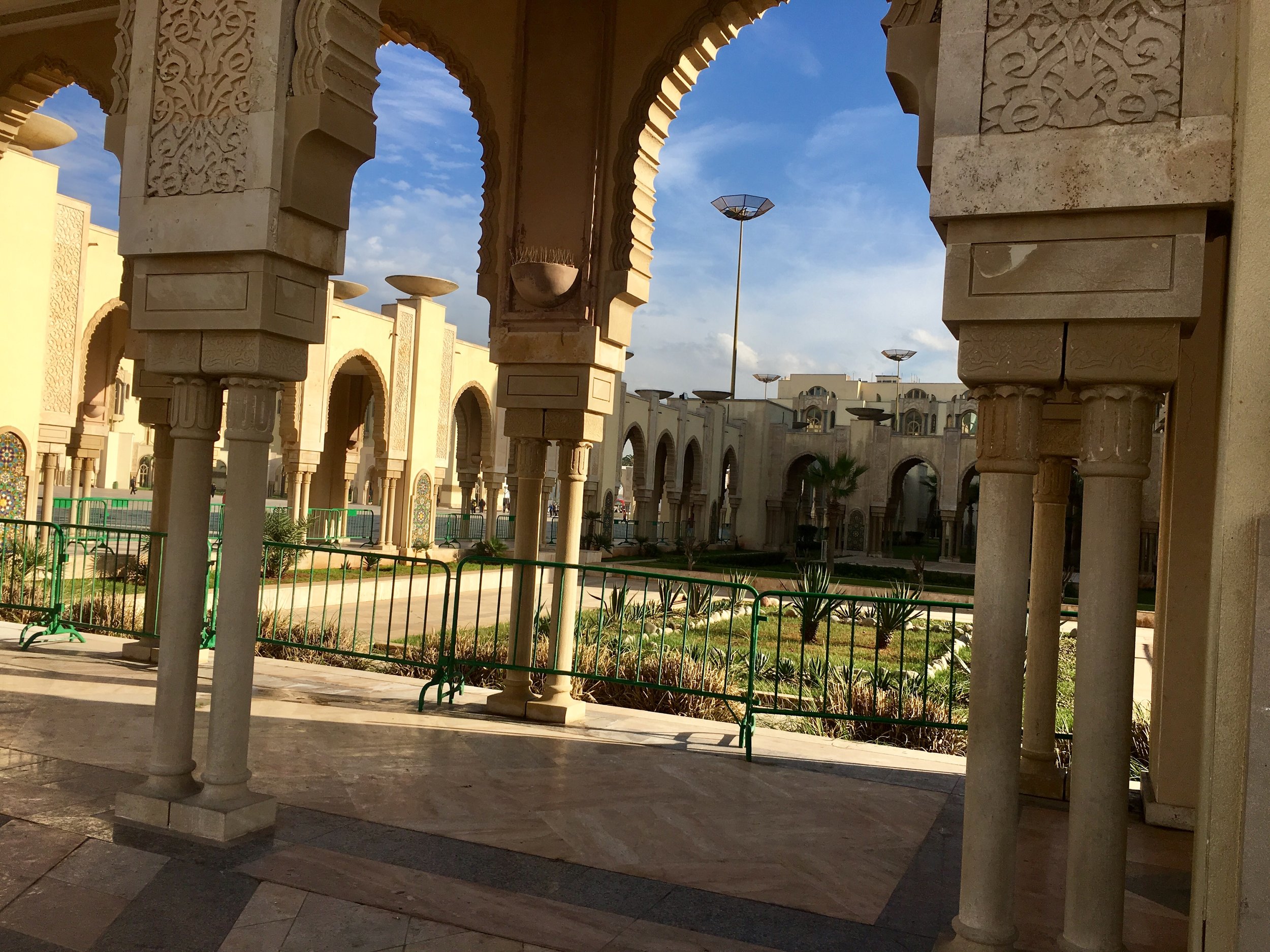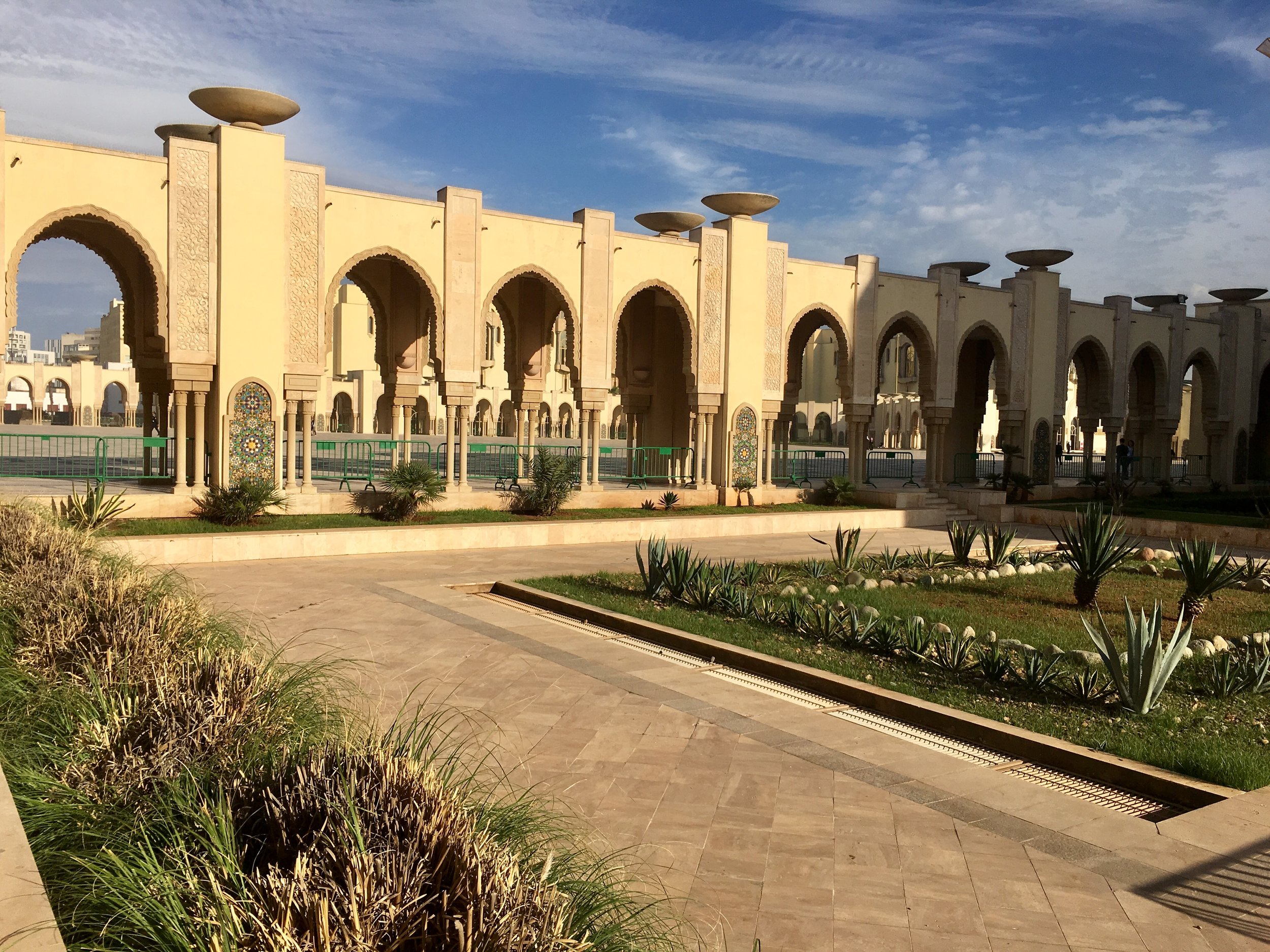 Our first stop was the Hassan II Mosque, which is breathtakingly beautiful! It's spectacular! It is the largest mosque in Africa, and the fifth largest in the world. Its minaret is the world's tallest at 210 metres (689 ft). Completed in 1993, the minaret is 60 stories high topped by a laser, the light from which is directed towards Mecca. The mosque stands on a promontory looking out to the Atlantic Ocean. Worshippers can pray over the sea but there is no glass floor looking into the sea. The walls are of hand-crafted marble and the roof is retractable. A maximum of 105,000 worshippers can gather together for prayer: 25,000 inside the mosque hall and another 80,000 on the mosque's outside ground.
The mosque is lavish and opulent. Anyone who is Muslim is invited to pray there. They don't have to pay anything or be a member of anything. Aziz told us that the Moroccans believe that anyone should have access to God. The doors are always open for anyone and for Muslims during the standard prayer times, which are signaled by a series of bells ringing from the mosque tower that can be heard throughout most of the city.
We met with Aziz's brother, Zaid, and strolled along the shore for a while. This is the area where many tourists visit. We still got stares from locals and everyone seemed afraid of Cap'n Jack and Scout. We kept them on a close leash and tried to soften the fears. Some of the children wanted to pet them. We let them pet Scout, who is always friendly and gentle with kids, and they seemed to delight in touching her velvety ears. The adults kept a safe distance.
As the sun began to set, Aziz took us to the one tourist spot I just had to see—Rick's Cafe. This is the famous gin joint from the movie "Casablanca." The restaurant is relatively expensive and with the dogs, we didn't even try to make a reservation. But I still wanted to see it.
From the outside it looked just like what I remember from the movie, only it was in color and not black and white. There were four guards outside the restaurant. I asked them if I could just take a peek inside. Their response... a very matter-of-fact, "This is not a museum."
Aziz could see I was disappointed. He went up to the guards, and in the unique Moroccan French/Arabic blended dialect, he asked the guards if I could just go inside for a minute. He told them how I came all the way from Alabama. He managed to convince them, but I had to leave my camera outside.
This is an upscale restaurant so it was decorated much fancier and swankier than what we see in the movie. Bright, vibrant colored pillows were beautifully placed on the comfortable sofas and chairs that were used as seating around wood-carved tables lit with the warm glow of antique oil lamps. The spicy, fruity scent of incense filled the air. The waiters, all men, were dressed in classic black tuxedos and wore white gloves. You could see the chefs preparing food over steaming stoves through the open kitchen.
There was an incredible black grand piano sitting right in the middle of the restaurant. No one was playing it, but in my mind I could hear "As Time Goes By."
Play it again, Sam.
AMONG THE GHOSTS OF WRITERS AND SPIES - Sunday, 18 November 2018

There was one more place in Morocco that I really wanted to see—the Gran cafe de Paris in Tangier.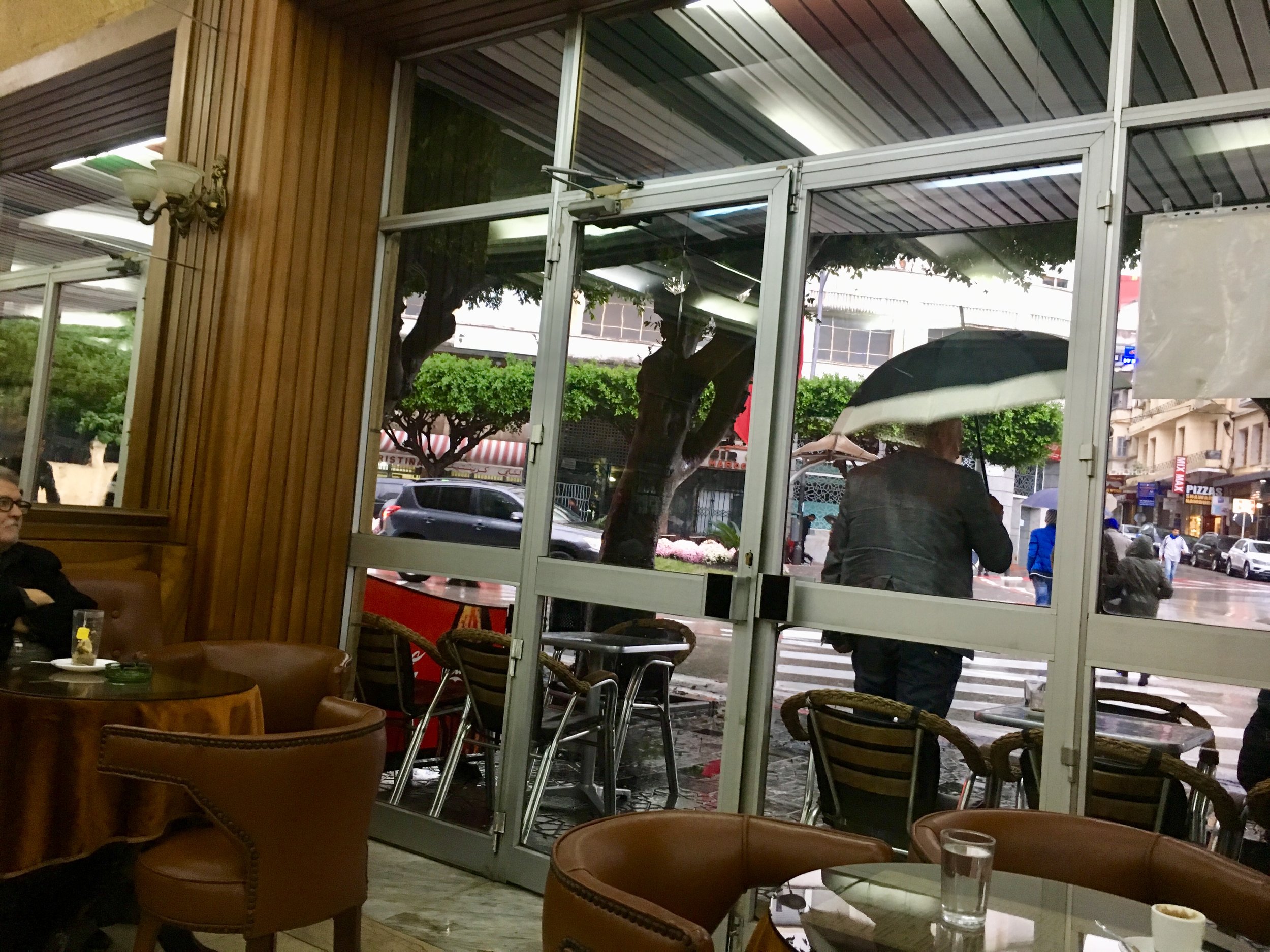 This is a very special place where famous writers like Tennessee Williams, Paul Bowles, and William Burroughs penned some of their most memorable masterpieces.
It's also the hangout where secret agents and spies lurked to listen in on local conversations during Tangier's colorful International Rule 1923 - 1952.
Maik had already rented a car for the week to take me to the airport on Monday. I made plans a month ago to fly home to Alabama and surprise my family for Thanksgiving. He also needed a car during the week to do some provisioning and to hunt for other maintenance supplies for Seefalke.
Since we had the car, we decided to take a road trip about three hours north of Rabat, to Tangier.
It felt so strange to be in a car. We are now so accustomed to traveling on the boat.
Maik and I love road trips. And we especially love to take the road less traveled.
We were definitely on a rural highway—one that separated two civilized worlds. Our route was lined with goat and sheep farmers. The homes in the villages looked like they were made of misshapen cardboard boxes. The village streets were not paved or even graveled. The streets were made of mud.
On this road trip there were no burger joints at every exit. We finally found a gas station that also served pre-made sandwiches so we grabbed one and continued on.
As we got closer to Tangier, it began to pour! The rain was falling heavily as we made our way downtown to visit the famous cafe.
We found a parking spot and walked the pups. Then we put them back in the car so we could take a quick visit inside the cafe.
Even though the rain was pouring heavily, the streets were busy with the hustle and bustle of hundreds of people.
Six hours of driving in the pouring rain (round trip) just to sit in a cafe for an hour may sound preposterous for most people. But I am a writer. I wanted to just sit inside for a few minutes and inhale the writing genius who once found so much inspiration in this tiny cafe.
Most of the patrons were men, but they let me come inside. It was packed, and the whole place was covered in a fog of cigarette smoke.
The inside walls were paneled in dark carved wood. It reminded me of a gentleman's cigar bar. Several locals, all men, were seated in a dark round parlor-style room intensely watching a soccer match on a big screen TV.
We were seated near a window in the front room. The waiters, all men, wore bright red suit jackets with white bow ties and black trousers. The small cafe was packed with people, mostly local men, and we had to share a table with other patrons. A few of the older gentlemen sitting across from us looked like they had been sitting there since the 1940s. Most of them were lost inside the pages of a book or a newspaper. They were all sitting shoulder to shoulder, but none of them were engaged in conversation with each other.
Maik ordered coffee and I had a mint tea. We also ate two danish and just soaked in the atmosphere. I felt so inspired and couldn't wait to write my next blog. By the way, we stayed about an hour and our total bill was €2.60 which is about $3.50 USD.
I was most interested in the writing genius that once frequented this simple cafe, but it's also famous for being a hotspot for spies and secret agents. I find this so intriguing. There is a famous scene in the movie "Bourne Ultimatum" that takes place in this cafe.
We sat there about an hour then went back into the pouring rain to return to the car and the pups.
We made it back to Seefalke three hours later and crashed. Even with the heavy rain, it was worth the drive!
SWEET HOME ALABAMA - November 19-26, 2018


I needed to be at the airport by 06:00. With a little more than an hour drive, this meant we needed to leave the marina by 04:30.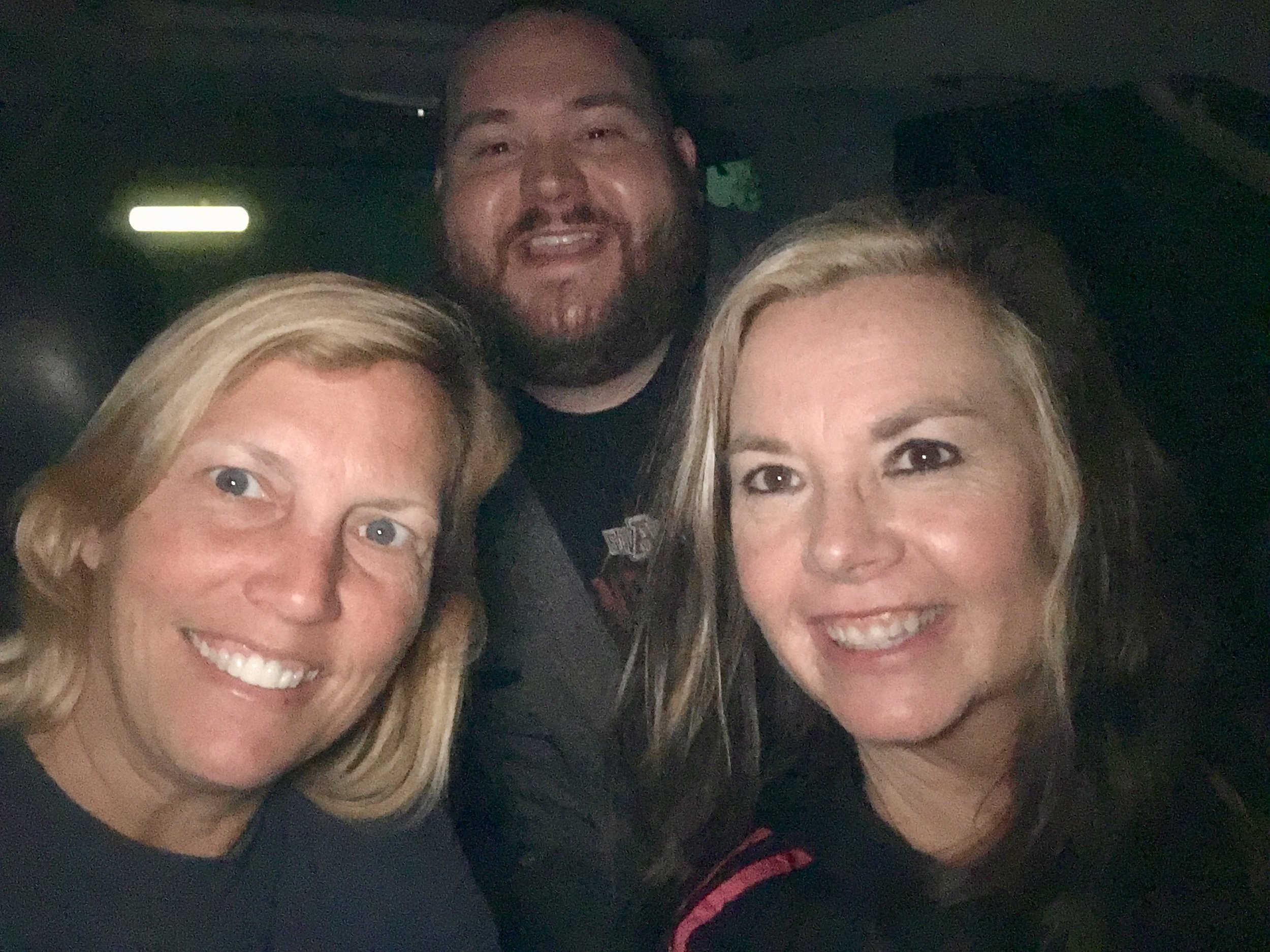 The rain was still falling heavily as we made our way to the rental car and then to the airport.
Again, there was a rigorous customs procedure. When I got to my gate there were only Americans waiting for my flight. I found this amusing. Where were all these blonde-headed, blue-blooded Americans all week?
My 20-year-old son, Bo, drove to Atlanta to pick me up from my flight. We had a lovely drive to Birmingham and got caught up on all the happenings in his life.
I have missed my kids so much. I had not seen them since the end of July.
We drove to Birmingham where I met with my best friend, Trisha, and her son, Michael. It was fantastic to see them. I had been getting so homesick and this was just the best thing ever to break away and spend time with family and friends.
I spent the night in Birmingham. I was having a hard time breathing and I was badly congested. I think it was because my body was accustomed to the fresh salty sea air.
My 23-year-old daughter, Shelby, arrived on Tuesday and then the three of us headed to Lake Guntersville to surprise my parents and all my brothers and their families.
Shelby, Bo, and I had a plan. We would drive to my parents' house and I would stay in the car. The kids went in and told their Nana and Pops (my parents) that they needed help bringing in some things from the car.
When they walked outside, I jumped out from behind the car! It was so awesome! They were so surprised! As the rest of the family trickled in during the next few days, I had so much fun catching up with everyone. My sister-in-law, Pam and my niece Allie came a day early just to spend some extra time with me.
The whole week was priceless. I even got to watch my first Auburn football game of the season, even though our rival Alabama beat us badly. I slept in a real bed and took real showers. This felt like a supreme luxury.
While in Alabama, I called my doctor and asked him if he would call in a prescription for Transderm Scop seasickness patches. Many sailors told me this would help me. Dr. Brock has been my doctor for more than 25 years. He delivered both of my children.
I had to go to two different places in Guntersville only to find 12 patches. Let's hope they work!
On Sunday, Shelby drove me to Atlanta to catch my flight back to Morocco. I miss them already.
Back in Rabat...26-30 November 2018
I didn't get much work done while in Alabama so this was my first priority. I worked hard on articles for my clients during the first two days back, and then began helping Maik with all the boat maintenance that needs to be finished before we cross the Atlantic in a couple weeks.
There are a million things on the to-do list. We compare our boat maintenance list to a roll of toilet paper. No matter how many squares you tear off, it just keeps rolling and rolling and rolling. And when you get to end of that roll, you must replace it with a fresh roll. It's never ending.
There are two things that are at the top of the list. First, we continue to have water coming into the bilge from the anchor windlass. This requires maintenance at least 2-3 times a week. The whole week I was in Alabama, it continued to pour in Morocco. This meant that a lot of water made its way into the bilge.
Maik had rigged several tools to reach into the tiny crevices in Seefalke's belly. He even placed some baby diapers on the end of a long stick to sop up the water in the crevices and corners that he couldn't reach with his arm and a sponge or with a water pump. Maik is an engineer and can usually build a creative rig.
Meanwhile, he was organizing our other major repair. We need to replace the zinc anodes on the bottom of the boat. We had a diver go underneath Seefalke in Lisbon. He told us they definitely need to be replaced, which means pulling the 11-ton Seefalke out of the water on a crane. The marina in Morocco has no crane so Maik made arrangements for us to take care of this once we get to the Canary Islands.
We were trapped in port that week because the swells coming in from the Atlantic at the entrance/exit of the marina were too dangerous. This gave us some time for all our chores. Then we readied the boat to set sail on Saturday morning.
We took a quick walk to a nearby beach. It was a beautiful setting, except for all the piles of trash everywhere. It was so strange—there were lovers walking arm in arm on this romantic beach, enjoying a remarkable sunset, and stepping over trash every few feet. Some couples were sitting on a blanket with trash all around them. It was bizarre to me, but for them I suppose it was the most natural thing in the world.
Why would anyone sail to Morocco?
After two weeks in Morocco, we can confirm that it was worth it. Even though it is not dog-friendly, and the streets are dirty and the culture is different than what Americans are typically used to, for us, it was a worthwhile stop on our way to the Canaries.
The great thing about traveling is exploring places that are unfamiliar to your everyday life. How boring would this world be if every place were the same and every culture the same?
We felt safe and welcomed in all the places we visited and leave here with a warm impression of Morocco. We would definitely recommend it to other sailors and to anyone who wants to have a unique and pleasant traveling experience.
You have to look beyond the trash-lined streets to see the beauty of Morocco—but the beauty is there.