French Guiana, South America
Probably my favorite destination during our entire voyage, we made three stops in lovely French Guiana—Cayenne, Kourou, and the Triangle Islands, Iles du Salut. One of those three islands is known as Devil's Island and is the Alcatraz of the Atlantic.
It felt odd to be back in France and yet so far away from Europe.
At times we had grand adventures and saw spectacular landscapes. We even witnessed two amazing rocket launches and tragically saw one of them explode. We had fun times with our sailor friends and enjoyed exploring a wide range of wildlife and scenery.
At other times we were hard at work scraping barnacles from the hull, fumigating the cabin to rid it of some unwanted guests, installing new batteries, suffering from heat stroke, and getting a fresh round of shots for the sailing seadogs. Of course, we also had to find time to work a little....
Sunday-Monday, 16-17 June 2019
‪Following our 1,400 nautical mile, 12-day passage from Cabedelo, Brazil to Cayenne, French Guiana, we settled into our secluded anchorage in the Mahury River, completely tucked away from any civilization except for a dozen local fishermen and a handful of other exhausted, anchored sailors.
Maik went ashore to check out the infrastructure while the Seadogs and I opted for a little rest and relaxation. It took him half a day and walking more than 3 km just to get to the immigration office to check us in. Then he walked another 10 km to get a few provisions. The marina "office" was a small metal container (like on container ships) and it was only manned in the mornings. There were no taxis, no uber, however, Maik was able to hitch a ride part of the way with a local on a motorbike.
We took the dogs to shore and they were thrilled to have a huge open field to just run and play to their hearts' desire. They played and chased and sniffed every scent and rolled in all the stinkiest stinks they could find.
There was nowhere close to shop for provisions, but the local fishermen allowed us to use their water faucet on the pontoon, which we used more to hose off the filthy Seadogs than to replenish our supply.
With no infrastructure, we just used the stop as a resting spot to replenish our energy. However, we did spend the evening with a sailor we met who was from Clemson, South Carolina, USA sailing on SV Pawsitive Latitudes. He was headed in the opposite direction and ready to fight the Guyana Current head on, whereas we used it to push us forward to Cayenne. He said he wanted to sail the Amazon, so we shared our research with him.
We heard later from another sailor that he struggled going the opposite direction in that strong current, and only made a quick stop in Belem, just outside the Amazon, before sailing to Cabedelo. He told us he was sailing South to Patagonia, something we would have loved to do if we had had more time.
Passage Cayenne to Kourou
Tuesday, 18 June 2019
48.7 nm - 11:43 hours at sea
With rested bodies and minds, we set sail for Kourou. It was a pleasant, enjoyable sail with favorable wind and no drama—just like we like it!
We settled into our anchorage in Kourou, a small river spot, with about eight other anchored sailboats. For the first time in a while, we had to be fully independent of any modern amenities, although there was significantly more near our anchorage in Kourou than our anchorage in Cayenne.
There were two small pontoons, but we couldn't moor there. One was reserved for local fisherman and the other belonged to the members of the Spaceport Yacht Club. These crusty, salty sailors allowed us to moor our dinghies on the pier, fill our jugs with fresh water from the faucets and dispose of our trash and recyclables.
However, there were no showers, no restroom facilities, no internet, and no laundry services.
When we say the pontoon was members of the Spaceport Yacht Club, it's not what you probably envision. The rickety pontoon had room for about 10 small sailboats. Two spots were reserved for tourist catamarans that daily sail to Iles du Salut (the Triangle Islands). At low tide, at least half the boats were sitting on their keels in thick mud—floating a bit during high tide.
The local sailors were friendly and helpful, but they were the opposite of fancy! The boats were rusted and weathered with decks that looked like trailer park rummage sales. In fact, every time we passed by with trash or debris from our boat, they all stopped us and wanted to know what they could have of our throwaways to use on their ships. A couple sailors benefited from the used batteries we later replaced.
There was access to a solid infrastructure of markets, pharmacies, and restaurants in walking distance and a bakery that stayed open from 05:30 to 19:30 every day including weekends and holidays. No dogs were allowed, but very slow internet was available for free. When I say slow, I think they just recently graduated to 3G, but perhaps still making a slow transition from 2G. But it did connect us to the outside world and allowed us to get some work done.
We were able to take the dogs into the city center to give them some exercise each day and found a gorgeous beach where they could run and play unleashed.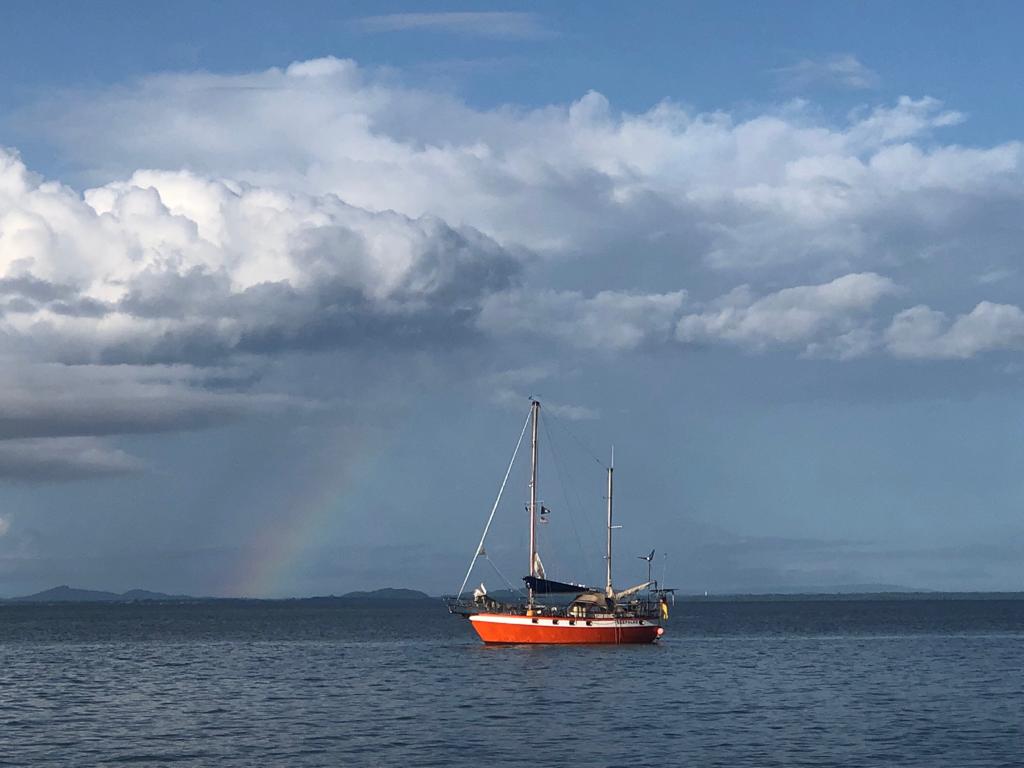 We were completely out of clean clothes, so I spent the first three days hand washing while Maik made several trips from the anchorage to the pontoon in the dinghy to fill our three, 10-liter jugs with fresh water as we slowly replenished our 200-liter tank. With two or three trips each day, and thanks to the daily rainfall, we also collected enough water for laundry and daily deck showers.
To collect rainwater, we used the lazy bag on the main sail and set out all our buckets and laundry basins. We opened an umbrella and placed it upside down in the biggest basin, which proved to be a brilliant idea to direct as much rainfall as possible into the container.
I also spent some time scrubbing the cabins and sweeping out all the dog hair. On a long passage, it can often get fairly filthy onboard. Even in such a small space it can be difficult to keep it clean.
Each day, we used the slow bakery internet to work a little. I spent one entire eight-hour day sitting there waiting for one YouTube video to upload. We sure hope you guys enjoy watching these videos! They are not always easy to publish for you.
We also finished and published our first eBook, How to Sail with Dogs—100 Tips for a Pet-Friendly Voyage. And we got started on our next eBook that will discuss how to battle seasickness, a subject for which we have developed a large level of experience.
Several of our friends from Cabedelo were in our anchorage, so we invited several onboard Seefalke for intimate dinners. This is always my favorite part of sailing as we get to learn the stories and adventures of other sailors. And it's always cool to reunite with our sailor friends at various stops around the world.
We also experienced a lot of cool wildlife during our time in French Guiana. Maik is writing a blog all about it with some fabulous photos! Stay tuned…
Rocket Launch 1
Thursday, 20 June 2019
We had arrived in Kourou just in time for a live space rocket launch. We invited our sailor friends, Rob and Janine, South Africans who sail the world on SV Matangi, to join us on the local beach for the launch.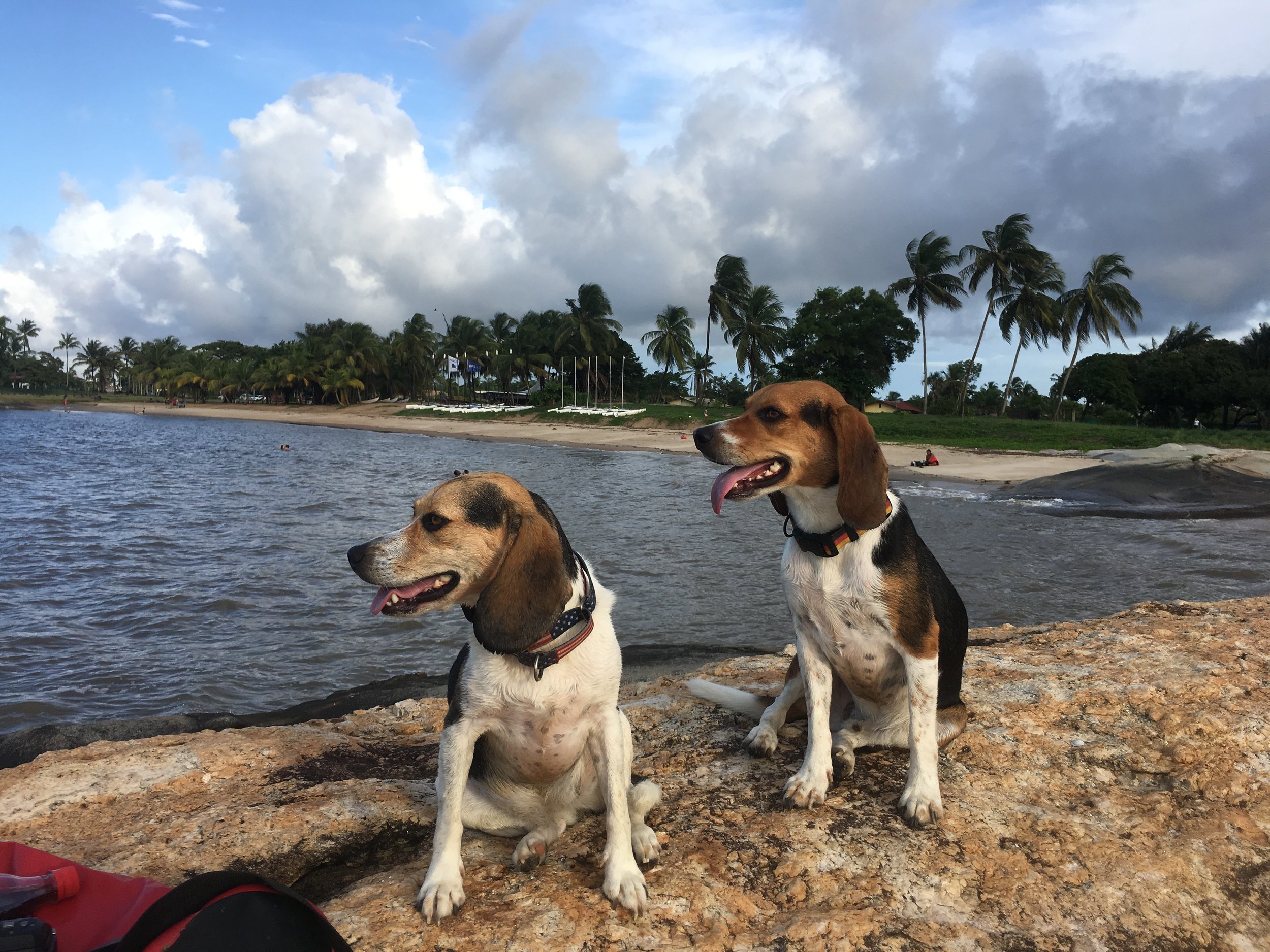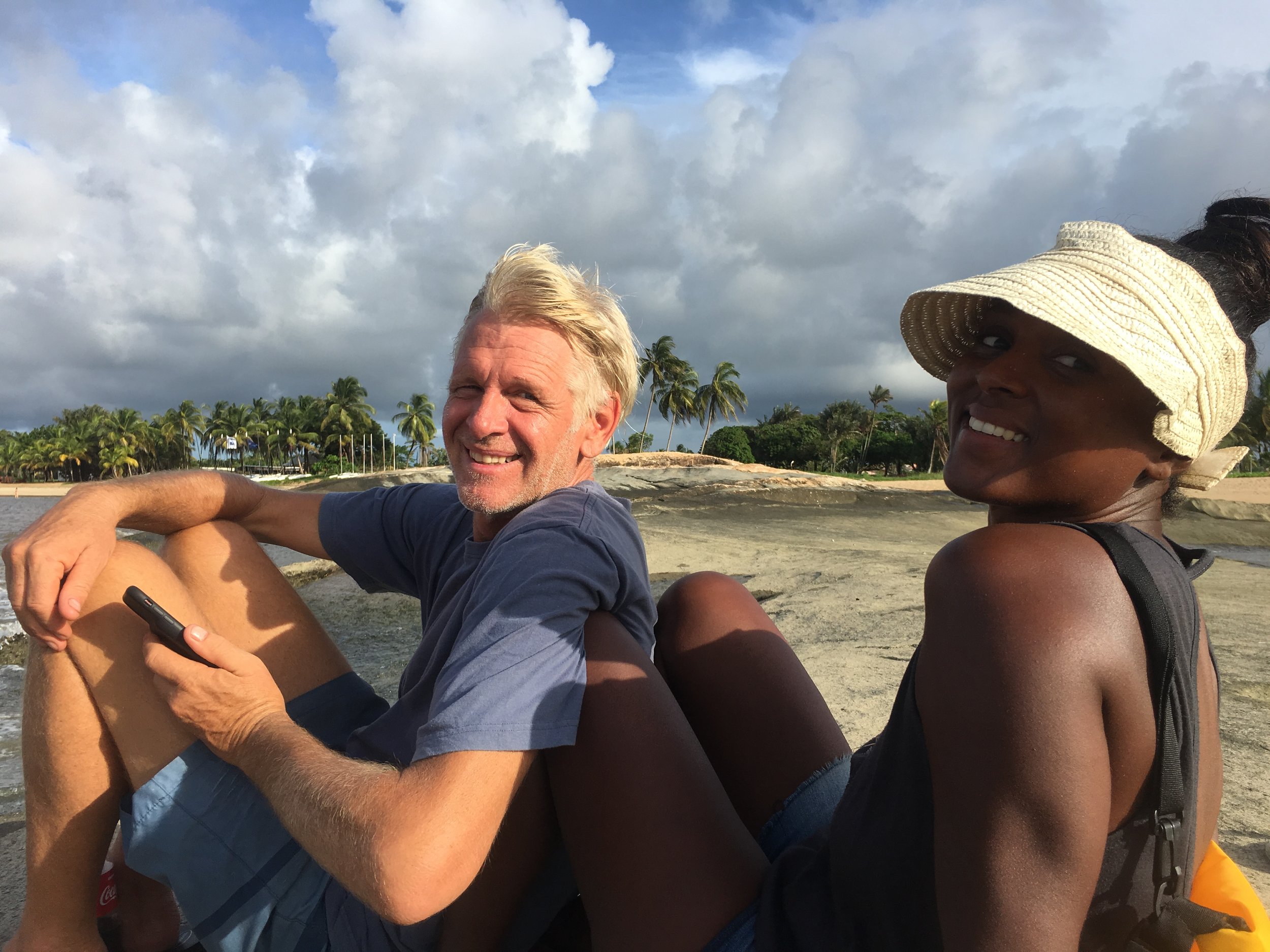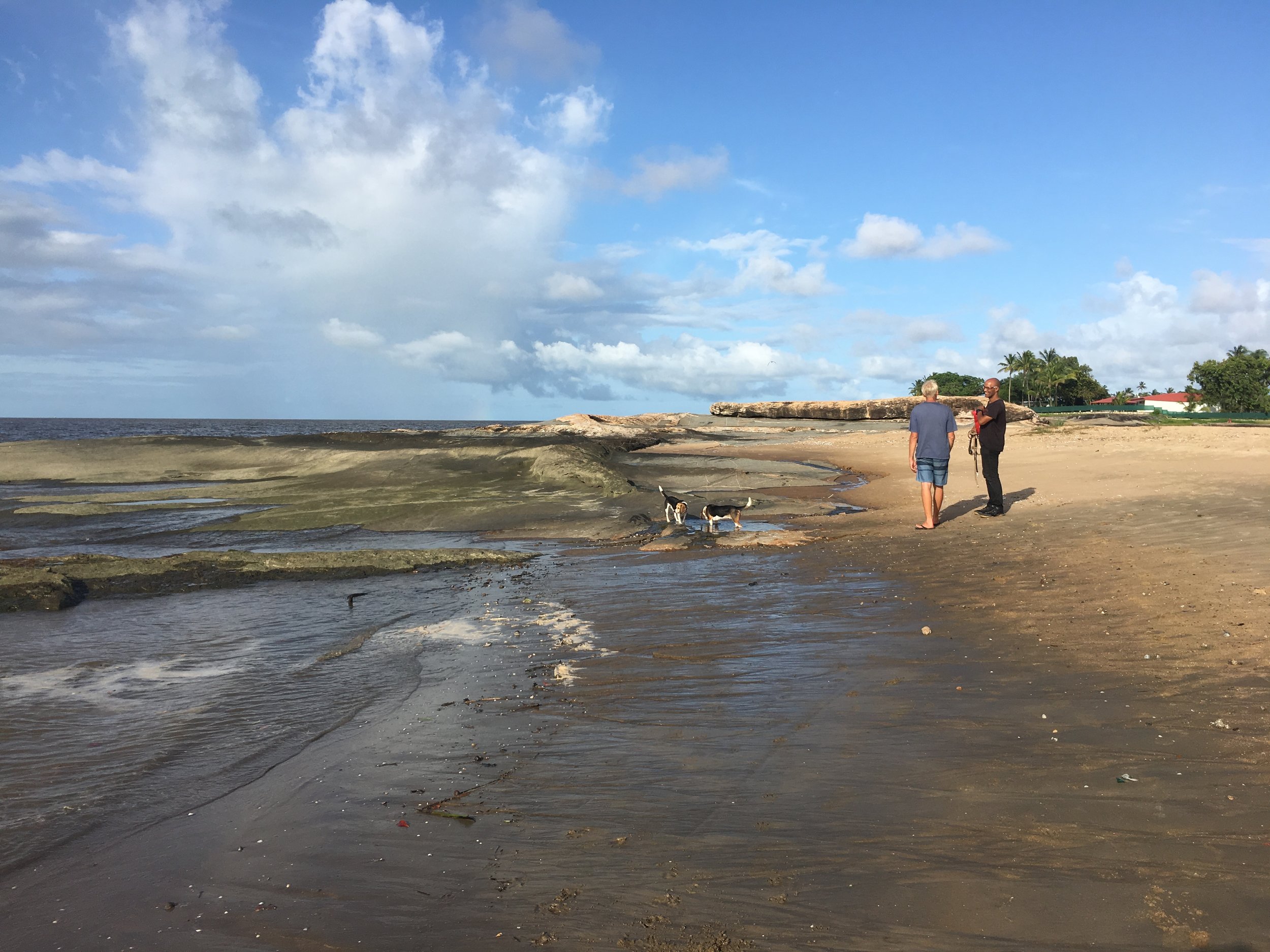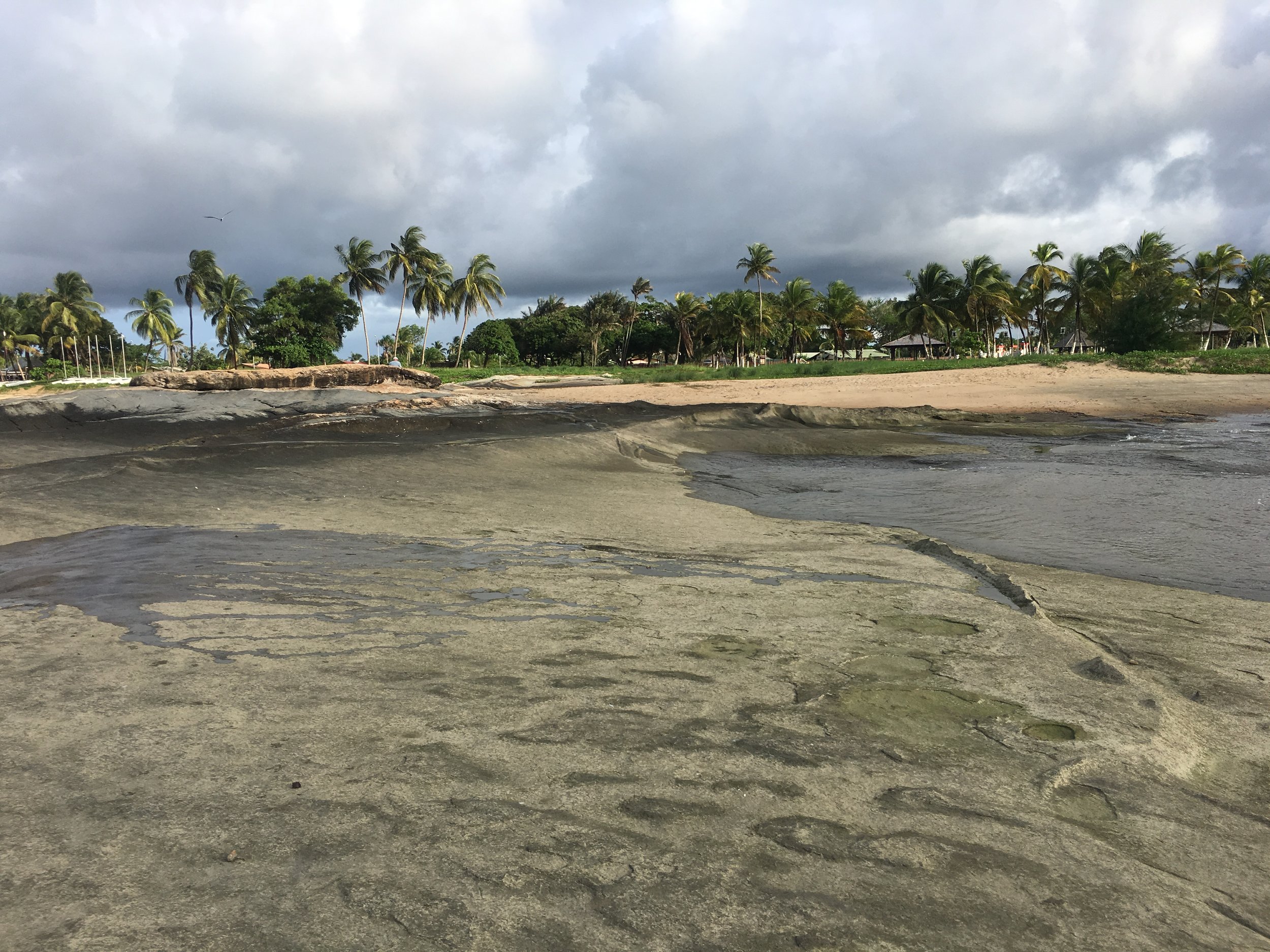 Anchoring and sailing in the flight path are prohibited approximately one day prior and one day after each launch. We were there to witness the launch of Ariane 5 Mission UA248.
While the Seadogs played on the beach, the four humans settled into our spot while hundreds of locals gathered to witness the launch at sunset. It was spectacular, but we almost missed it because we were watching the live coverage on YouTube, which apparently was delayed just a bit. We heard the oohs and ahhs of the crowd and looked up just to see the rocket decorate the sky right at sunset.
In Search of Batteries
Wednesday, 26 June 2019
Maik was unhappy with our battery life, and decided it was time to invest in new batteries. We shopped around Kourou a bit, but then one of the local sailors on the pontoon told us about a battery shop in Cayenne. We rented a car (for about 24 Euro per day) and made the one-hour drive to the shop. We found exactly what we needed and loaded the extremely heavy batteries into the small trunk. On the way home, we decided to reward the Seadogs with another trip to the beach for playtime!
A couple days later, we waited for the catamaran to leave on its daily tour to Iles du Salut and then took Seefalke to the pontoon to try to install the batteries. Our friend, Rob, met us there to help. It's so cool how sailors are always willing to help other sailors with grungy, difficult tasks. Maik rigged the puppy crane to load the ridiculously heavy batteries into Seefalke's engine room so he could install them. While the boys were doing the heavy lifting, I took the opportunity to use the hose to once again fill our water tank.
Seadog Maintenance
Wednesday-Thursday, 3-4 July 2019
It's been a year since we had all our rounds of shots for Cap'n Jack and Scout. They needed everything—including a new rabies shot and rabies titer, and updated health certificate. We found a veterinarian in Kourou who actually speaks English. We didn't have an appointment, so we walked over to the office to make one.
They invited us in and immediately took us to a room where the vet could take care of all the shots and all the details. Because the titer test must be administered in a laboratory within 24 hours of drawing the blood, we needed to return to the vet the next morning to draw the blood and then ship it overnight to France. There are no labs in French Guiana that could perform the required tests.
Following all this, each day we treated Cap'n Jack and Scout to another fun-filled, unleashed play date at the beach. The second day, it was low tide, but the dogs didn't care. They trudged through the mud, which sunk their little paws like quicksand, and got so filthy we had to wash them off in the sea before we could put them back in the car.
We then went to the market to get a full supply of ant and roach poison. Little creepy crawlies had begun to invade our home along with mosquitos. We are convinced they found us while we were on the hard in Brazil, basically in a tree house for six weeks. We bought traps and sprays and pretty much anything they had available to combat the problem early. We seem to be ok now, but we will find a pest control company in Suriname to fully fumigate the ship.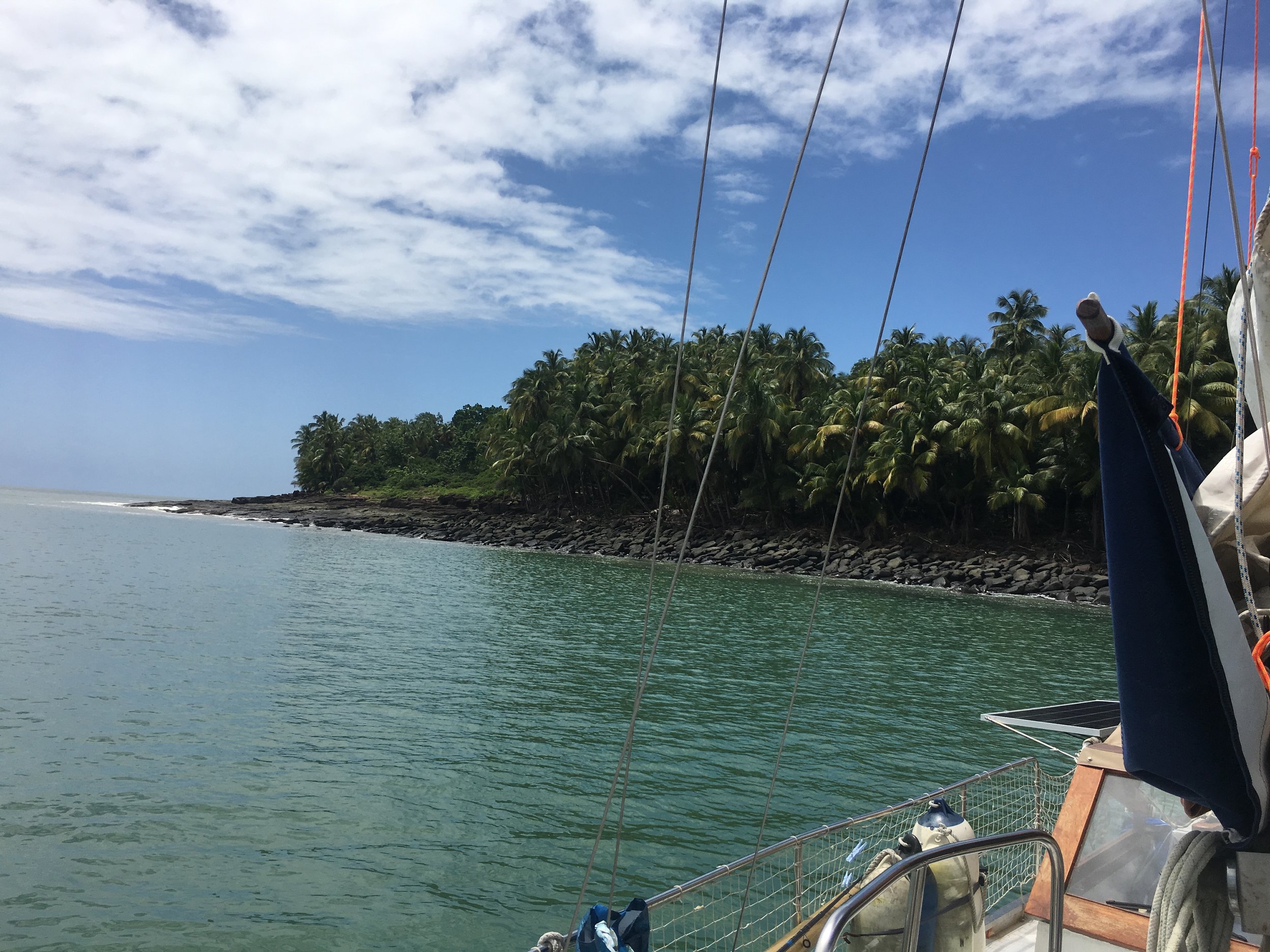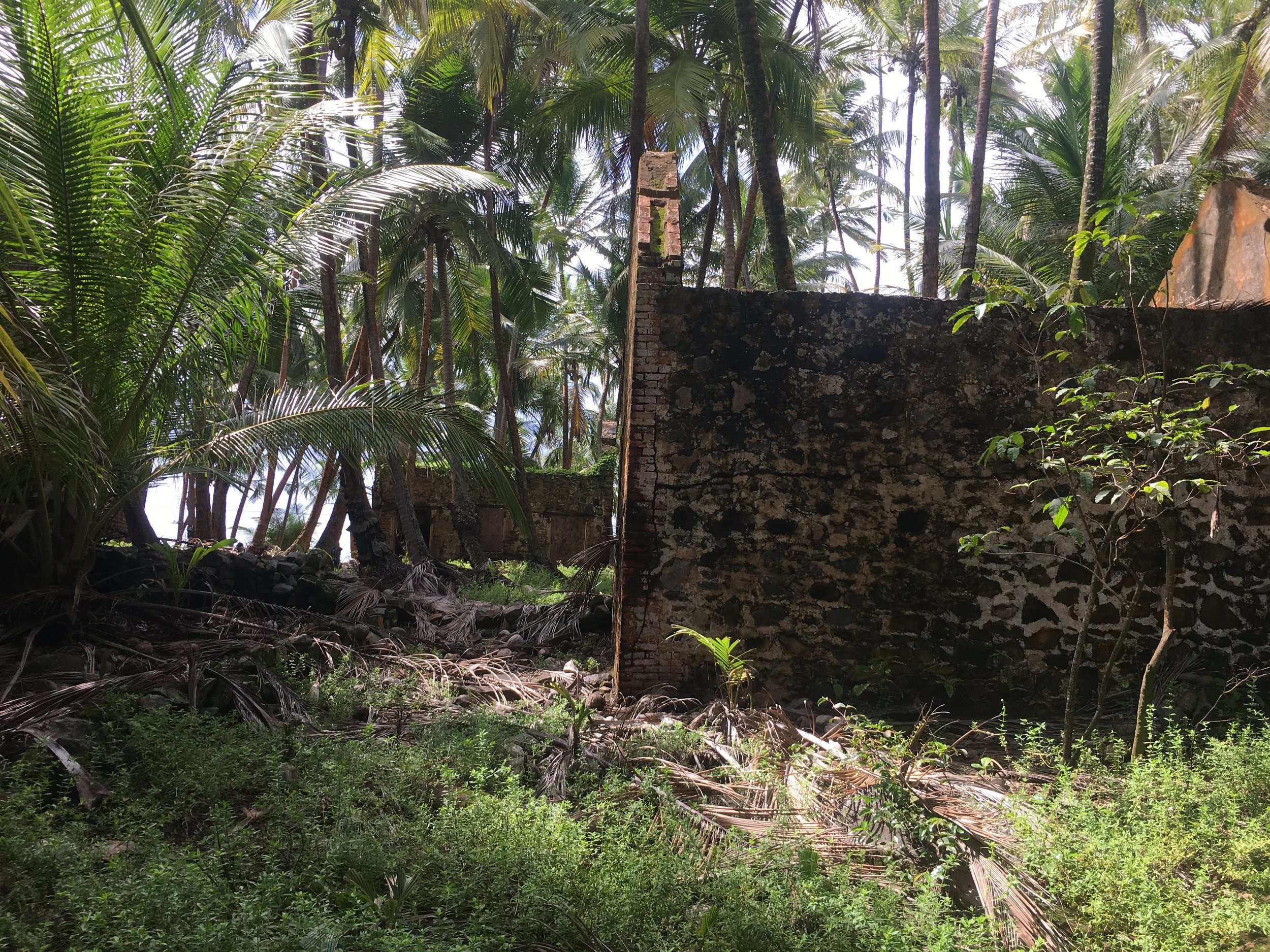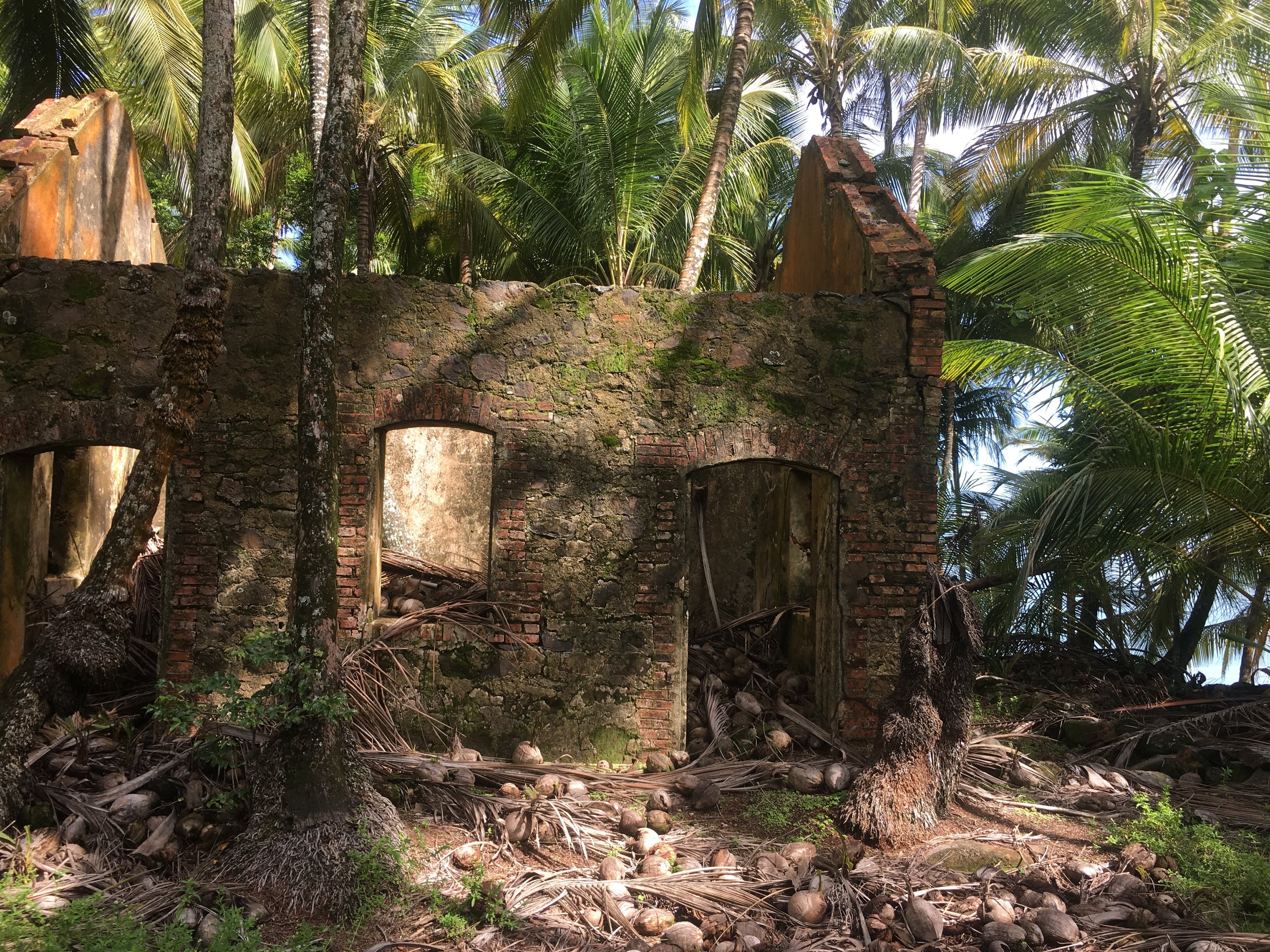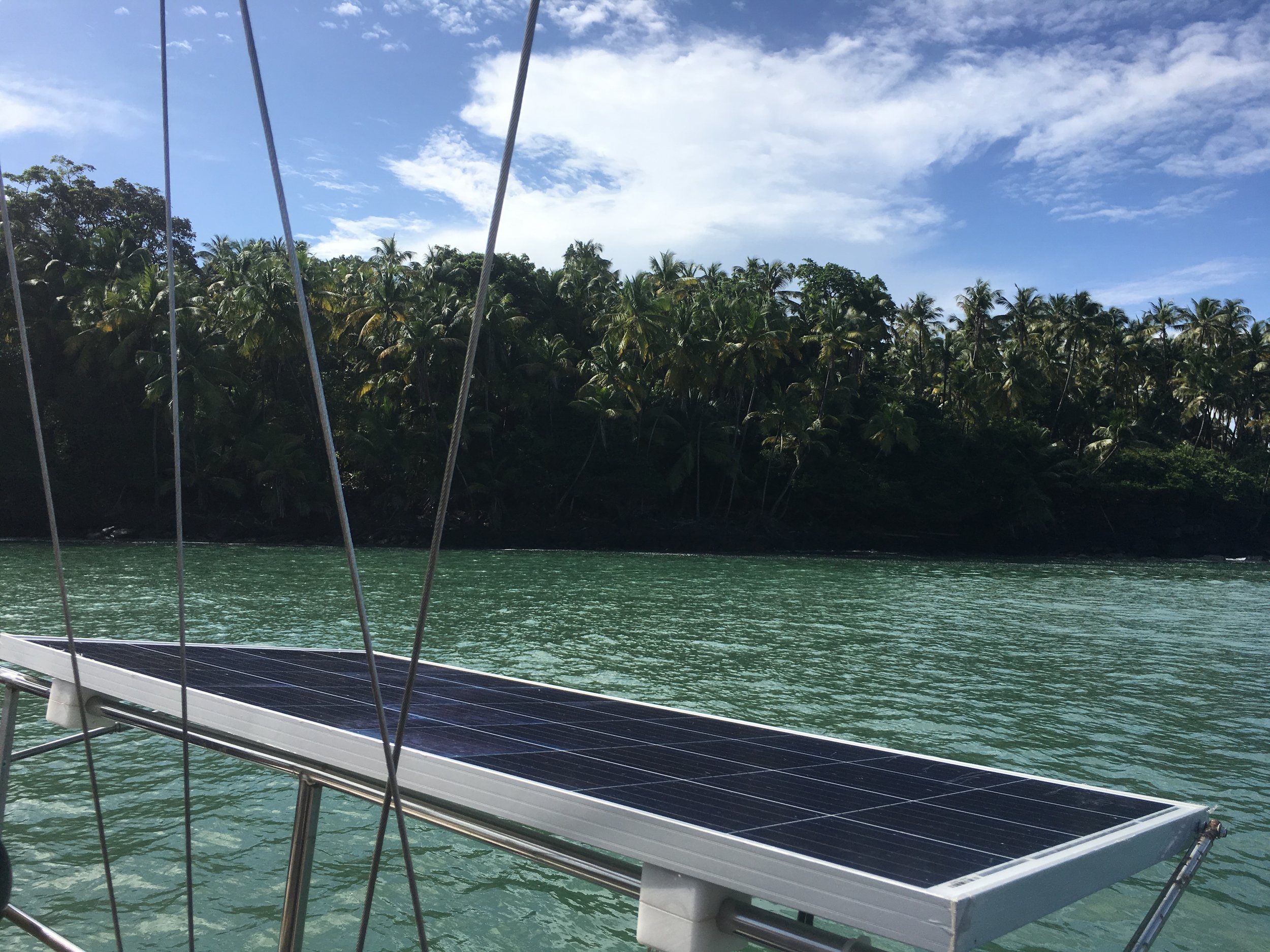 Birthday Celebration on Devil's Island
Saturday-Sunday, 6-7 July 2019
Our South African sailor friend, Des, of SV Redemption, contacted us via satellite to let us know he was anchored at Iles du Salut and was having engine trouble. We told him we would make the short day-sail to Devil's Island to help him. It took us 2.5 hours to sail the 9.9 nm. When we arrived, it felt like paradise!
Des had caught a huge Spanish Mackerel during his sail, so we grabbed a bottle of wine, some cheese and joined him onshore for a fish fry. It was delicious! Fantastic fresh food and fantastic company! The next day was my 52nd birthday. I loved the islands so much I asked Maik if we could stay another day and celebrate my birthday on the islands.
We woke up on Sunday morning, hoisted the hook, and took a short motor sail (about 30 minutes) to Bora Bora Cove at Ile de Diable (Devil's Island), which is the Alcatraz of the Atlantic.
The penal colony of Cayenne, commonly known as Devil's Island (Île du Diable), was a French penal colony that operated in the 19th and 20th centuries in the Salvation's Islands of French Guiana. Opened in 1852, the Devil's Island system received convicts deported from all parts of the Second French Empire, and was infamous for its harsh treatment of detainees, with a death rate of 75% at their worst, until it was closed down in 1953. Devil's Island was notorious for being used for the internal exile of French political prisoners, with the most famous being Captain Alfred Dreyfus.
The prison system stretched over several locations, on the mainland and in the off-shore Salvation's Islands. Île du Royale (the largest of the Triangle Islands—where we anchored the first time) was the reception center for the general population of the penal colony. They were housed in moderate freedom due to the difficulty of escape from the island. Saint-Joseph Island was the Reclusion, where inmates were sent to be punished by solitary confinement in silence and darkness for escapes or offences committed in the penal colony.
But let me assure you, with plush coconut palms, rich vegetation, clear waters in every shade of green and blue, natural swimming coves, and curious wildlife, this place is paradise!
Once settled at our anchorage in Bora Bora Cove, we took the Seadogs to shore on Devil's Island to explore. A tiny island, the dogs just ran and played and explored. At the top there were dilapidated stone buildings that looked like forts and must have been quarters for the prisoners. There was not another human on the island while we were there, and later we learned that it is not legal to go on the island. Oops!
The views were spectacular, but getting in and out of the dinghy was a challenge with waves crashing onto the shoreline rocks. Des returned to the main island to find some internet, but we decided to stay at Bora Bora Cove and off the grid. We swam in the cool water and relaxed all day in our own private island paradise.
Iles du Salut had hardly any cell signal and virtually no internet, so we needed to get back to Kourou to officially publish our eBook and also to use the internet for work. But Maik promised me that we could return later in the week for a longer stay and another opportunity to explore the islands.
A Fishing Expedition
Maik has always said that he didn't want to fish while sailing unless it was necessary for survival. We love wildlife and especially sea life. We love to eat fish, but we weren't too excited about killing fish.
But since Maik was talking to all the other sailors who fish and learning that this is a key way to stay self-sufficient, we went to the local marine shop and invested in some fishing supplies. We had no luck at anchorage in Kourou. Later when we went back to Devil's Island, Maik landed a huge catch while trolling—our dinghy! Haha!
The next day, the fishing pole fell into the water and sank like a rock. We fished for the fishing pole hoping to find it, but we had no luck. We will likely invest in another fishing pole in Suriname, so stay tuned for the next fishing chapter.
Rocket Launch 2—Party on the beach!
Tuesday, 9 July 2019
A second rocket launch was scheduled, this time for around 23:00. Maik organized a barbecue on the beach for us and 10 of our anchored sailing friends. There was a built-in barbecue pit in the park by the beach. This was so much fun to grill steaks and sausages on an open fire on the beach and just hang out with the other sailors! The dogs also loved all the steak bone scraps that the sailors generously shared with them, and they helped us leave the site clean and tidy.
We once again admired the beauty of the launch, but later learned that this rocket exploded in mid-air. We didn't even realize this from our viewpoint.
This is from one of the news reports:
A European Vega rocket suffered a "major anomaly" while launching a satellite for the United Arab Emirates late Wednesday (July 10), leading to the loss of the rocket and its payload, according to Arianespace, which built the booster.
The Vega rocket launched the FalconEye1 Earth-observation satellite for the United Arab Emirates (UAE) from the Guiana Space Center in Kourou, French Guiana. Liftoff occurred at 9:53 p.m. EDT (10:53 p.m. local time, or 0153 GMT July 11). The nighttime liftoff was a dazzling sight, but then something went very wrong.
"About 2 minutes after liftoff, around the Zefiro 23 ignition, a major anomaly occurred, resulting in the loss of the mission," said Luce Fabreguettes, Arianespace's Executive Vice President of Missions, Operations and Purchasing, in a televised statement just after the failed launch.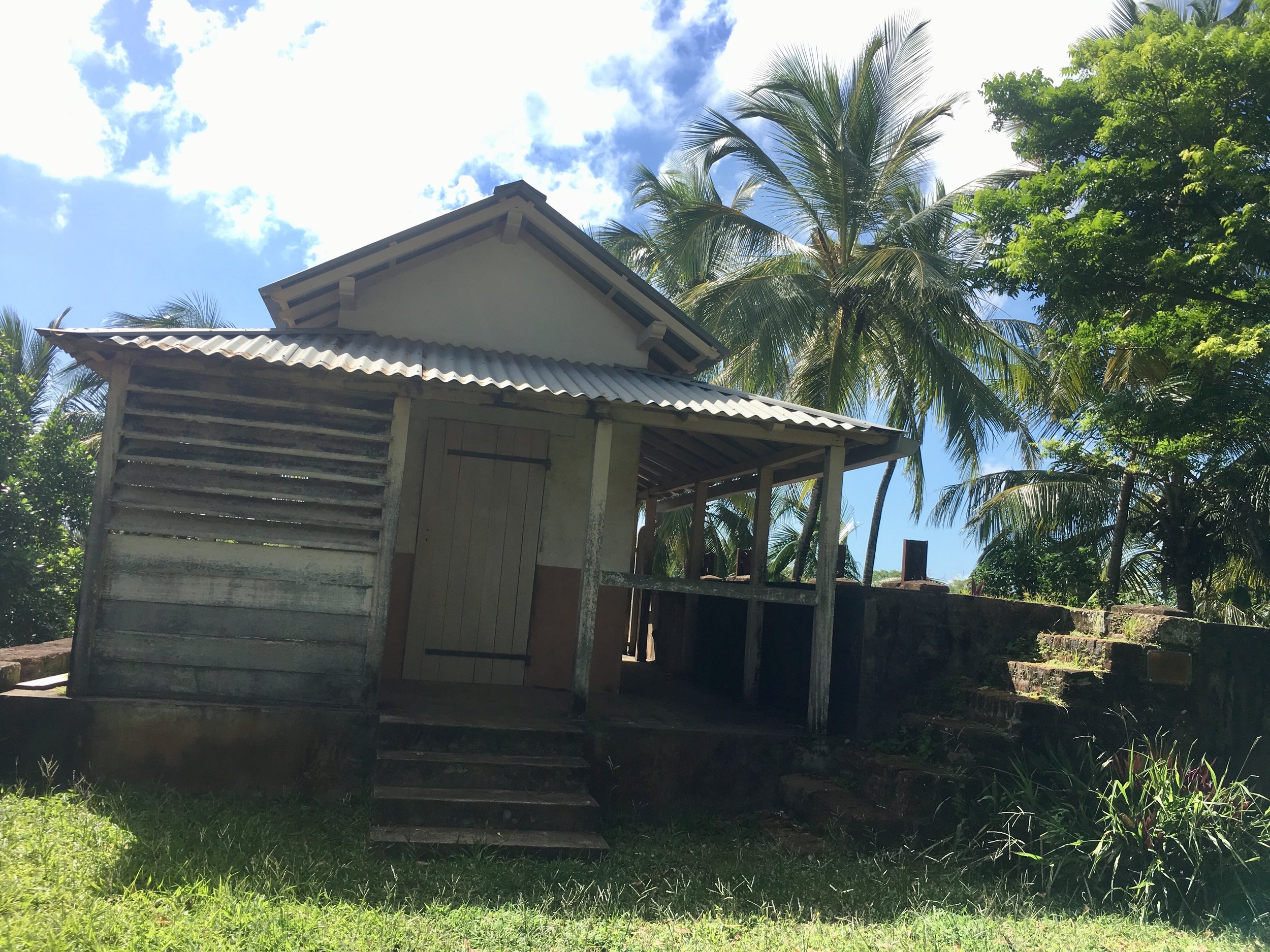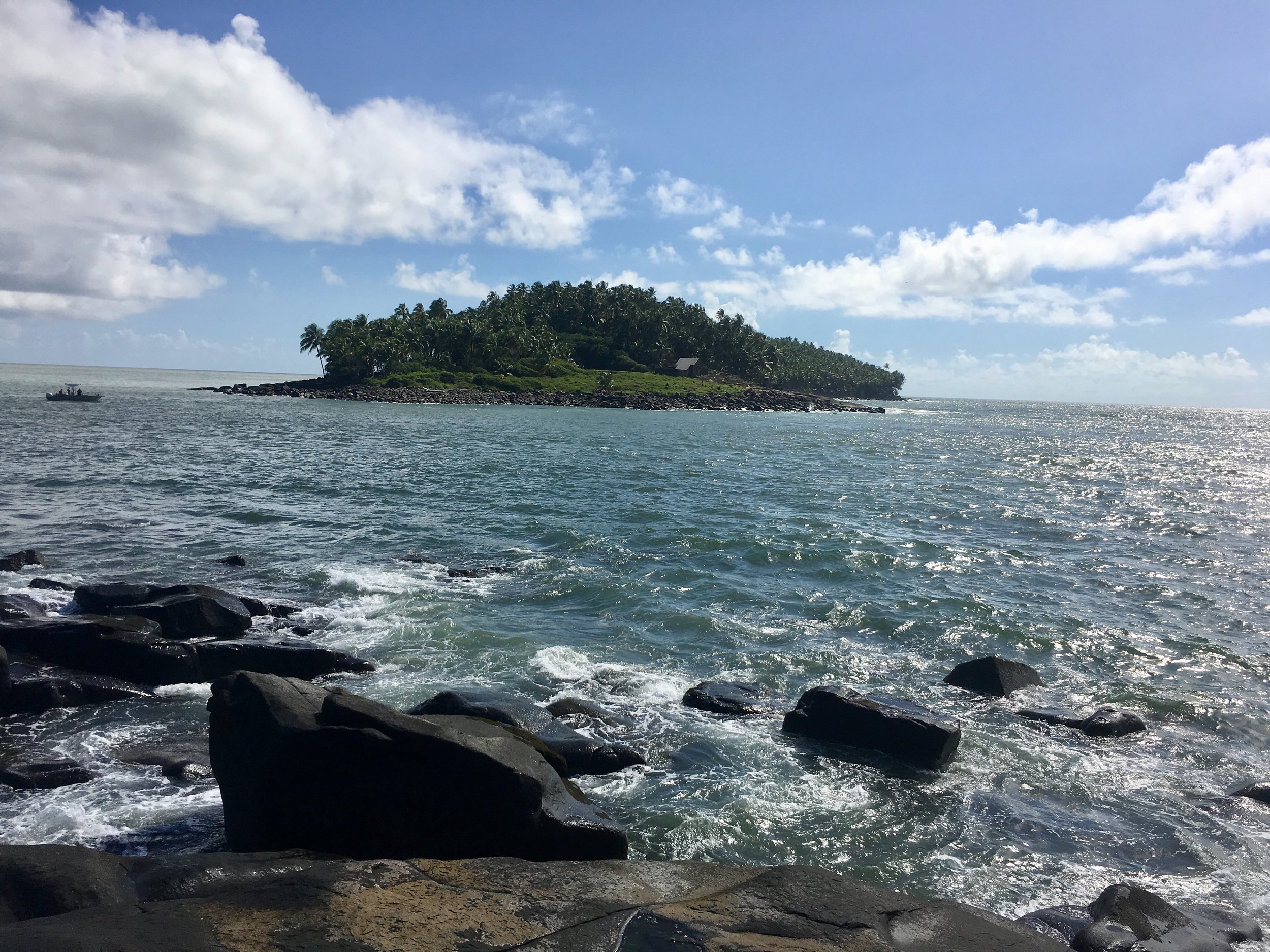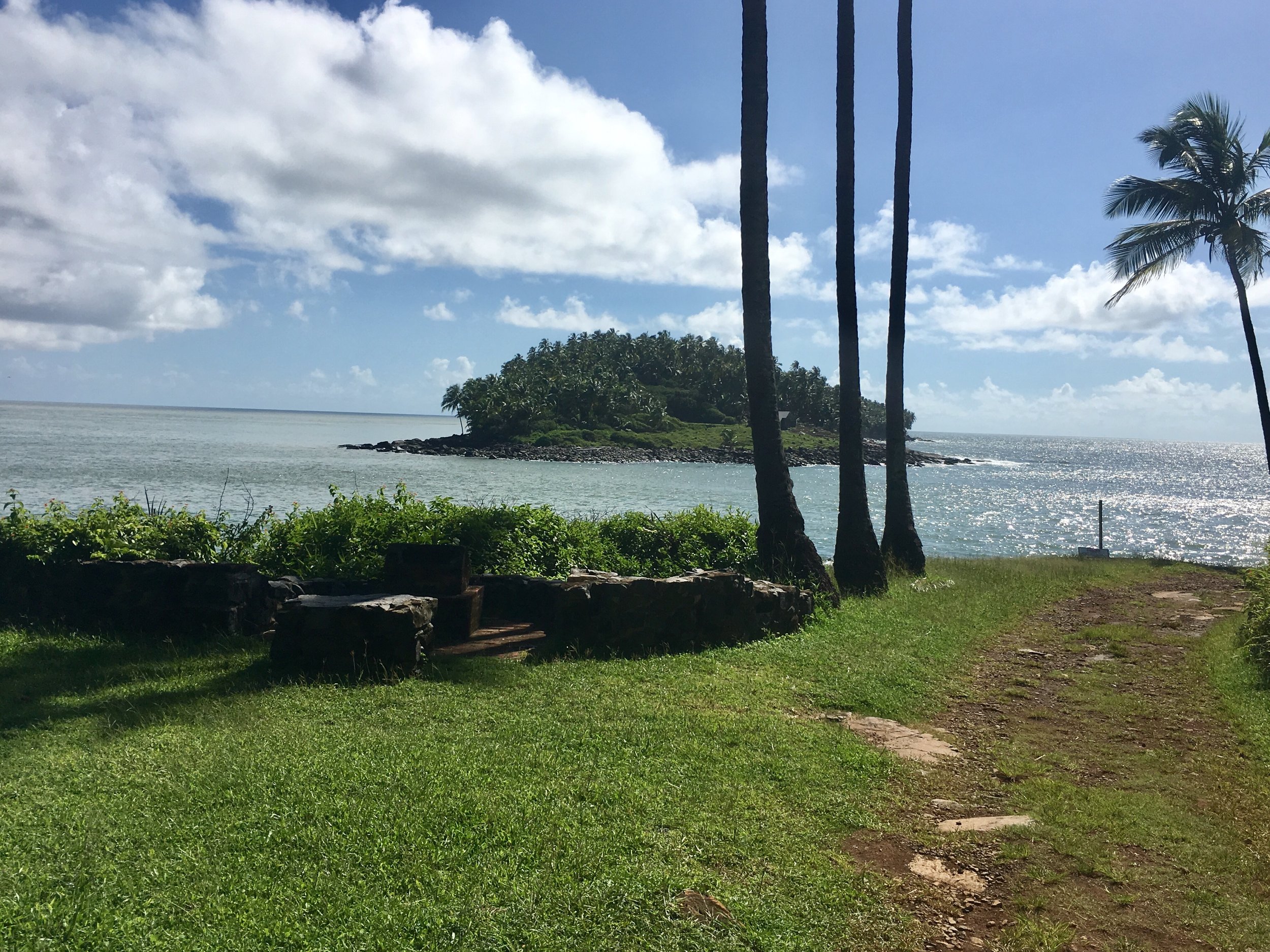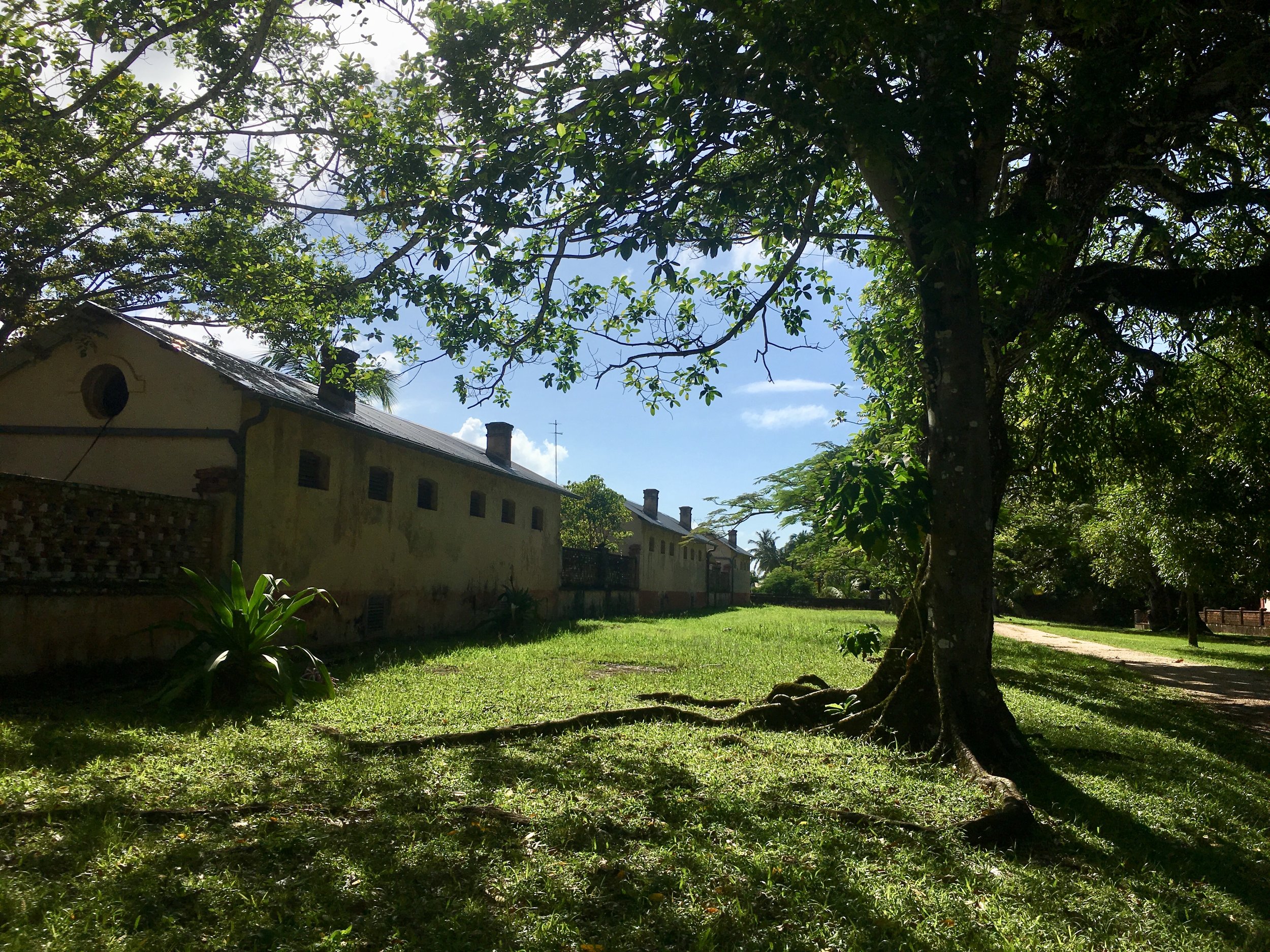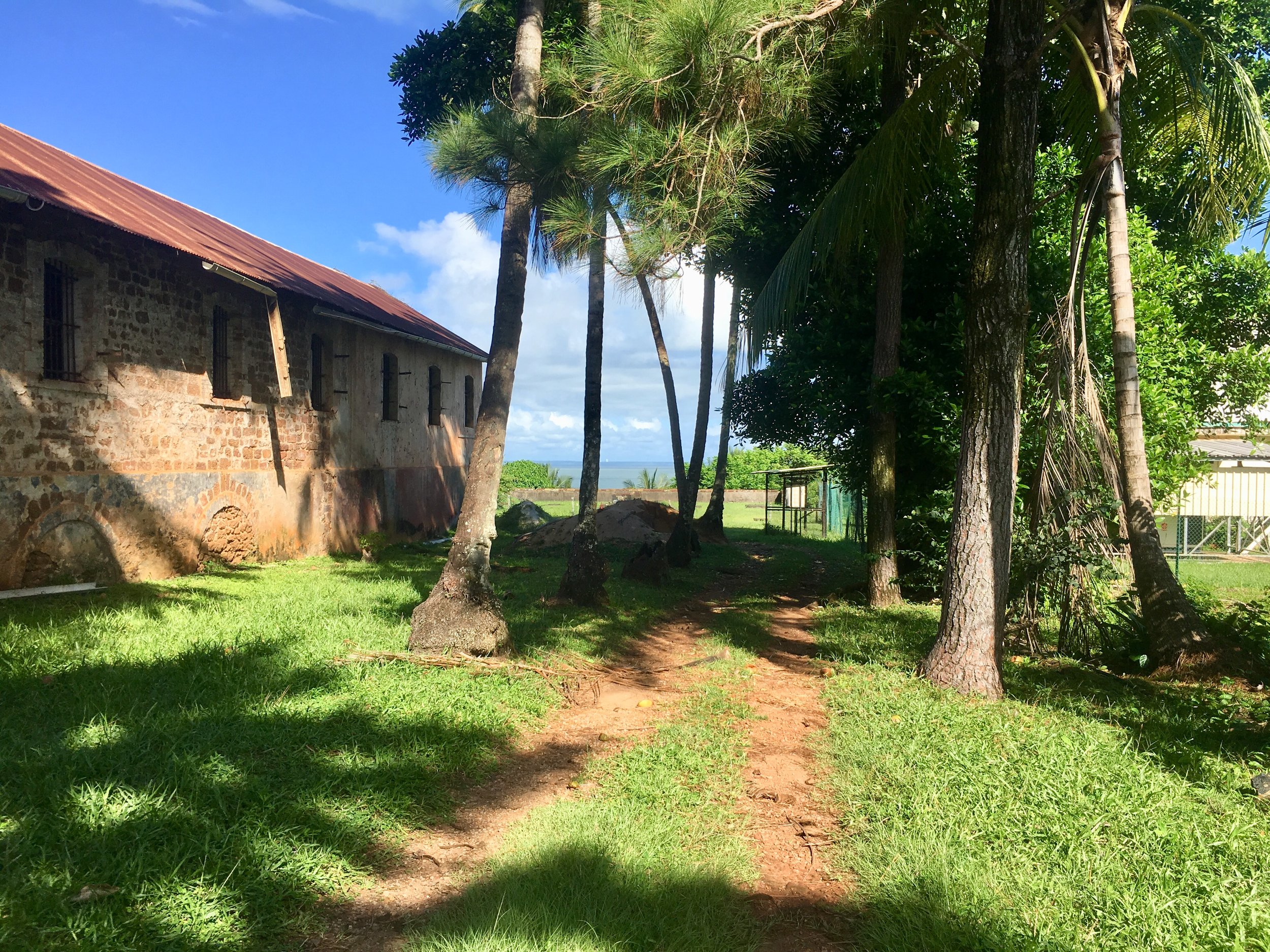 Passage Back to Devil's Island
Thursday, 11 July 2019
We spent an entire day going through the process of checking out of customs and doing some final provisioning and preparation for another departure to Ile du Salut. This time the passage took about 3.5 hours. It was a lovely sail, but we struggled to find any speed and wondered why it took much longer to get there this time.
We spent the next couple days exploring all of Ile du Salut and went swimming in the natural shoreline pool. The Seadogs were captivated by the monkeys, red rump rodents, birds, and other wildlife on the island. Don't forget to check out Maik's blog about all the wildlife!
Barnacle Scraping—A Fun, Family Activity
Saturday-Sunday 13-14 July 2019
Whenever you feel jealous of the cool places we visit and the fun things we do, just remember this...
Maik woke early Saturday morning and began rigging lines and digging through all the lockers for flat metal pieces we could use as scraping devices. I had just cleaned and organized the boat the day before, so I asked him why he was tearing it apart again.
He told me that he had taken a dive underneath Seefalke and saw that her hull was covered in barnacles. This was the reason we were dragging so badly at sea. We were both discouraged because of the time and money we had spent in Cabedelo for antifouling, which was supposed to last 10 years but apparently had not yet activated.
We have no diving equipment and only one mask, but I told Maik I would help him. He said, "This is such a brutal task, you won't last five minutes."
I thought he knew me better than that by now.
He was working on the port side, so I took the starboard side. Without a mask, I began working on only what I could reach while remaining above water...just under the side to the top of the keel.
Swells were coming in high and the current was pushing me with great force. I was swallowing so much salt water I was choking about every other breath. I couldn't see anything so I had to feel may way around the hull. I could feel the barnacles cutting my arms, shoulders, and legs.
I decided to get back on board and rig some more lines to hold on to so I wouldn't have to work so hard treading water between dives and scrapes. I also wanted to rig a longer tool. My arms simply were not long enough. I found a metal spatula in the galley and attached a ponytail holder to the end so I could wrap it around my wrist in case I dropped it. This proved many times to be a good idea.
I have no jeans onboard, so I put on a pair of Maik's jeans to protect my legs and went back in. We both worked like this for many hours. Maik was taking short dives to get deep enough to scrape the keel. My eyes were burning badly from the saltwater and floating barnacles. There were millions of them!
We were both wearing gloves, but before too long they were shredded thanks to the sharp barnacles.
After about four hours, Des paddled his way over to our boat in his kayak, and I asked him if he had a mask I could borrow. He did! This brought me so much relief. It protected my eyes and also allowed me to actually see what I was scraping, although the water was not as clear as you might think. To see anything, we had to be only inches away from the hull. If I got close enough, I could see all the spots I had missed. My spatula scraper was much more efficient than the small metal scrap I was previously using.
I was taking 20 to 30-second dives, I suppose, and wished I was in better shape so I could hold my breath just a little longer. I knew I could do such a good job if I could just stay down there longer. With each dive, I took a few seconds to drop deep enough and then another few seconds to feel my way to the top without hitting my head on Seefalke's steel hull. This allowed only a few seconds for the actual scraping in between diving and surfacing. Maik could stay underwater a little longer than me and also has longer arms and legs so he could make fewer dives.
I remembered our friends, Molly and Baxter Gillespie of SV Terrapin telling us they would scrape their hull wearing bicycle helmets. I didn't realize until now why that is such a great idea. With every surface, I would feel the boat above me with one hand and push my way outward to avoid hitting my head on the steel hull.
I don't know how many times Maik and I dove, scraped, then surfaced. But we were in the water for nine hours that first day (significantly longer than 5 minutes, I must point out).
By the end of that first day, we were exhausted and decided to take a break. The sun was beginning to set. We had originally scheduled to depart the next day, but we both were too exhausted to get back in the water to finish the job. We had scrapes and cuts all over our bodies and our legs, backs, and shoulder muscles were sore from working in the water that long. It was a good sore. The kind of sore you get from a hard day's work.
Maik was doing a good job of drinking a lot of water during the day, but I was not so diligent. It's tricky. The sun was broiling hot and intense. Since we were in the cool water, I didn't feel hot or thirsty. And since it required a lot of effort just to climb the swimming ladder to get back on the boat, I didn't take many breaks out of the water. Even though I spent nine hours in the water, I was dehydrating, although I didn't realize it at the time.
We made the wise decision to start early the next morning to finish the job, then depart the next day. With the relief of this wise decision, we crashed!
The next morning it took about two more hours to complete the barnacle scraping task and then we decided to make one more walk around the main island, Ile de Royale, and let the dogs run and play some more before sailing back to Kourou.
When we got to the natural pool, I wanted to cool off in the water. Maik said he had had enough swimming, so he stayed on the edge and rested in the shade with the dogs while I jumped in and just floated a while. There is a big difference between swimming for work and swimming for fun. I soaked my sore muscles and let the cool saltwater sting all my cuts.
We returned to the boat and began all the usual preparations for departure early the next morning.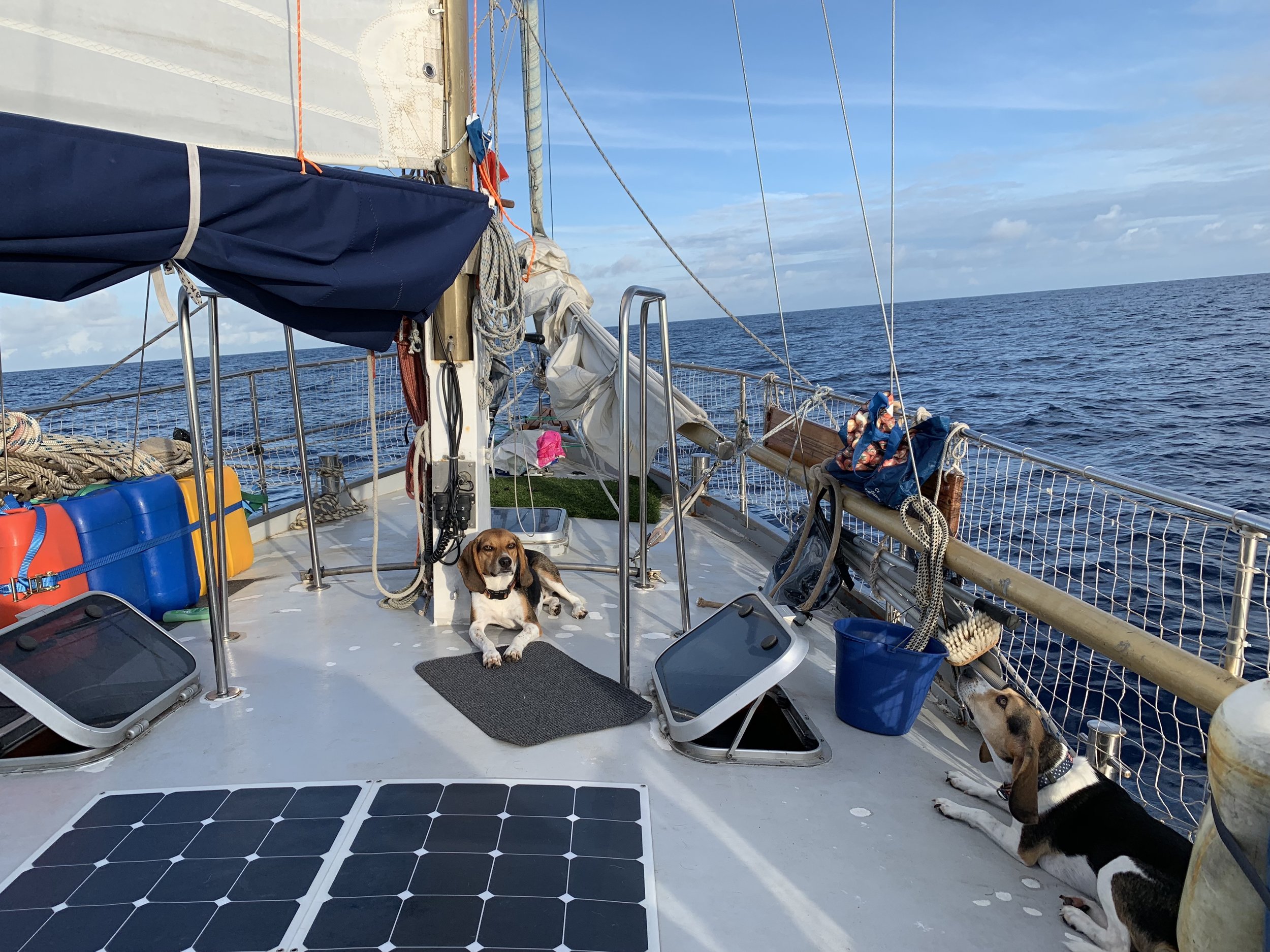 Passage to Suriname
Monday, 15 July 2019
Departure 07:00
I got too much sun the past two days and was roasting all night before departure. I spent most of the night in the cockpit because I felt like I was suffocating, and I needed the fresh cool air that couldn't seem to make its way into the cabin. I think the massive amount of time in the salt water and lack of hydration had dried me from the inside out.
In the morning, Des was ready early so we bolted up out of bed to convoy with him.
There was a refreshing early rainstorm then no wind at all for about six hours. The heat was unbearable, and I felt like my skin was sizzling from the inside out. We motor sailed for a while and simply roasted in the intense sun with no wind to provide any relief.
Finally, around 14:00 we caught a little wind. We turned off the engine and hoisted all five sails. We finally felt some cool breeze and began to make about 4.8 knots of speed. We could feel the difference that our barnacle-free hull was making in our speed over ground.
It was a relaxing day, but I just didn't feel well. Maik thought perhaps I was suffering from heat stroke and dehydration, which is probably right. My skin was still sizzling, and I was panting like a dog. Late into the afternoon as the sun began to set over the horizon I began to cool down from the boiling heat and could breathe again.
Day 2—Tuesday, 16 July 2019
71 nm — 17 hours at sea
During the night shift, I finished reading The Art of Hearing Heartbeats. It is an extremely moving tale of long-lost love, recommended to me by my daughter, Shelby. It was heartwarming, heart breaking, and heart wrenching and left me thinking about it for the last two hours of my early-morning shift. You know how it feels when you read a great book and you don't want it to end and can't even get motivated to start the next one because that one was so good? That's how I felt about this book!
I woke up with the sunrise and relieved Maik an hour early from his morning shift. There was absolutely no wind and the smooth swells rolling in looked like a soft watercolor painting with hues of blue, grey, and silver.
It was already blazing hot by 08:00 and with no wind to cool the air, it began to once again get stifling. We had been communicating with Des all night via VHF. He was itching to put the motor back on, but I wanted to wait on Maik to wake up to make that decision. We ended up motor sailing for a while but later turned it off and just drifted. Des couldn't be patient. He cranked his motor and took off. He never looked back.
It wasn't until about 15:00 that we finally got some wind.
I felt horrible most of the day. It wasn't seasickness. Trust me, I know what seasickness feels like. I'm convinced now that it was heat stroke, as Maik predicted. I continued to feel my skin sizzling from the inside out. I couldn't cool down, and I couldn't drink enough water. I think it was a result of the two days in the heavy salt water scraping the barnacles. We were in the cool water, so I wasn't drinking much. We were working hard, but not sweating. And I swallowed gallons of salt water and who knows how much salt permeated through my skin. This is just my theory, but my body struggled to recover.
Maik offered to take my early-evening shift, but I wouldn't let him. I have never missed a shift, and I refused to start now. Fortunately, as the sun went down and the wind picked up, the cool air gave me some relief.
Day 3—Wednesday, 17 July 2019
139.5 nm — 40:48 hours at sea
I continued to feel weak and struggled to cool my body temperature all day. I felt like heat was radiating from my skin. Maik checked my temperature. It was below normal. This made me laugh. I can remember as a little girl thinking I was dying of fever. My mother would feel my forehead and tell me I was "cold as a cucumber," which always amazed me because I felt like I was on fire. When she would check my temperature, it was always well below normal.
We made it into Domburg, Suriname after nightfall (around 20:00). Des had arrived four hours earlier and had reserved a mooring buoy for us. We anchored on the buoy and crashed after a 3-day, 228.5 nautical-mile, 61-hour passage.
We have now sailed 7,173 total nautical miles since departing Stralsund, Germany on Aug. 19, 2018. We will settle here in Domburg for at least two months to catch up on work, rest, explore, and Maik needs to take a two-week business trip to Germany.
I can now feel my body recovering from the heat stroke and learned a valuable lesson about the intensity of the sun at sea and the harsh effects of the saltwater. I will work hard to cautiously avoid that situation again.
After an excruciating two-day customs-immigration process, our early impressions of Suriname are positive. We are definitely in the rainforest, anchored on fresh (but muddy) river water, with plenty of solid infrastructure available to replenish our supplies and our bodies. Maik left on Saturday, 20 July 2019 for Germany, and I have plenty of work and boat projects to keep me busy.
There is a pool at the marina, and I look forward to a refreshing daily swim. However, the marina restaurant is covered with ticks, which immediately attached to the Seadogs the first day. I spent hours hand picking at least 100 ticks off each dog that day. The infestation appears to be isolated at the restaurant, so we will steer clear of that space while here.
Be sure to read Maik's blog about the amazing wildlife we experienced in French Guiana!