First Two Weeks in Cabedelo, Brazil
The Atlantic Crossing took a lot out of us. It was relaxing at times, challenging at times, and even boring at times. I read 12 books, and we battled excruciating heat and daily squalls! We had made an adjustment in our original plans to take the easy Milk Run route straight to the Caribbean. Instead, we went off the beaten path and headed south, crossed the Equator, and sailed into Cabedelo, Brazil. After 20 days at sea (with a brief overnight stop at the remote island Fernando de Noronha), we needed some time to decompress, work on a LONG list of boat projects, and catch up on our real work.
Wednesday, 27 February 2019
As we were entering the port, Marina Jacaré, we heard from Deiter and Claudia on the radio. Dieter and Claudia are German sailors traveling on their catamaran, Whitebird, with their two small children, Charley and Nicholas. We met them in Cape Verde, and in fact, it was this sailing couple who convinced us to consider sailing to Brazil rather than to the Bahamas. There was no open slips in the small marina, so we had to settle for a mooring buoy right outside the marina and wait on an open berth.
Of course, we no longer had our main anchor, but the mooring buoys are well secured and the marina is protected from open ocean swells.
We blew up the dinghy and went into the small village to eat and explore. We gave pups a long, well-deserved walk! I was craving a cheeseburger and ice! I was able to get ice but settled for meat on a stick at a small little tent right outside the marina. It was basically an open tent with a refrigerated truck in the middle and a few plastic folding chairs and tables. They had a small open-fire grill. No sides, just grilled chicken or beef on a stick and it tasted fabulous! I was needing some red meat. After three weeks of the vegetarian life, my body was happy for the protein.
We all crashed early and got a very good night's sleep floating peacefully at the mooring buoy.
Thursday, 28 February 2019
As soon as the sun was up, so were we. We got busy! I did some laundry and scrubbed and organized the boat while Maik went into the city to get his waterlogged phone repaired. This task took half a day. Then we all piled into the dinghy and went into the marina to visit with our German friends. Maik and Dieter went in a rented car to customs and to the market for fruit. They were able to score some fresh fruit, but customs was already closed for the day. We would try again tomorrow.
I spent the afternoon with Claudia and the kids and learned more about them. She really wants to continue the sailing journey. They are about seven months into a two-year sabbatical, but Dieter is counting the days until they return to civilization. We went swimming in the small marina pool and met the French sailors we keep meeting at every stop. These sailors also are travelling with small kids and are living a life at sea full time.
I took the pups back to the boat and worked a little. I completed an article that was due the next day then we went back in the dinghy to hunt for food. Everything was closed so we settled for a pizza at the marina canteen. The marina office is completely open with several tables sitting on a tile floor. There are hammocks hanging everywhere and a cool breeze finds it's way into the narrow outdoor area. There is also a laundry facility and showers.
When we got back to the dinghy I slipped and took a little swim. I was glad I had put my phone in a zip lock bag. I was lucky this happened right at the pier, and I wondered how it hadn't happened earlier since we are so crowded in our little dinghy. I was amazed that I managed to keep my flip flops on my feet while underwater. During the fall, I slammed my chest against something… maybe the pier, maybe the dinghy. It resulted in a fairly deep bruise, but otherwise I was fine.
Friday, 1 March 2019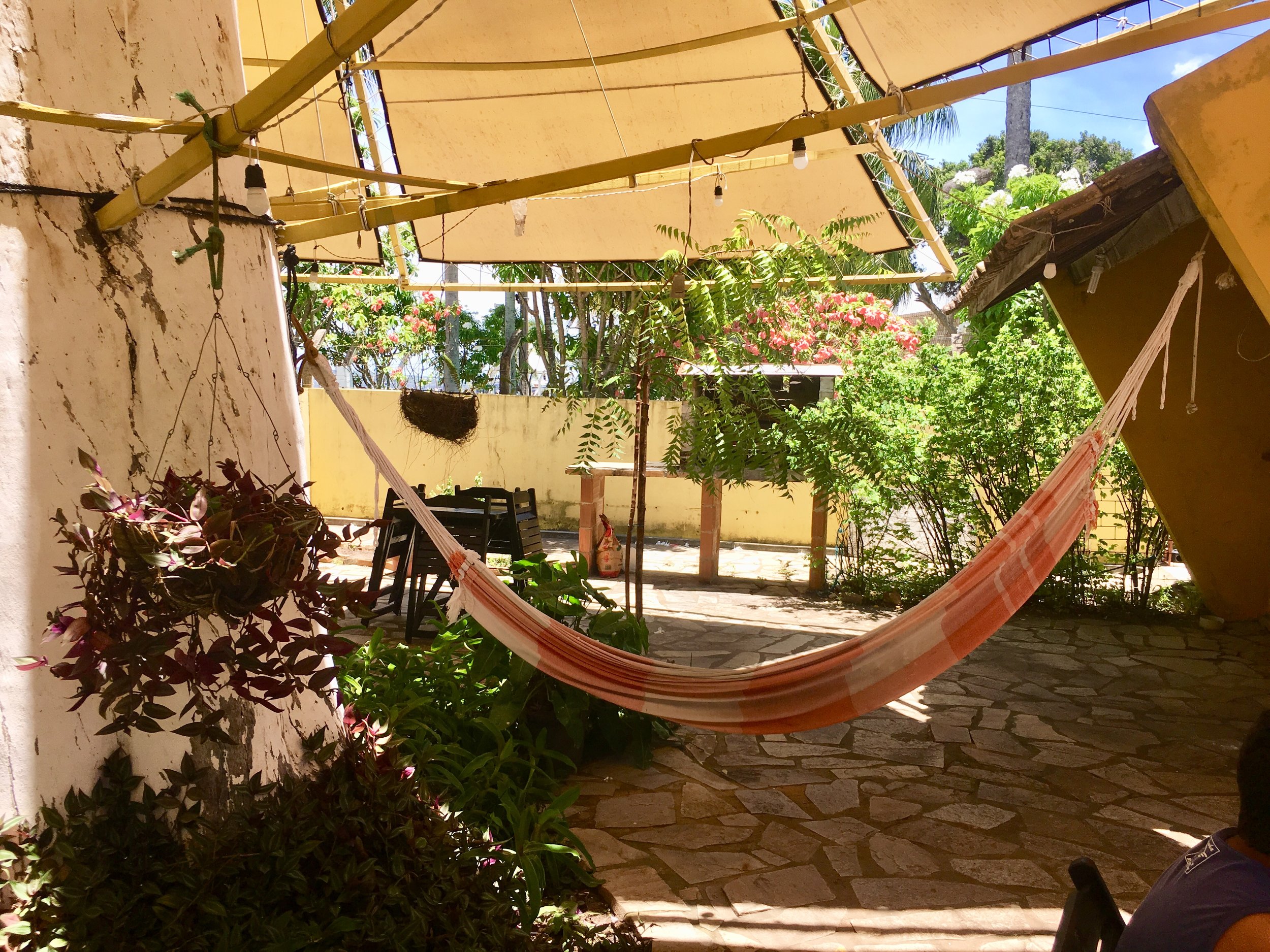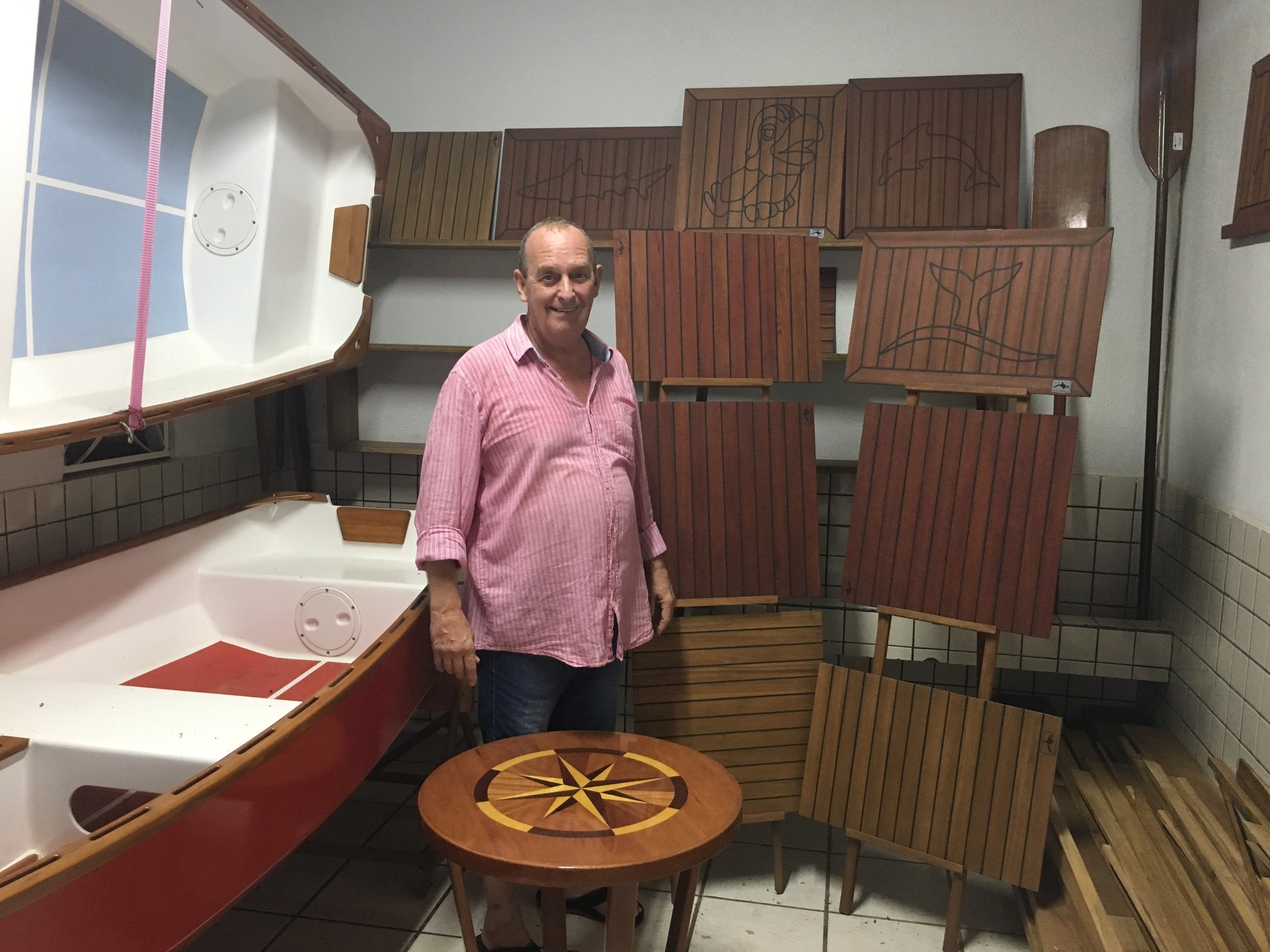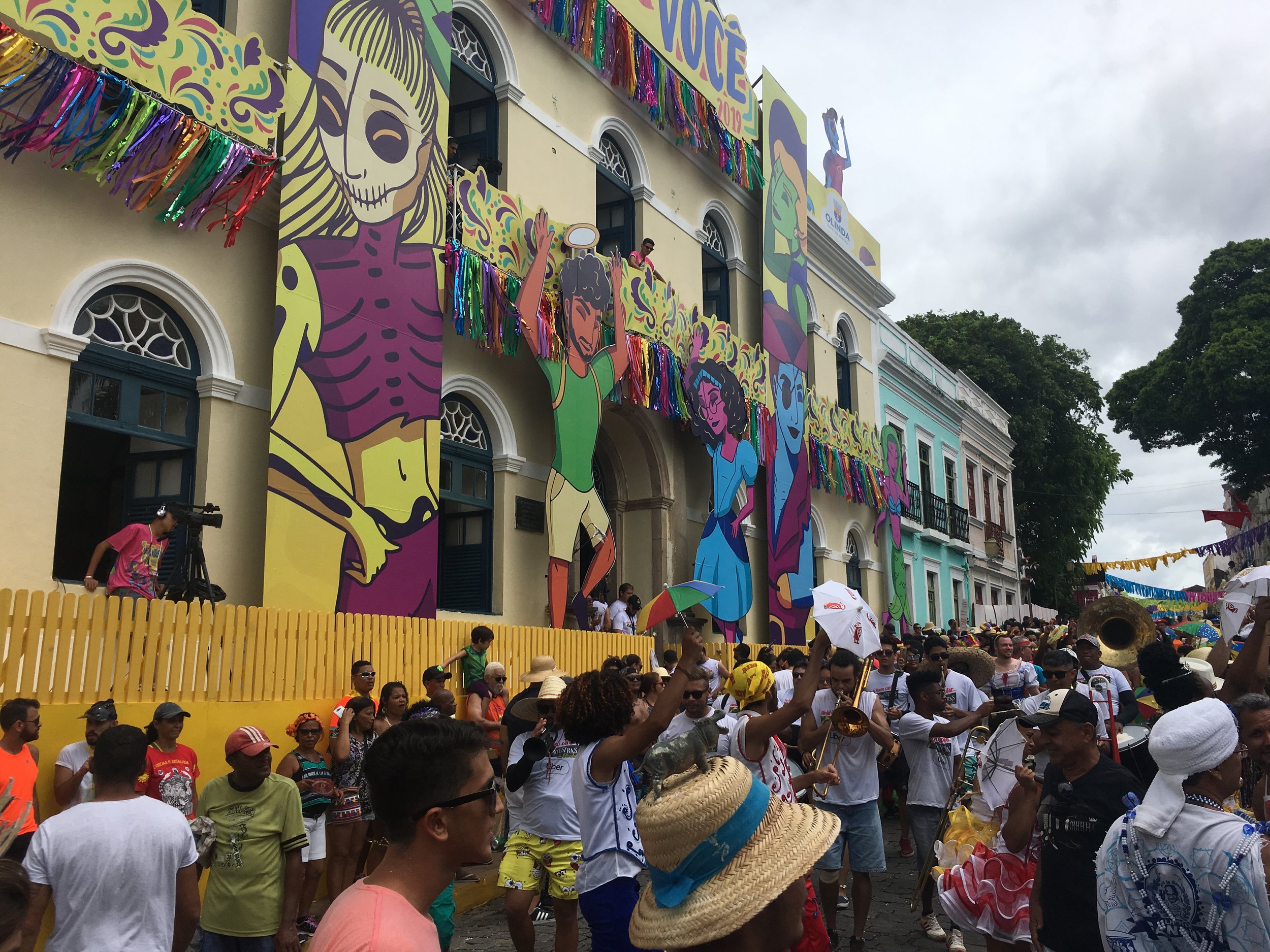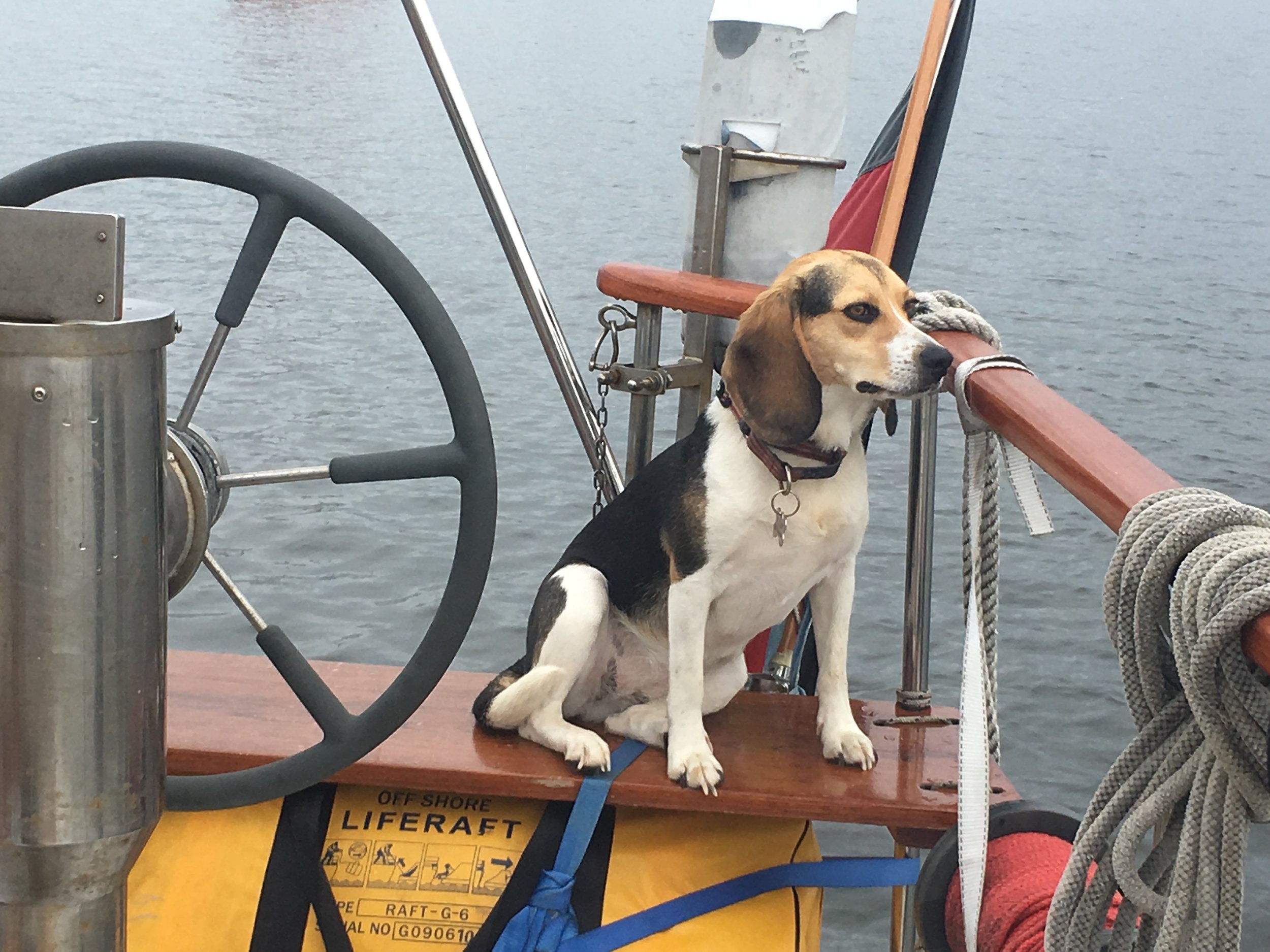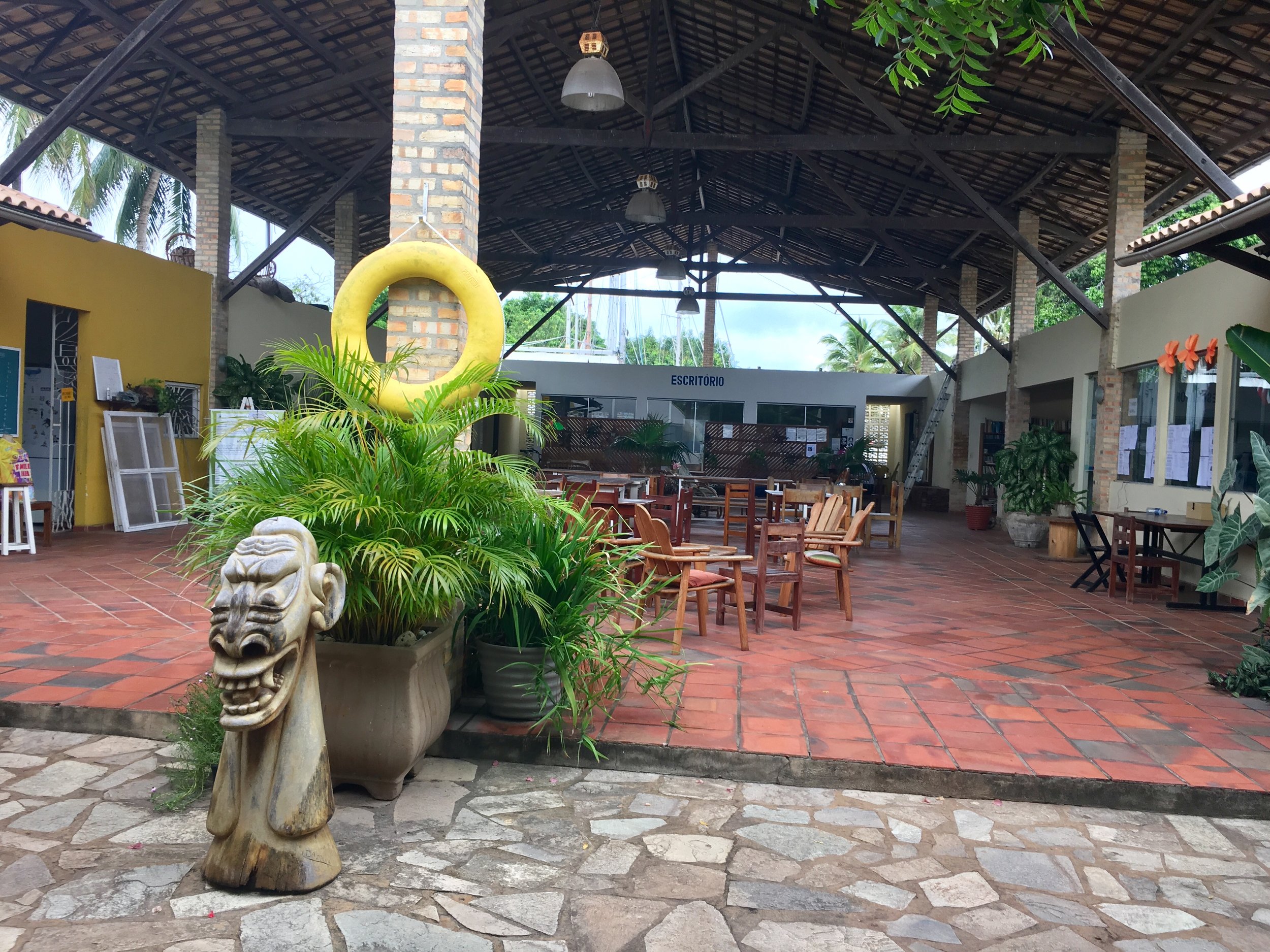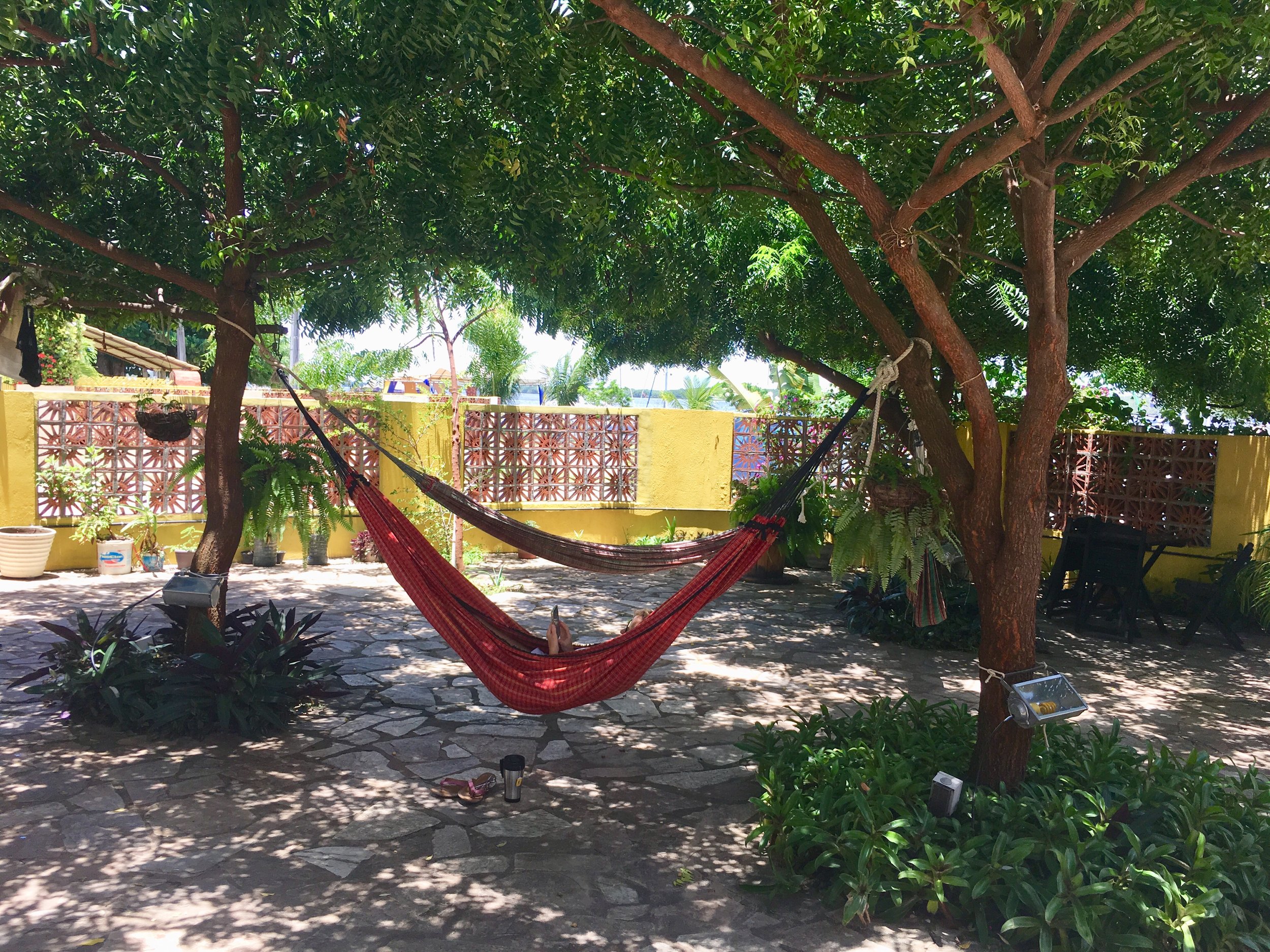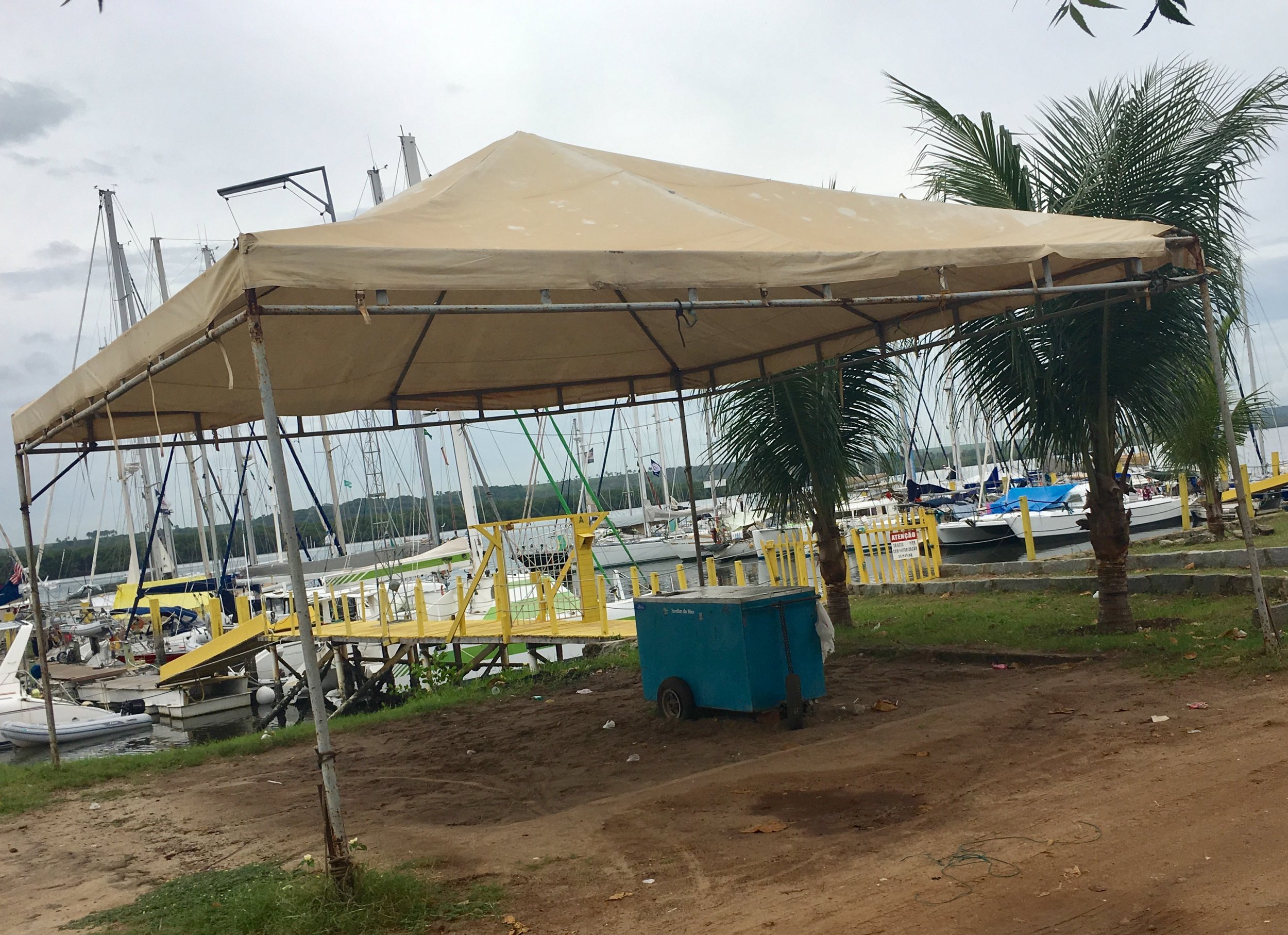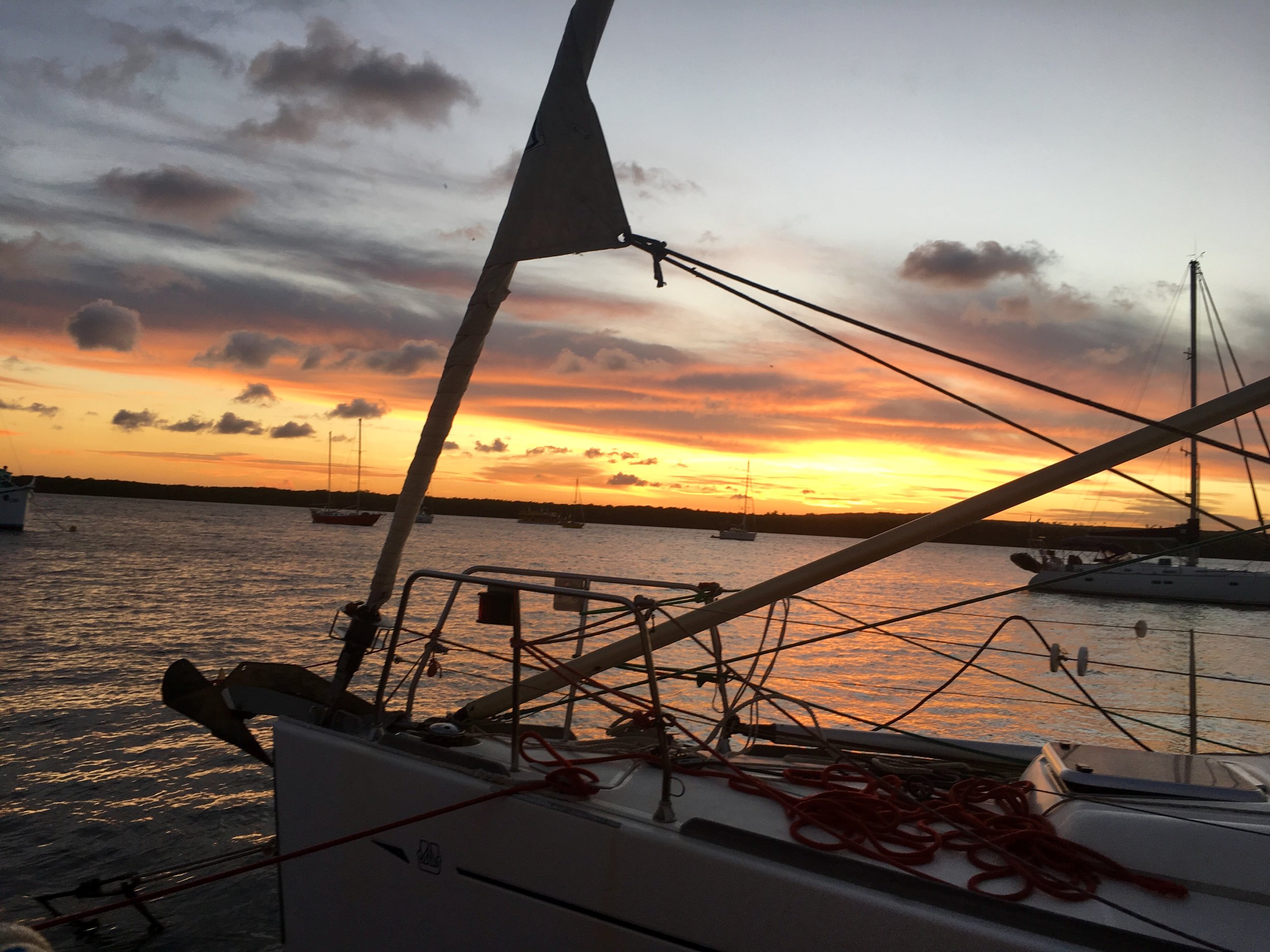 Maik spent the entire day running around town trying to get us processed. I did a little work and booked my flight home. I have been so homesick lately and am looking forward to spending some time with Shelby and Bo, and taking care of several things like annual checkups at the doctor and dentist, a little maintenance on The Protagonist and our apartment, and visiting with friends.
We went to eat at a traditional Brazilian Robízio restaurant. This is a traditional Brazilian restaurant style where there is a buffet with salads, sushi and other sides and then servers bring out huge sticks of barbecued meat and shaves off as much as you want. We stuffed ourselves until we were miserable.
The taxi driver, Marco, spoke no English but had a translation app where you can speak to an actual person who translates the conversation between Marco and us. This was a fantastic service. One thing we have learned quickly in Brazil is that no one speaks English. The national language is Portuguese, so we are trying to learn a few key phrases.
Saturday, 2 March 2019
We once again loaded the dinghy and went into civilization. We wondered around the Village, which is full of only dirt streets and many stray dogs and cats. All the residents are always sitting and standing outside. The heat is intense! We can imagine that they have no air conditioning inside, so it makes sense they would stay outside where there is at least some breeze at times. We went to a street market for ice cream and to walk around and check out the shops.
We made a key contact with an amazing craftsman, carpenter, and sailmaker, Christoph Lapawa—a German sailor who has a local company called Orca Deck. Christoph sailed into Brazil 18 years ago, started his business, and settled here. He lives on his catamaran, which is anchored near our mooring buoy, but he has a workshop in the village. We talked with him about making some of our repairs on Seefalke. The list is long, so we were happy to find him, and to discover that skilled labor is very inexpensive in this part of Brazil. We went to his workshop, which is amazing. He handcrafts small wooden sailboats, and makes gorgeous custom-crafted teak tables. I want one so badly, but we will need to see how much all our necessary repairs will cost first.
We need to take Seefalke out of the water, get her completely sandblasted and repainted. We have many spots of rust that need attention. In addition, we need a new anchor and chain, more solar panels, so work on some of our rotted wood trim around the cockpit. The list goes on.
Sunday, 3 March 2019
We decided that since we are in Brazil during Carnival, we needed to experience this tradition. We called Marco, who promptly picked us up and drove us two hours away to the city of Olinda, near Recife. READ MY BLOG to find out all about our Carnival experience.
Monday, 4 March 2019
Maik realized that one of our solar panels had some connectivity issues and was not functioning at all. He spent most of the morning working on them. We met with Christoph and made our very long list of repairs. We are very impressed with the quality and price of his work, so we are hoping to get a lot accomplished here. Dieter offered to take us into town in his rental car so we went on a hunt for a Data Card and provisions. We found a data card, but only with 5G of data, so we plan to use the marina internet as much as possible.
Tuesday, 5 March 2019
Maik had an evening flight to Italy and Germany scheduled, but fortunately, we were able to get a berth in the marina at the last minute. I was so relieved because I wasn't sure how I would be able to transport Cap'n Jack and Scout from the boat to the dinghy and from the dinghy back to the boat. I was relieved that we would be sitting on the pier while Maik was gone for a week.
Wednesday, 6 March 2019
It's always lonely when Maik is not here. I tried to stay busy. I cleaned and worked a little. Removing all the dog hair is a daily challenge. I'm trying to stay productive, but it's just too hot to do anything. During the daytime, I borrowed an electric fan from Claudia, but she needed me to return it in the evening. It was so hot without the circulation of air, and there was no wind or breeze. It was like a sauna in the cabin. I tried sleeping in the cockpit, but even this was hot and uncomfortable, so I tried to tough it out. Just as I thought I would roast to death, a guardian angel knocked on the side of the boat. It was Claudia. She appeared in the night with a fan, awakening me from a hot coma. She said she couldn't bear to think of me not having any air. They had two other fans, so she kindly lent me one. I couldn't be happier if she gave me a million dollars.
Thursday, 7 March 2019
The dogs and I spent half the day in the marina office working and using the internet. I took dogs on a long walk, but the heat was taking it's toll on all of us. Dieter and Claudia went into town to shop, and I asked them to pick up two fans for me. They cost $25 each, but totally worth it. Now I had a steady flow of circulating air in the boat cabin.
Meanwhile, I met two really cool sailors who sailed in from a 40-day crossing from Cape Horn. Robin and Philemon were flatmates at university in Switzerland and have been sailing the world for about a year. They have a very cool, old, rusted, green, steel ship that makes Seefalke look like we are living in the lap of luxury. Robin is from Switzerland and Philemon is French, but they both speak English and told amazing stories of their sail down the eastern coast of South America to Patagonia.
Christoph came to pick up our cockpit boards to be sanded and oiled. What was left behind was a disgusting mess of dog hair and muck. I spent several hours scrubbing the steel cockpit with hard brushes to clean it the best I could. We have a lot of rust to deal with. Christoph told me we should probably sand first before treating. This will be a major project and a very messy project. I'll wait on Maik to return to decide whether we will do it ourselves or pay Christoph's crew. The labor here is fairly cheap so perhaps we let them do it so it's done professionally and so we don't shrivel in this intense heat.
Maik had meetings in Italy all day so I didn't get to talk to him much. It's always lonely when he's gone, but I'm trying to stay busy.
Friday, 8 March 2019
Again, I spent half the day using the marina internet. Also, it's cooler there than on the boat. The dogs sit right next to me and can enjoy the breeze and the cover from the sun. It's just sweltering on the boat. I downloaded some movies and watched a couple on the boat during the evening.
Saturday-Monday, 9-11 March 2019
It was a long lonely weekend without Maik. I worked a little but found it hard to concentrate with heat. I did find some inspiration to get out and about and go into the marina. The lounge area is so cool and provides a great atmosphere for meeting and socializing with other sailors. Most of the sailors here are French, but many of them speak English.
Tuesday-Wednesday, 12-13 March 2019
Maik came home, and it was so fantastic to have him back. He had some trouble on his flight from Milan because he was coming into Brazil but leaving by boat. The airline wanted a return ticket back out of Brazil. He called me and I ended up scanning and texting him mountains of ship documents to prove that he had transportation back out of Brazil.
He didn't arrive back on Seefalke until after midnight. The pups were so happy to see him I thought we would never get back to sleep.
We spent the day working in the marina and met another cool sailing couple. Emeline and Felix are also French, and they are both engineers who work offshore jobs six months of every year and sail the world the other six months. Emeline told me that one year she only spent 10 days on land.
We later met Sophie, a young girl in her mid-20s, who has spent the past two years circumventing the entire globe by way of hitchhiking. She started in Martinique. She has been onboard six different ships who needed extra crew and said she has been lucky to have had only good experiences. She was with a German captain for six months and said her favorite spot was French Polynesia, a place where she spent an entire year. She picks up random jobs at each port and now is sailing with Tobias, a young English sailor. Within the next month, they will end up in Martinique, right back where she started, completing her circumnavigation.